PET/CT preferred modality to monitor metastatic breast tumors
Determining the response of tumors to systemic therapy is of critical importance in management of women with metastatic breast cancer. FDG PET/CT appears to be a superior predictor of progression-free and disease-specific survival compared to contrast-enhanced CT, according to an evaluation conducted at Memorial Sloan Kettering Cancer Center. An article published in the European Journal of Nuclear Medicine and Molecular Imaging reports that there could have changes in clinical management in one-fourth of the patient cohort based on differences in response assessment.

Stroke is the second most common cause of death in the world and the third leading cause of disability.
In 2015, results from five clinical trial findings showed that endovascular thrombectomy was effective as a treatment for patients whose stroke was caused by large-vessel proximal anterior circulation occlusion. Neuroradiologists provide a concise overview of appropriate imaging procedures and imaging selection criteria intended to aid general radiologists in an article published in the Canadian Association of Radiologists Journal.

Impact of incidental findings on length of stay on hospital inpatients
What is the impact of incidental findings (IFs) identified by diagnostic imaging examinations on hospital inpatients admitted for chest pain? A study from Johns Hopkins published in the Journal of Hospital Medicine, showed that the patients' length of stay increased by 26%. Applied Radiology talked with lead author Venak P. Gundareddy, M.D. of the Department of Medicine to discuss how clinical practices at Johns Hopkins were affected by the findings of the study.

Investigating cardiac MRI for diagnosis of blunt cardiac injury in patients with chest trauma
Diagnosing blunt cardiac injury (BCI) in patients presenting with chest trauma can be challenging. Could cardiac magnetic resonance imaging (CMR) be feasible and offer better diagnostic capabilities? A prospective pilot study performed at a major Level 1 trauma center in Australia showed that CMR gives high quality anatomic and pathological information and merits additional, larger clinical studies

Shear wave elastography and erectile dysfunction
Could shear wave elastography (SWE) become a new radiologic approach to diagnose erectile dysfunction (ED) and differentiate it from other potential pathologies? A Turkish research study published in Ultrasound shows evidence that SWE can provide valuable data in the radiologic assessment of of ED patients and may provide additional data in the selection of treatment options.

What to know about incidental splenic nodes seen on pediatric MRI
MRI is used to assess iron overload in patients with hemoglobinopathies and patients who have had multiple blood transfusions, such as patients with sickle cell disease. When this exam is performed, splenic nodules may be seen as incidental findings. Pediatric radiologists from the Hospital for Sick Children in Toronto recommend that knowing the features of splenic nodules is important to monitor over time and to avoid additional unnecessary diagnostic evaluation and tests.
VENDOR NEWS
Toshiba launches 80-row CT scanner at UK radiology society meeting
Siemens Healthineers debut new SPECT/CT system
Hologic 3D Mammography exam achieves FDA milestone
2D and 3D cardiovascular ultrasound system introduced by Hitachi Healthcare Americas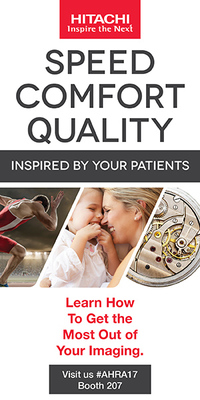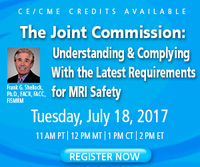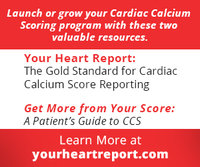 Featured Pediatric Case
Wolman Disease