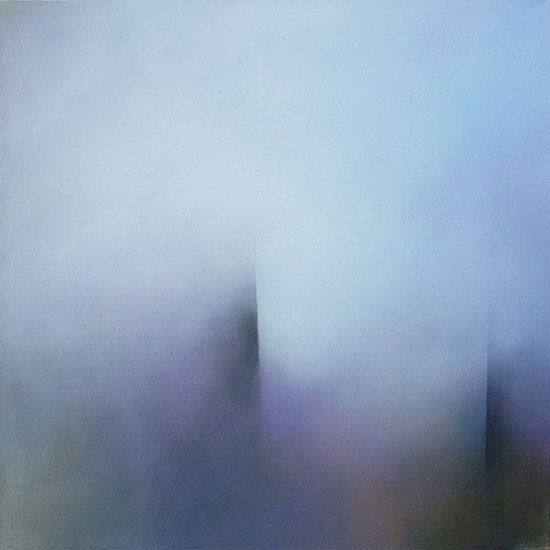 Through the Nab, Acrylic on canvas, 100cm x 100cm (40"x40")
View on the website


In March I revisited Saltwick Nab (which you can see at Blackheath Gallery now) on the northern Yorkshire coast. Before leaving I had already started a second large Saltwick painting, but it was only by revisiting again that I realised my painting was misdirected. So I finished it last week with a clearer idea of the pale winter light from a low tide and purple shadows along the rock faces - Through the Nab.
The fresh inspiration also resulted in four (yes, four!) new small paintings as I start to gather my thoughts from the Yorkshire sketchbook... I thought I'd play with small canvases first. Truly play, with no plans or ideals. You can see these on the website alongside the new Through the Nab on the coast paintings page.
Where have I been lately?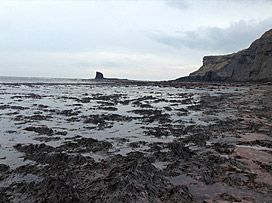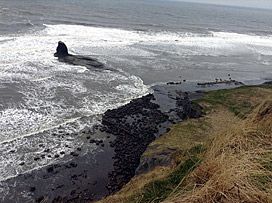 At Saltwick Bay, just south/east of the famous town of Whitby (for Whitby Jet or Dracula, your choice), I stayed in a caravan at the top of the cliffs.
At the southern end of Saltwick Bay is the single remaining rock of a peninsula eroded away by the sea - Black Nab, known locally as "The Submarine". It's entirely mudstone shale and very soft thin fragile layers. On my first day the tide was very far out so myself and friends were able to walk right onto it and spot fossils and pyrite.
Between walks north and south along the shore, my art reading in the meager heat of the caravan was "Art and Physics" by Leonard Shlain - a sort of social history of how artists and scientists were breaking the constraints of time, perspective space and light in parallel.
One standout portion was about how Monet with his series of haystacks at different times of day was one of the first artists intentionally express express a the flow of time. His series, originally a mathematical term denoting sequence, broke the tradition of single painting capturing a static moment or event.
With the light and wind changing minute by minute here, as I sat at the top of cliffs, I could identify strongly with the concept in a way I haven't before - wanting to paint the light of the rocks and bay but showing constant change.
Although I've done a few paintings of the same place more than once - like Thornness Bay or Chesil Beach - this was out of creative ambition. I simply felt I hadn't yet painted it the way I wanted to. I've not painted an intentional repeating series.
But I think I could paint Black Nab for years to come.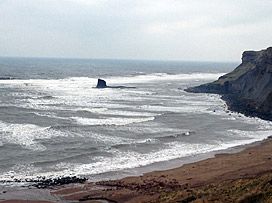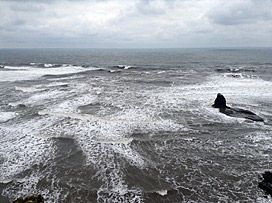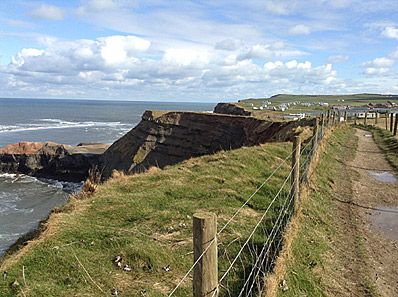 The caravan park over the bay on a rare sunny Yorkshire day!
Black Nab is just behind that first cliff face.

Spring Exhibition
Continues to 20 April 2013


See my paintings of Whitby, Saltwick Nab, Chesil Beach and others.

34a Tranquil Vale
Blackheath, London SE3 0AX
Tel/Fax: 0208 852 1802
blackheath-gallery.co.uk



Don't forget to download and share your April screensaver:
• PC version • Mac version • Just the drawing (no calendar)
Welcome to spring!
Tina.