Dear Friends,
When we presented at the
Climate Psychology Alliance
in June on the subject of how restorative stories can inform and shape our thinking, members commented that The Forgiveness Project is so effective because it has "no trace of sentimentality" and is "a tough intervention in a controversial and complex field." As fall-out from the EU referendum result continues and divisions harden, creating a counter narrative of recovery and restoration seems more important than ever, not only for us in the UK but for us all wherever we may live. 
It's a busy year ahead as we continue this work, developing our events to reach new audiences, broadening our archive of stories, developing a new website, designing a new exhibition and continuing to deliver our award-winning RESTORE programme.
We've also been awarded a grant by the
Transform Foundation
to work with
Raising IT
to create a brand new website which is coming later in the year. We're looking to build a stronger digital presence and increase the depth of people's experience of our work online as so many people come across our work on our website.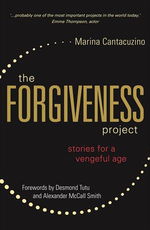 The paperback edition of
The Forgiveness Project: Stories for a Vengeful Age
was launched at the Barnes and Noble flagship store in New York on 26th April. Taking part in an accompanying Forgiveness Conversation were four of our story-tellers whose stories reflect and underpin the ethos and values of The Forgiveness Project charity. Read more
here
.
Purchase a copy of the book
here
. 
Marking a key shift in our direction, at the end of 2015 we
announced our intention
to move away from telling only extreme forgiveness stories of crime and political violence to include as well the kind of unresolved hurts that fester within families and across generations. Just as with these more extreme stories, forgiveness in daily life has the same ability to repair and restore.  
Zak Ebrahim
was born in Pittsburgh, Pennsylvania in 1983 to an American mother and an Egyptian father, El Sayyid Nosair. When Zak was seven, his father assassinated Meir Kahane, the militant ultra-Orthodox, anti-Arab rabbi who founded the Jewish Defense League. From prison, Nosair helped plot the 1993 World Trade Center bombing which killed six people  and injured over 1,000 others. 
I
n 2004, when Mathew Shurka was 16, his father took him to a licensed therapist who claimed he could make gay people straight.  As a result Mathew, who lives in Brooklyn New York, is now a prominent activist working to end conversion therapy.
On 16 September 1999
Irina Krasovskaya's
husband, businessman Anatoly Krasovsky, was abducted and murdered by the security forces in Belarus. No one has ever claimed responsibility and Anatoly's body has never been found.  
'Restore is the most amazing thing I have been on, its life-changing for me and the
inspiration and support with other women has been fantastic'. 
- Prisoner, HMP Eastwood Park, 2016
Despite the ongoing changes and uncertainties in our criminal justice system, we continue to run RESTORE, an intensive, group based intervention
 centred on the stories of victims and perpetrators of crime.
We have just finished the first year of a two year pilot for female offenders in HMP Eastwood Park. We are extremely grateful to the
Charles Hayward Foundation
for funding this work. 
We will be working with men in HMP Peterborough from September 2016. A programme of 
RESTORE with female offenders in HMP Peterborough had such great impact that the graduates subsequently organised a fundraising event and 
raised £800! Read the whole story here. 

We are excited that RESTORE will be returning to HMP Holme House in Stockton-on-Tees in October 2016 and we'll also be delivering the programme at HMP Oakwood in Wolverhampton later in the year. 
We have been working on developing a core set of education resources to ensure that many more teachers and students can access our materials.  

We've designed free and downloadable lesson plans and powerpoint presentations to give teachers everything they need to deliver a lesson or tutor time activity using stories examining forgiveness.  The lesson plans support Personal, Social, Health, Emotional (PSHE) and Citizenship curriculums, as well as the GCSE Religious Studies (RS) and Drama syllabus. 
The lesson plans will be freely available from our website in the Autumn term of 2016. For more information, contact our Education Co-ordinator, Anna Blackman at
anna@theforgivenessproject.com
.  
'A brilliant exhibition – so thought provoking, rich, painful, and partly beautiful in seeing how forgiveness can change lives and enable growth, love, transformation.' 
- Visitor to exhibition in London Interfaith Centre, February 2016
The F Word exhibition continues to tour the world. In the past year in the UK it has been seen at a wide range of venues including the international development organisation BOND's annual conference, St Columba's Church of Scotland in London, and Ealing Abbey. In the US the exhibition was hosted at 13 locations across the country from Weber State University and the World Parliament of Religions in Utah to Compassionate Anthology in Massachusetts and at TEDx Cape May in New Jersey. It also featured as part of the celebrations for Peace Days in Winnipeg, Canada. 
Thanks to some generous funding from
The Roddick Foundation
we have been able to design and build a brand new version of The F Word. We are working with exhibition design company
HKD
, who have helped us create an exhibition that is more flexible and interactive, and communicates effectively to existing and new audiences. The exhibition will be launched later in the year. 
For information on where the exhibition is currently on display or to inquire about hiring it, please visit
our website
. 
Personal stories of reconciliation and renewal are at the heart of The Forgiveness Project and are central to its aims. The Project has collected over 140 personal stories since its launch and many people who share their stories are part of our Speakers' Bureau.
Hearing someone speak first hand and being able to ask questions is the most powerful form of story-telling.
Forgiveness Conversations
We continue with our series of Forgiveness Conversations - intensely human dialogues that provide opportunities for people to explore concepts of forgiveness, reconciliation and restorative justice using the power of real stories.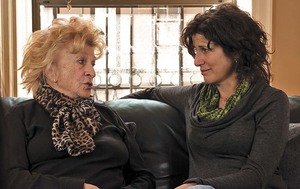 As a fundraiser for The Forgiveness Project we will soon be screening
Look At Us Now Mother
- an extraordinary film by Emmy award-winning filmmaker, Gayle Kirschenbaum, about the transformation of her highly charged relationship with her mother, from hatred to love and forgiveness.
We are holding this event in association with
The Together Plan
and it will be followed by a Q&A with both Gayle and her mother!
Date: Monday, 5th September 2016

Time: 8.30pm – 10.40pm 

Venue: The Phoenix Cinema, 52 High Rd, London, N2 9PJ

Tickets: £22 (concs £18) 

VIP seats: £35 (complimentary glass of Prosecco and a pre-screening reception from 8pm. Only 20 VIP tickets available on a first come first served basis.)

The Supporters' Programme has been running since 2012 and invites those who are able to help financially to give regularly through monthly or annual donations. We consider the Supporters' Programme to be the lifeblood of The Forgiveness Project and are immensely grateful to all our supporters. 
We were delighted that in September 2015, The Forgiveness Project's founder, Marina Cantacuzino, was awarded an Honorary Fellowship by the
Dalai Lama Centre for Compassion
. The Centre is a new initiative working closely with several institutions at Oxford University. Alongside two of our story-tellers,
Jo Berry
and
Camilla Carr
, Marina also received an award from the Brahma Kumaris, celebrating her as one of their
100 Women of Spirit
. 
We would like to say a big thank you to the team at Cognoscere, who generously donated their time and knowledge to work with us for the second year running. This time looking into potential models for growing TFP – we'll keep you posted!  
Very best wishes,
From all the team at The Forgiveness Project