Greetings & Blessings to all,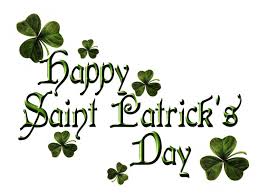 Beannachtaí na Féile Pádraig ar chlann mhór dhomhanda na nGael, sa bhaile agus ar fud na cruinne, ar an lá náisiúnta ceiliúrtha seo.
Warmest St Patrick's Day greetings to every member of our global Irish family and to our many friends around the world.
We hope this special St. Patrick's edition finds you on the pig's back and fit as a fiddle. If this is your first issue many thanks for joining us and if you like our musings and meanderings, please feel free to forward them on to your family and friends.
The snowdrops are up, the crocuses are blooming, and the daffs are in bud; dare we say it. - here in our Ohio valley, spring is most definitely the air. BUT, the forecast for the big day is accumulating snow! We haven't broken the back of winter yet, but you can be sure whatever the weather, it won't put a damper on the indomitable Irish spirit!
In the midst of celebrating? While the annual O'Flaherty Bash won't be taking place this year due to a scheduling conflict, this morning we paid a visit to our son Ben's bar for his 'St. Practice Day' Kegs & Eggs Celebration. We just love the title It's so apt, because as we looked around the packed pub, people had gone to great lengths to "look Irish." The plethora of sham baubles and beads used to make us cringe and going back about five years or so, we found this intro to one of our newsletters:
" Throughout the world, 'tis the week of Paddywackery. A time when otherwise sane adults bring out the "authentic" shillelagh they bought at Shannon airport, sport a kilt and/or tie in their county tartan, drink green beer at the crack of dawn, and wear variations of the tricolour from head to toe. And it seems as if everything starts with o (as in o'no, o'dear, 'o'my god, and o'please!) Oddly enough, it's only been in recent years that Ireland has joined in on all of the Oirish fun and foolery. And when we begin getting e-mails asking us if throwing green beans from a float has any foundation in Irish tradition you know that we've lost all hope of ever again having an authentic Irish celebration - whatever that might be anymore."
Thank God, that intro did eventually lighten up! For while we've made every effort to avoid cultural clichés both in the newsletter and on the web site, at this time of year all of us are winter weary and ready to welcome a respite from Lenten austerities. As the poet said...
The year's at the spring
And day's at the morn; ...
God's in His heaven--
All's right with the world!
And so, we hope and pray that wherever you are this St. Patrick's Day holiday weekend , may you and yours be safe and have a grand time of it! And if you live in our area, tomorrow at the B-List in bellevue, the same restaurant who did an outstanding full Irish breakfast this morning will be doing Corned Beef & Cabbage tomorrow afternoon. Matt - owner of Virgils - was featured on Diners, Drive Ins and Dives and his food is fabulous. He served up Irish Whiskey Bangers this morning - made from scratch - even the casings; and his Irish soda bread is awesome and authentic. A nominal fee per plate is charged which goes to charity. Plus, if you're not into Irish drinks, the B-List makes the best Bloody Mary Herself has ever had!
ED. NOTE: If you'd like to watch the episode with Matt & Guy Fieri, here's the link:
http://www.virgilscafe.com/About.html
Enough of the blitherin...on with links and more dedicated to the celebration of our patron saint.
SPONSOR OF THIS SPECIAL EDITION: Ireland's Crown Ltd.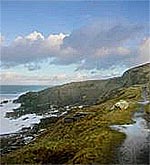 Celebrate St. Patrick's Day
by owning a piece of our patron saint's land!
Heaven wasn't big enough, so God created Ireland - and now, Ireland's Crown LTD gives you the chance to become the proud owner of a piece of land located on Malin Head, in Co. Donegal - Eire's most northerly point and a region steeped in Celtic Mythology. For just $49.99 (€40) this unique package includes your treasured piece of Ireland as well as artwork by Irish artists, a tale of the mythological land, a boxed stone from Malin Head cliffs and maps of the area. For more details, please visit Ireland's Crown:
http://www.irelandscrown.com/
or look us up on Facebook
http://www.facebook.com/irelands.crown
ED. The site is well worth a visit - very nicely done!
FUND-RAISER
Our annual drive is almost over - but not the fun of selecting the six lucky winners of Michael Loynd's popular book "All Things Irish" personally signed and sent to each winner by the author. We're extending the appeal to March 30th, so There's still time to get in on the drawing by making a donation via PayPal to this e-mail address:
bhaggerty@irishcultureandcustoms.com
Please click:
https://cms.paypal.com/us/cgi-bin/?cmd=_render-content&content_ID=marketing_us/send_money
Or via snail mail:
5814 Blue Spruce
Cincinnati OH 45224
Meanwhile, we'd like to take this opportunity to thank all of our irish Angels who have made a contribution, especially those of you who also included compliments and words of encouragement. We treasure every single one of them!
LINKS
IRISH CORNER CARD
We have created a special card exclusively for our readers here:
http://www.irishcorner.com/epickup.php?card_id=r4d824ed8a7a96
HAIL GLORIOUS ST. PATRICK
This hymn was always played on St. patrick's Day when Bridget was growing up. This is an outstanding version which serves to remind his fans how much we miss the amazing voice of Frank Patterson, RIP
http://www.youtube.com/watch?v=b7H4HumAbTU
GIVE UP YER AUL SINS -THE STORY OF ST. PATRICK
We have listened to this numerous times and just can't help but want to hear it again and again. It's the story of St. Patrick narrated by a little Dublin girl named Mary and she is accompanied by an animated video. It's from the series by Brown Bag Productions and we are certain you will want to watch and listen more than once.
http://www.youtube.com/watch?v=k0q-_gWOYjY
MUSIC FOR EVERY TASTE
If you want to listen to some lovely traditional airs amidst the cacaphony of so called Irish drinking songs, please click:
http://www.youtube.com/watch?v=SUT7aGT1JxM
Or this one:
http://www.youtube.com/watch?v=tNfPRUkXJ7Y
Or for fourteen different genres of Irish music, Radio Celt is yer wan!
http://www.accuradio.com/#!/world/radiocelt/
ST PATRICK ON THE HISTORY CHANNEL
You could spend hours exploring what's on offer! Featured are videos, history, a quiz, destinations and much more. http://www.history.com/minisite.do?content_type=mini_home&mini_id=1082
TEN WAYS TO CELEBRATE ST. PATRICK'S DAY
St. Patrick may have exiled snakes from Ireland but he didn't banish the fun.
http://www.rte.ie/lifestyle/travel/discover-ireland/2013/0315/376809-discover-ten-ways-to-celebrate-st-patricks-day/
THE IRISH PAGE - Slane - Bí Thuse mo Shúile
This time around, the Hennesseys offer a page in celebration of the high holiday as our dear friend Bill Deegan calls it. http://www.irishpage.com/SONGS/SLANE.htm
ST. PATRICK'S DAY ARTICLES
From our homepage you can click through to several articles appropriate to the day that's in it:
http://www.irishcultureandcustoms.com/
HEADLINES FOR ST. PATRICK'S DAY
By about 9:00 am on march 17th, we'll have headlines and links to all the good news. We keep two weeks worth of headlines here:
http://www.irishcultureandcustoms.com/01News/Home.html
So there you have it until we send our regular March edition at the end of the month. Until then, we'll take our leave that we think is most appropriate for today:
The Irish...
Be they kings or poets or farmers,
They're a people of great worth;
They keep company with angels
and find heaven here on earth
And a blessing attributed to St. Patrick -
by the way, It's said if you ask for St. Patrick's intercession on his feast day, your prayer will be answered)
"As you arise today, may the strength of God pilot you, the power of God uphold you, the wisdom of God guide you. May the eye of God look before you, the ear of God hear you, the word of God speak for you. May the hand of God protect you, the way of God lie before you, the shield of God defend you, the host of God save you. Amen."
And. as they say in Ireland, mind yourself.
Slan agus Beannacht,
Bridget & Russ
Get down on your knees and thank God you're still on your feet.
And this is for our dear friend Mary O'Hara who asked us to bring this phrase back:
May you be seven times better, a year from today!!
In the Irish:
Go mba seacht bhfearr a bheas tu bliain o inniu!!
LEAVE 'EM LAUGHING
Blarney, as defined by Bishop Fulton J. Sheen, is flattery so thin we like it, as opposed to baloney which is flattery so thick it can't be true.
And back by popular demand in honour of the most important day in the Irish calendar:
St. Patrick's Birthday
On the eighth day of March it was, some people say,
That Saint Patrick at midnight first saw the day.
While others declare 'twas the ninth he was born,
And 'twas all a mistake between midnight and morn;
For mistakes will occur in a hurry and shock,
and some blam'd the babby-and some blam'd the clock-
Till with all their cross questions sure no one could know
If the child was too fast-or the clock was too slow.
Now the first faction fight in old Ireland, they say,
Was all on account of Saint Patrick's birthday.
Some fought for the eighth-for the ninth more would die,
And who wouldn't see right, sure they blacken'd his eye!
At last both the factions so positive grew,
That each kept a birthday, so Pat then had two.
Till Father Mulcahy, who confessed them their sins,
Said, "Ye can't have two birthdays, unless ye be twins."
Says he, "Don't be fightin' for eight or for nine,
Don't be always dividin'-but sometimes combine;
Combine eight with nine, and seventeen is the mark,
So let that be his birthday." "Amen," says the clerk.
"If he wasn't a twins, sure our hist'ry will show
That, at least, he is worth any two saints that we know!"
Then they all drowned the shamrock-which completed their bliss,
And we keep up the practice from that day to this.
(Edited and adapted from Dick's Irish Dialect Recitations, Wm. B. Dick, Editor, New York, Dick & Fitzgerald, Publisher, 1879)
__________________________________________________________________