Today, Republicans voted in Alabama, Mississippi, Hawaii and American Samoa.
Santorum is projected to win Alabama. Santorum is at 35%, Gingrich 30%, Romney 28%, Paul 5%.
Santorum is projected to win Mississippi as well. Santorum is at 33%, Gingrich 32%, Romney 30%.
Voting continues in Hawaii and American Samoa. The oddmakers favor Romney to win there.
Speculation is increasing that Newt Gingrich may drop out of the race
. He will probably suspend his campaign and keep his pledged delegates in order to give himself an important role at the Republican National Convention.
This Saturday, Republicans will vote again in Missouri's caucus. The Republicans already had a primary there on February 7 and Santorum won every county across the state. No delegates were awarded in the primary, but Santorum hopes to repeat his success in the Missouri caucus. Then on Sunday, Puerto Rico will be the final US Territory to vote, and followed by the Illinois primary next Tuesday.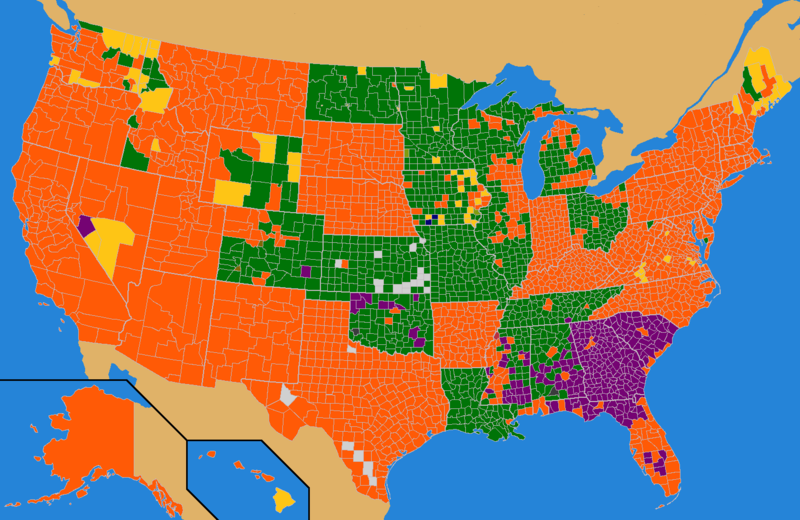 Other Key Dates
PBS/NPR Debate, Monday, March 19 at 9pm ET, Portland, OR
Republican National Convention, August 27-30, Tampa, FL
Democratic National Convention, September 3-6, Charlotte, NC
Presidential Debate, Wednesday, October 3, Univ. of Denver, Denver, CO
Vice-Presidential Debate, Thursday, October 11 at Centre College, Danville, KY
Presidential Debate, Tuesday, October 16, Hofstra University, Hempstead, NY
Presidential Debate, Monday, October 22 at Lynn University, Boca Raton, FL
General Election, Tuesday, November 3
Color Key
Mitt Romney: Orange
Rick Santorum:
Green
Newt Gingrich:
Purple
Ron Paul: Gold
Rick Perry: Blue
Not yet voted: Grey
---
---
Next Contests
Mar 17
: MO-caucus
Mar 18
: PR
Mar 20
: IL
Mar 24
: LA
Apr 3
: MD DC WI
Apr 24
: CT DE NY PA RI
May 8
: IN NC WV
May 15
: NE OR
May 22
: AR KY
May 29
: TX
Jun 5
: CA MT NJ NM SD
Jun 26
: UT