Written by Trey Deason, Reina Hardy, Krysta Gonzales, & Brian Daniel Oglesby
Featuring Taylor Flanagan, Anne Hulsman, Malyssa Quiles, & Jesus Valles
Concept by Anne Hulsman & Shannon Grounds
Get to know some of the residents of Camp Shrewd, Jennifer and Benji:
Meet Benji! He's got a few tricks up his sleeve. A lot, actually.



Benji is written by Krysta Gonzales.


A note from Krysta: I am so excited to join Shrewd Productions for Letters from Camp Shrewd! At the heart of theatre is storytelling and although we can't gather together in a darkened auditorium or huddle around a campfire, we remember how connected we truly are when we tell stories - even through the mail!

The process for Letters From Camp Shrewd has had the same whimsical, collaborative energy I envision when I think of camp. I'm looking forward to joining you all in your respective mail boxes!

About Krysta: Krysta is a Los Angeles-based writer, actor, and voiceover artist. Her play, "Mas Cara" was the flagship for the 2019 FutureX Festival. It was listed in the Austin Chronicle's 2019 Top Ten Theatre Treasures and Top Ten Moments That Left Audiences Speechless. Krysta is currently pitching her animated pilot and children's book, "Kiki's Coils" which aims to help children of the African diaspora celebrate their natural hair.

Jesus

Valles plays Benji.

A note from Jesus:

I was a very weird, very gay, very fearless teenager (kid?). In COVID times, I've spent a lot of time thinking about that kid; about the younger versions of ourselves that we hold on to, and the parts we choose to leave behind. Like a few other select weirdos in this country, I spent a few summers at speech and debate camp. I am excited to revisit some of that weirdness, that fearlessness, at Camp Shrewd and bring life to the letters that will be our little bridge into our world. I'm looking forward to pranks, jokes, and a good time with folks.

About

Jesús

:

Jesús I. Valles is a queer Mexican immigrant, educator, storyteller, and performer from Cd. Juarez/El Paso. Jesús is a 2019 Lambda Literary fellow, a 2019 Walter E. Dakin Playwriting Fellow of the Sewanee Writers' Conference, a recipient of the 2019 Letras Latinas Scholarship from the Community of Writers at Squaw Valley, and a poetry fellow at Idyllwild Arts Writers Week. They are the recipient of four B. Iden Payne Awards, including Outstanding Lead Actor in a Drama (2018), and Outstanding Original Script (2018) and were nominated for the Mark David Cohen New Play Award for their play, (Un)Documents. Jesús is currently OUTSider festival's OUTsider-in-residence.

Meet Jennifer! She's going through a bit of an existential crisis.

Jennifer is written by Reina Hardy.

A note from Reina: Everyone is so hungry for this project, me included! I love all unconventional and unusual forms of storytelling, but right now everything in my world is so digital and frictionless. Just the idea of getting something low tech, tactile and handmade to look forward to is really special. I'm jealous of everyone who gets to sign up and discover this story!

Also, I teach playwriting at a camp in Michigan every summer, and we had to do it virtually this year. Screw Covid.

About Reina:

Reina Hardy is a playwright. Her plays, which usually contain magic and sometimes contain science, have been seen across the country, including at Rorschach Theatre in DC, the Vortex in Austin, and the NNPN National New Play Showcase. She's a Michener Fellow, winner of the KCACTF TYA Prize, finalist for the Terrence McNally Prize and the recipient of an Interact 20/20 Commission. She can make things happen with her mind.

Jennifer is played by Anne Hulsman.


A note from Anne:

This project reminds me of my friend Mike who worked in a book store on the Isle of Wight for a summer in the 80s. We wrote letters back/forth and enclosed trinkets to each other of our adventures that summer. Each letter he sent hit me with all my senses and I think that Shannon and I wanted to have a project during this moment in history, where we could connect to an audience like that. Here's to the little trinkets in life and I hope you love this as much as I do.

About Anne: Anne Hulsman was last seen in Jarrott Productions FOR PETER PAN ON HER 70th BIRTHDAY. She has also recently been in Hyde Park Theater's THE ANTIPODES and En Route Theater's production of DEAD MAN'S CELL PHONE. Anne is a proud member of Shrewd, Hyde Park Theater, En Route Productions, Exchange Artists and Present Theater Company. She has also worked with Breaking String Theater, ScriptWorks, City Theater and many other incredible companies in Austin.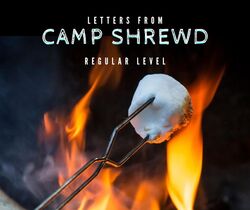 Enjoy the story as it unfolds!
You'll receive 6 letters over the course of 6 weeks, along with artifacts and clues specific to your camper!
You'll also get 1/2 off the cost of the Camp Shrewd podcast, so you can re-live the mystery with all the campers, performed by Taylor Flanagan, Anne Hulsman, Jesus Valles, and Malyssa Quiles - just in time for Halloween.
About Shrewd:
Championing unique perspectives and emerging artists, Shrewd Productions is focused on women's voices, new plays, and work developed through a collaborative artistic approach. We are committed to creating high-quality theatrical experiences that are thoughtful, provocative, and entertaining, featuring the work of female and LGBT artists as we seek to provide a broader array of voices in American theatre and for Austin audiences.
Shrewd has been honored with over 70 nominations and multiple awards from the Austin Critic's Table, B. Iden Payne Committee, Broadway World, and Austin Theatre Examiner and inclusion on multiple "Best Of" lists in the Austin Chronicle. We are proud to be a member of the Austin New Works Theatre Community, building Austin's professional theatre community devoted to the development of original work.
Shrewd Productions is a sponsored project of the Austin Creative Alliance, and a proud awardee of the City of Austin's Artist Access Program. This project is funded and supported in part by the City of Austin through the Economic Development Department/Cultural Arts Division believing an investment in the Arts is an investment in Austin's future. Visit Austin at NowPlayingAustin.com.