Classic Carlectables have a new brand "Diecast Replicars"
We have just received the following information from Classic Carlectables.
"The first model to be released under this new brand is a Ford Falcon XP coupe. Below are the key features of the model:
- Fully detailed exterior body
- Chassis production number
- Exterior colour Green Velvet
- Interior colour Palomino
- Limited production of 1,000 pcs
- Printed Certificate of Authenticity
- Recommended retail price of $199.00 
- Release date June 2016
 
It was our intention to originally produce this model under the Classic Carlectables brand with opening bonnet, doors and boot, however pre-orders were well below expectations and it was necessary for us to re-evaluate the project.
To produce the model with full openings based on current market conditions the retail price would be in the region of $399.00.
Diecast Replicars is a brand which we will continue to develop and we have plans to release many new tooling models in the future."
I will be emailing members with pre-orders individually, if you would like your deposit transferred please let me know. Alternatively your deposit can be refunded.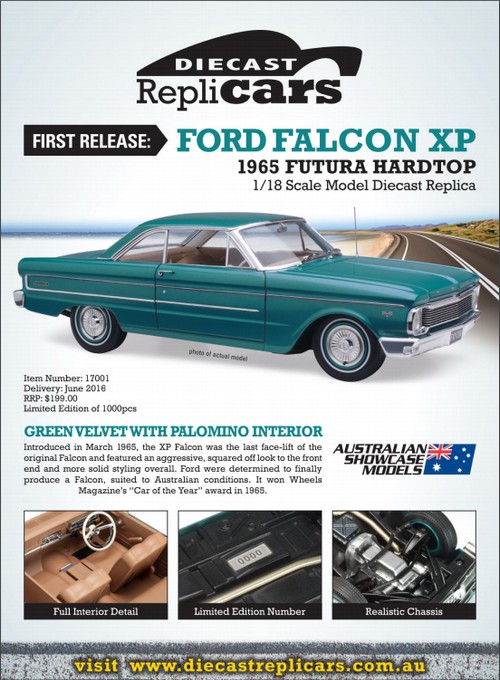 1:18 Scale Diecast Replicas 1965 Ford XP Falcon Futura Hardtop - Green Velvet with Palomino Interior
Item No. 17001
Limited Edition: 1,000pcs 
Release Date: June 2016 
RRP: $199.00
Members Pre-Order Price: $189.00
Pre-Order Now
1:18 Scale Classic Carlectables Ford XA Falcon RPO83 Sedan - Polar White
                              !! Fully Opening Diecast Model !!
Item No. 18615
Limited Edition: Scheduled 1,000pcs 
Release Date: 2nd Quarter 2016 
RRP: $259.00
Members Pre-Order Price: $245.00
Pre-Order Now
Kind Regards,
The Team @ Diecast1stop.com / Toys Toys Toys

Toys Toys Toys / Diecast Models in the Big Shed 
Carrara Markets - 6th Avenue in the Big Shed 
Corner of Gooding Drive & Manchester Road
Carrara QLD 4211 
Ph: (07) 3209 1361 
Ph: (07) 3299 6723
Mobile: 0411 623 212 - Greg
Mobile: 0432 154 946 - Grant 
GIVE US A CALL

Ph: (07) 3209 1361
Ph/Fax: (07) 3299 6723

Mobile: 0411 623 212
(Greg)
Mobile: 0432 154 946
(Grant)