SHOP HOURS
Monday: CLOSED
Tuesday: 12 - 6
Wednesday: 12 - 6
Thursday: 12 - 6
Friday: 12 - 6
Saturday: 10 - 6
Sunday: 12 - 4

 

 

 

 

Which is a very hard word to rhyme

And makes me happy that on February the 14th we don't traditionally have to give each other oranges.




It's February, folks! That means New Romances, Broken Hearts, and Candy!  And if you come by ReBelle next week, February also means Magical Mythical Creatures!! Well, mythical creature yarn anyway! That's right, if you want do something special for your Valentine, Galentine, Palentine, or even better yourself, you have to come by the shop or our Knitted Wit Magical Mythical Creatures Trunk Show. Yarns representing unicorns, mermaids, and centaurs will all be there to catch your eye and your imagination. Not to mention, cold weather has returned to Lexington. What better way to keep warm than with a lovely mermaid shawl? You don't want to miss this!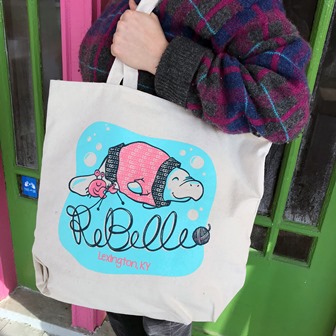 We have lots of new stuff in the shop, but the thing we are most excited about is our new tote bag design by
Cricket Press
!! We had them printed on the same bags we used last time with the nice long straps and flat bottoms, big enough to hold an afghan project strong enough for your groceries. As with the previous bags, these bags are $10 or $5 with a $100 purchase.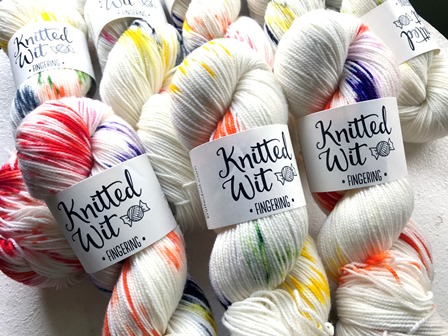 While we loved last year's Herstory sock club by Knitted Wit, we decided to mix things up this year and do their Sassy Holidays sock club this year. The Holiday for February is Gumdrop Day which happens on February 15. Now you can knit some gumdrop socks while eating gumdrops on Gumdrop Day!!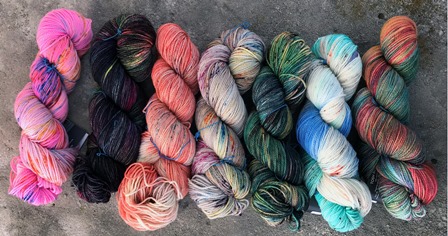 In other exciting news, we have a fresh shipment of Mad Tosh that includes some great new colors of Tosh Sock.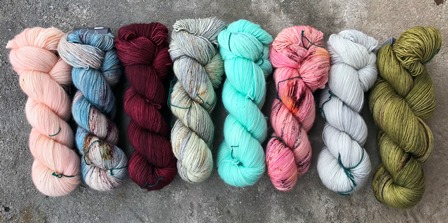 Lots of great new colors of Tosh Merino Light!!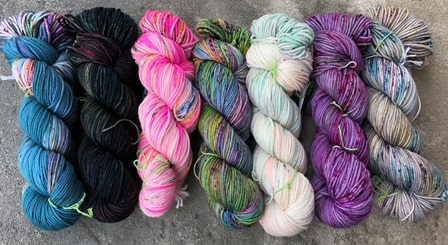 And finally, some great new colors of Tosh Vintage, perfect for our Comfort Fade Cardi KAL next month!!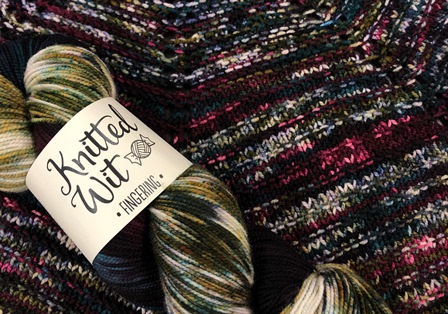 Magical Mythical Creatures Trunk Show by Knitted Wit
 February 13-19
Wanna do something special for your Valentine, Galentine, Palentine, or even better, yourself for Valentine's Day? We are having a very special trunk show in the shop dyed up just for us by Lorajean of Knitted Wit featuring her 100% Superwash Merino fingering base. The show's theme is Magical Mythical Creatures so you better believe there will be unicorns, mermaids, and centaurs represented!! You might know Knitted Wit from the Flotus Shawl KAL or the Herstory Sock Club yarns that we have been featuring for the last year. We love their yarns and have knitted everything from socks to shawls to sweaters with them. From the vibrant colorways to the thoughtful interpretations, Knitted wit has something for everyone. The trunk show will be happening during all shop hours between 2/13-19. See you there!!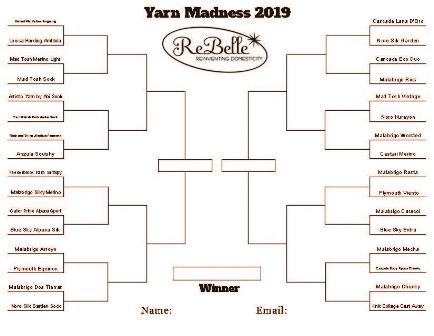 March 18- March 30
We are bringing back the Yarn Madness bracket for 2019. Starting today, we have paper brackets in the shop as well as this downloadable version that you can fill out and bring in for a chance to win some really cool prizes. Voting will begin on March 18 so get your bracket in by March 17 in order to be eligible for prizes.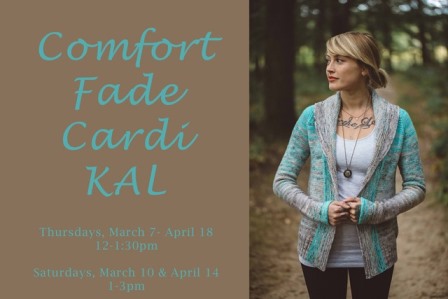 Comfort Fade Cardi Knit Along
March 7-April 14
While we are reaching the end of sweater season, now is a really great time to start on a cozy sweater for the fall and we have fallen in love with the Comfort Fade Cardi by Andrea Mowry. We will have several great color combinations picked out for you or you can find your own. All ReBelle knit alongs are free and open to the public. You are welcome to attend as many or as few of the KAL sessions as you like. The pattern can be found on Ravelry or you can buy it in the shop.

The yarn of the month for February is Mondo from Cascade Yarns. Mondo is a jumbo weight 50/50 alpaca and wool blend with 58 yards per 400g skein. It is super soft and knits up faster than anything else we sell. It can be used for everything from cowls to afghans. There are a ton of great patterns on Ravelry using this yarn including the
Mondo Fisherman Rope Cowl
, the
Pom Bomb Hat
, or the
Heartstone Throw
. Mondo will be 25% off all month long.
Featured Upcoming Classes
 

 

Repairing Mistakes as You Knit ($30)

 

In this class you will learn to fix common mistakes in your knitting as you go, without having to rip out several rows or start over. We will cover reading your knitting, counting rows, identifying common mistakes, techniques for frogging, and making repairs in finished pieces.




Saturday, March 2. 1-3:30pm