Welcome to CMCA(UK)
Hello and welcome to the CMCA(UK) Autumn 2019 newsletter. Our quarterly newsletter provides a selection of the latest company news and achievements which we hope you will find of interest. If you would like to stay up to date with all CMCA(UK) related activities as they happen go to www.cmcauk.co.uk. You can also find us on Twitter and LinkedIn.
You can unsubscribe from this newsletter at any time by clicking UNSUBSCRIBE at the bottom of this email.
CMCA(UK) win 9 major new defence contracts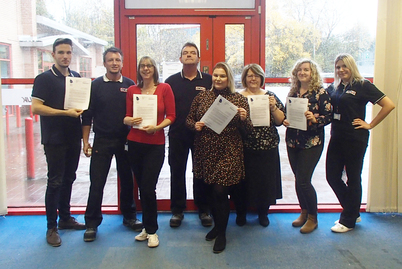 CMCA(UK) is one of a small consortium of companies buoyed by confirmation of the award of a series of multi-million pound contracts from defence group Babcock DSG.
Following months of hard work, securing costs and compiling tenders within the procurement team, we are delighted to confirm that we have been awarded a £6M contract to supply spares for the armoured tracked platforms by Babcock DSG.
At the time of going to press, Defence Contracts International has confirmed that CMCA(UK) has also been included in the award of numerous other contracts which include IRM19/7325 Supply of Field Equipment and Spares, IRM18/5940 B Supply of Electrical Components in support of the Armoured Track Platforms to the value of £16M and IRM18/5914 General Military Consumables - the Supply of Vehicle Spares contract to the value of £20M, with more to follow.
Pictured above: Some of the CMCA(UK) Procurement Team, 'experts in their field'.
IIOM Certificate Training Success
September saw CMCA(UK) become official IIOM (International Institute Obsolescence Management) endorsed trainers, complementing our existing capabilities and services within the Obsolescence Management field and as such are now able to offer the IIOM Short Course in Obsolescence Management.
We're pleased to confirm that early commitment has been most positive, having already seen a great deal of interest in this new capability, with a number of bookings already secured.
The first of the three day courses took place between 23rd – 25th September at CMCA(UK)'s headquarters in Worcester and were described by participants as, a huge success. Just some of the outstanding feedback received included;
"The presenter was excellent and demonstrated a high level of expertise"
"This course should be accepted by heads of business as the standard course for all obsolescence practitioners"
"Excellent course – hope to send another member of my team next time"
"Anybody (working) in obsolescence should take this opportunity"
The courses have been designed to provide delegates with the principles and tools required to effectively manage obsolescence and in doing so, also achieve membership to the IIOM at Associate level (AIIOM). Further details on the course prospectus is available on our website at https://www.cmcauk.co.uk/iiom-certificate-training/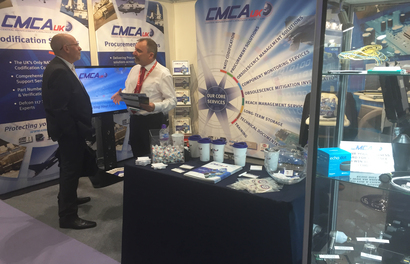 September saw CMCA(UK) make its bi-annual pilgrimage to the Excel London Arena to once again participate in the Defence and Security Equipment International (DSEI), the largest fully integrated defence and security show in the world.
This incredible event connects governments, national armed forces, industry thought leaders and the global defence & security supply chain on an unrivalled scale and is the event not to be missed in the defence and security calendar.
The CMCA(UK) Business Development team were on hand to answer all equipment life cycle, procurement and NATO Codification queries over the four days of the show. Overall the exhibition was seen as a great success with positive discussions held on all aspects of our capabilities, providing strong prospects for the team to follow-up on.
Whilst always important to keep in contact with existing customers, we were also greeted with a large amount of interest from new and potential customers from the steady stream of visitors to the CMCA(UK) stand
We now look forward to exhibiting at the next DSEI event in 2021.
If you didn't get a chance to visit our stand and would like one of our BD team to get in touch with you send an enquiry.
CMCA(UK) rise to the 20/20 Corporate Challenge for St. Richards Hospice
CMCA(UK) has risen to the latest challenge set by our chosen charity St. Richards Hospice. The 20/20 Corporate Challenge involves 20 businesses in 2020 raising £20K to help towards the outstanding free care that St. Richards Hospice provides. The charity cares for adults with serious progressive illnesses, improving their quality of life from diagnosis, during treatment and to their last days, as well as supporting their loved ones.
The challenge is loosely based on the 'Grow your £' concept and involves all 20 companies being given £50 and quite simply asked to grow it.
We are delighted to be able to get involved in the challenge and have several ideas up our sleeves. Keep a watch of our social media for thelatest fundraising updates.
Following the successful completion of the first IIOM short course training run in September, CMCA(UK) is pleased to offer some more dates for your diary.

Click here to book your place today.

Logistics Facility Expansion

Following CMCA(UK)'s recent success with the award and inclusion in several new supply contracts, we are pleased to take this opportunity to confirm expansion into our 4th facility. The additional site will support and enhance our logistical capabilities related to existing and new requirements.

Kevin Buck, Head of Procurement Services commented "Following our recent contract awards we knew we were going to need to find somewhere that was near to our current site, large enough to process items, maintain quality requirements, whilst also maintaining a safe and secure approach. We're delighted to have found the perfect building located very close to our head office in Worcester, it couldn't be better really!"

CMCA(UK) will be exhibiting at the first Aerospace Wales Expo due to be held at AMRC Wales Building in North Wales on 5th December. The Expo is a capability showcase and supply chain opportunities event which will feature key speakers from the UK's major aerospace and defence manufacturers along with aerospace and defence exhibits to enable supply chain and customer engagement and meet the buyer opportunities.

If you're interested in attending there's still time to secure a delegate ticket.

IIOM Members Meeting

Members of the team were present at the recent IIOM members meeting in Swindon on the 15th October. As a new member of the team, it was a great opportunity for our Senior Business Development Manager to meet existing customers and general IIOM members alike. With plenty of discussion on how CMCA (UK) Ltd can support with effective Obsolescence Management, and ensuring compliance to the new IEC standard, these events are always an ideal time to meet with representatives from a variety of industries.

Leadership & Personal Development Update

CMCA(UK) is committed to the development of our future leaders, equipping them with the skills and knowledge to be effective managers and decision makers. Back in May 2018, and funded by CMCA(UK), Emily Barnes (Business Support and Marketing Manager) and Geddy Blake (Head of Software Development) began studying for their ILM Level 5 Certificate in Leadership and Management. This was a significant undertaking by Emily and Geddy requiring many hours of study and preparation above and beyond their normal working week.

Fast forward 17 months and we are pleased to announce that Geddy has passed his ILM Level 5 with distinction and Emily hopes to complete her studies by February 2020 having taken 10 months out of the workplace to become a Mum!

On behalf of all of us at CMCA(UK), congratulations to Geddy on his achievement and good luck to Emily with her final assessment!

Thank you!

May we take this opportunity to thank you for taking the time to read our newsletter. Please don't hesitate to contact us regarding any of our services or to see how we can help you. Contact our Business Development Manager Antony Elliott on; +44 (0)1905 458 307 or email Antony.Elliott@cmcauk.co.uk.