PALESTINE EMBASSY, BDS SA & CHIEF MANDELA MEET HOME AFFAIRS MINISTER AARON MOTSOALEDI
The Embassy of the State of Palestine, BDS South Africa and Chief Mandla Mandela MP held a fruitful meeting earlier this week with South Africa's Minister of Home Affairs, Minister Aaron Motsoaledi to discuss several matters related to Palestine.
DEPUTY MINISTER NJABULO NZUZA HOLDS PRODUCTIVE MEETING ON SUPPORTING PALESTINE
South Africa's Deputy Minister of Home Affairs, Njabulo Nzuza, held a productive meeting with the Embassy of the State of Palestine, BDS South Africa and Chief Mandla Mandela. Details to be shared in due course.
BDS SA PRESENTS AT TRADE UNION'S INTERNATIONAL RELATIONS EVENT
BDS SA was honoured to present at last week's National Education Health and Allied Workers Union (NEHAWU) International Solidarity Committee's recent gathering in Gauteng. NEAWHU's IRC, which has representatives in all 9 South African provinces, resolved to re-commit itself to the BDS campaign as wel as co-host upcoming international and Palestine solidarity music concerts and cultural programs within the next few months. Events will be announced in due course.
DONATE TO BDS SOUTH AFRICA

BANK: First National Bank
NAME: BDS South Africa
NUMBER: 62273997943
BRANCH NAME: Rosebank
BRANCH CODE: 253305
SWIFT CODE: FIRNZAJJ 

BDS SA, is a registered Public Benefit Organisation (PBO) with Section 18A tax-deductible status. This means that any donations made to us can be used to apply for tax exemptions. Kindly send copy of proof of payment to finance@bdssouthafrica.com / 0866664995 for receipt.
MAYOR OF JOHANNESBURG UNVEILS NEW BDS SOUTH AFRICA OFFICES IN PARKHURST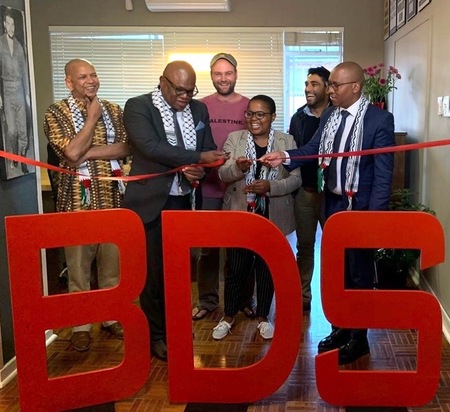 The Mayor of Johannesburg, Geoff Makhubo, MEC (Provincial Minister) Bandile Masuku together with the Board of BDS South Africa yesterday evening unveiled BDS South Africa's new offices in the suburb of Parkhurst.
The new BDS SA offices, dubbed the Oliver Tambo International Solidarity House, is the largest self funded Palestinian solidarity office on the African continent. The Mayor congratulated the important work that BDS SA does and committed himself and his party to supporting BDS SA as we advance Palestinian solidarity in our city, country and continent. Describing the offices as a "beautiful space" the mayor commented via his Twitter account: "It's a privilege to be invited by BDS South Africa. It's always great engaging with young activists doing great work in our City #WeServeJoburg".
Mayor Makhubo was active in the struggle against apartheid and is now active in both the advancement of our people as well as standing in solidarity with the oppressed peoples of the world. We salute the mayor for his leadership and look forward to working with him in our various campaigns and activities. Our new office will be used to advance international solidarity and we hope to humbly but actively contribute to the liberation of the Palestinian people and the end of Israeli Apartheid.
Present at the office opening were partner NGOs, fraternal organisations, fellow activists, ambassadors and embassy officials, journalists, government representatives, trade unions, filmmakers, donors, artists, well-wishers and volunteers - we thank each of our supporters for your consistent support and solidarity. Indeed, it was a night of celebrating activism, camaraderie and international solidarity. Forward to a free Palestine! 
Click here.
"Solidarity is an assertion that no people is alone, no people is isolated in the struggle for progress... Solidarity has no race and no colour, and its country has no frontiers"

Former President of Mozambique, Cde Samora Machel
JOIN BDS SOUTH AFRICA'S EMAIL MAILING LIST
To join BDS South Africa's email mailing list (& receive these newsletters) send a blank email message to alerts@bdssouthafrica.com