I hope everyone had a wonderful Thanksgiving and ate wayyyyyy too much. Steve worked, so I was bonding with my sewing machine. I didn't get as much done as I was hoping to accomplish, but I'm farther ahead than I was, which is good.  
A couple of people on our prayer list are doing better. Dana and Linda, we will continue to pray for improvement.
Our strip night was a huge success and I think everyone enjoyed themselves. Lots of socializing this year, which is an integral part of quilting if you didn't already know this. A HUGE thank you to Joyce for working her tail off and keeping things in order for us; Mary and I actually got out at a decent time, otherwise we would have been here a few more hours cleaning up. Here are some pictures from that night.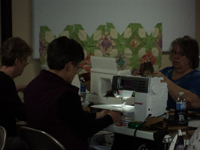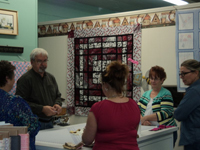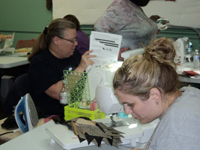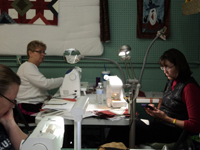 BTW we have set the date for next year and already have half a dozen people signed up.  Mark November 1, 2014 on your calendars.
All Christmas fabric is
25% off till gone!!!!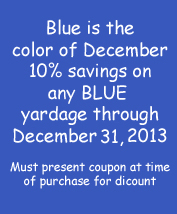 Don't forget on New Year's Eve I will be here for OPEN  SEW beginning at  8:00 pm and going until ?  You will have first crack at the New Year's Day Sale at midnight. Bring a snack to share and join me.  No charge for this, just fun!!!
That brings us to our annual New Year's Day Sale on January 1, 2014, 10 – 3. 20% off of everything in the shop excluding classes. Stop by and save!!! We will have numerous cutting tables and staff to help you select your fabrics for your projects. We will not be giving punches that day, but you can use those punch cards that you have been saving all year!!
Mary and I have the first 6 months of our schedule done; we stopped there because it seems we always change the second half of the year. So here we go…
In January Mary is starting a TT Club, Table Topper Club.  You will meet on the second Thursday of the month from 12 – 4. Here is a picture of the first Table Topper. 
Club registration is $25.00 and then $5.00/month.

Beginning in January is our 3rd Saturday of the month block of the month. This is the one that you need to purchase the pattern, and then you will get the blocks free of charge and, if you wish, you can purchase the finishing kit. I used the pattern "Stars in the Garden" this year.  Here is a picture of how I put it together.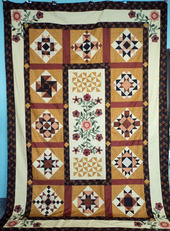 There are 12 blocks (I didn't use 2 of the blocks), so you will receive 2/month for 6 months. You may pick up your blocks on the 3rd Saturday of the month beginning on January 18 and running through June. I will need to know right away if you wish the finishing kit ($113.95). I only have 15 kits, and already have 3 quilters signed up, so let us know soon.
Mary will begin "Nancy's Fancy" on January 13, and of course will offer an afternoon class, 1 – 4 or an evening class, 6 – 9.This is a quilt that begins with easy blocks and they progressively get more difficult, a great learning tool. Here is a picture of the body of the quilt,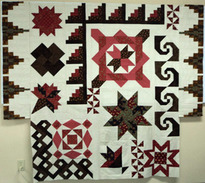 Mary is still working on her bargello borders. This is a 10 part class running every other Monday. When you purchase your fabric at our shop the class is $50.00 which includes the pattern. If you use your own fabric the class is $100.00 and the pattern is $12.50.
I will be teaching "A Mother's Love", a Laurie Smith pattern, beginning on Thursday, January 16, an afternoon, 1 – 4 or evening class 6 – 9. I have also had a request to teach this on Friday morning, so we will also have a class beginning on Friday January 17, from 10 – 1 and running every other Friday for 8 classes. Oh, I failed to mention that if we have an afternoon and evening class, you may attend either one and you are not committed to that class. You may switch back and forth depending on your schedule. This is a good intermediate quilt as you will be working with small pieces and accuracy is a must.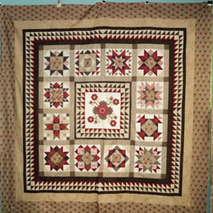 The class is $35.00 (includes pattern) if you purchase your fabric here and $75.00 and the pattern is $9.00 if you use your own fabric. This is an 8 part class and runs every other Thursday.
Mary and I thank the good Lord daily for all of our customers who have become as close as family.  We sincerely thank you for your support and wish each and every one of you a Merry Christmas and a Healthy New Year.
Holly and Mary