WELCOME
Thank you so much for joining The Hero with Girl Power newsletter! Please pass this along to any friends you think might enjoy it, or just need a boost of motivation and inspiration. They can sign up using this link: 

https://signup.ymlp.com/xgquhsyhgmgj
I'm revealing never before released information on Princess Genevieve: The Hero with Girl Power right here! In the book, Princess Genevieve has special powers—but these aren't magical gifts, they are qualities we all have inside us to accomplish our goals, conquer our fears, create the life of our dreams, and be the hero of our own adventures. These are important lessons for girls of all ages and life stages, and the focus of this newsletter. I'll be spotlighting different areas each month. 
Behind the Scenes of Princess Genevieve: The Hero with Girl Power
While writing the book, I struggled to connect all of the life lessons I wanted to share with a central theme. Princess Genevieve began with the tagline, "You don't have to be royal to have a dreamy life." But as I began drafting the story, that angle wasn't working for me. I admitted I needed help and reached out to my friend, Kara, and she helped me sew everything together! As an author, it's easy to want to do everything on your own because this is your passion and creation. But sometimes you just need an outsider's perspective to forge ahead to greatness. Here's our text message thread where the spark was ignited: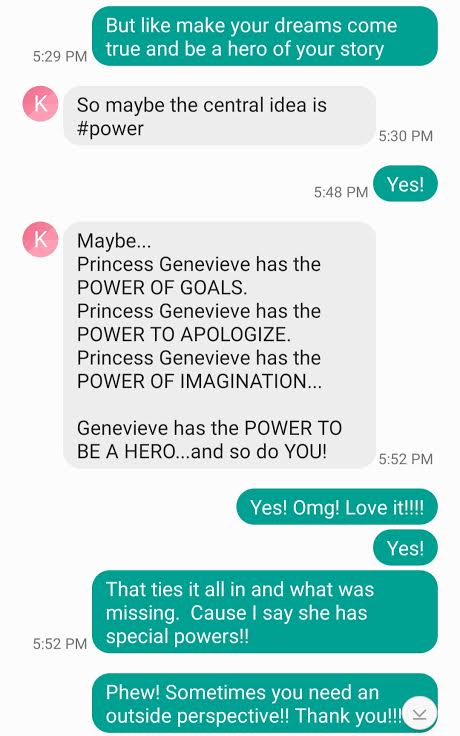 You Have The Power of Accomplishing Goals
I don't need help getting motivated, but I love reading 
Rachel Hollis
 books because she tells great stories and her tips are so inspiring. I'm ready to take on 2020 thanks to 
Girl, Stop Apologizing
! She inspired me to make a 2020 vision board filled with my goals for this year. I had Genevieve make one, too. It was our New Year's Eve activity. Here's mine: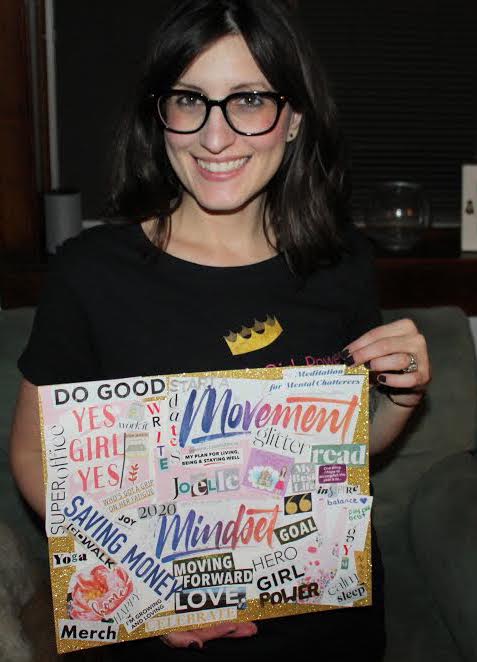 Lesson Learned from this Story: 
Create a vision board to keep you on track with all your girl power goals for 2020. I'd love to see. Share it on Instagram and tag me
@hellojoelle and 
@herowithgirlpower
and use #herowithgirlpower.
You Have The Power to Have Fun Without Using Technology
We spend so many wasted hours on our phones. Time that could be spent recharging, living in the moment, enjoying our children, reading...anything else more beneficial. In an effort to use my phone more mindfully, I hid all the social media apps in folders on my phone. Now, if I want to look at Instagram, it's very annoying. That reduces the time I'll want to spend on my phone. I also make my time online very specific and intentional- to post, schedule an ad, interact with followers and network, etc. I try to keep scrolling to a minimum. And you know what? I feel so less stressed. Try it.
You Have the Power to Help Animals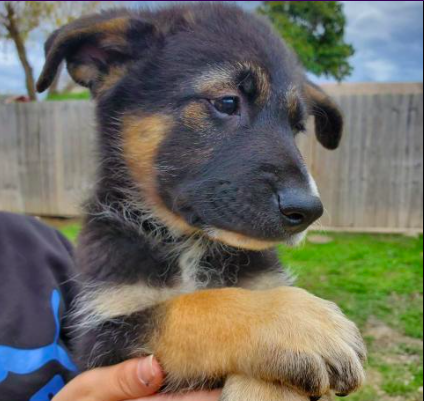 This cattle dog/ German Shepherd mix puppy is available for adoption in New Jersey on Petfinder. It's so close to my house, I am tempted to drive over and take one home. Literally, about to grab my car keys. If you're in search of a pet, consider adopting and saving a life. I, of course write, about the importance of this in Princess Genevieve!
You Have The Power to Conquer Your Fears
I had so much mom anxiety when my daughter, Genevieve, started kindergarten last September. In her pre-school, I could log-on to the school camera system and watch her activities. But you can't do that in elementary school. What's a mom who constantly worries about the safety of her kids to do? Trust the universe. Ah! I had myself in a good place, trusting that she is in a safe school. But then winter break happened and after a week with her at home with me, I had to start walking her into school every day and just trusting that she is being taken care of. And it's so hard. I also think I get more emotional about this depending on where I am in my girly cycle of the month.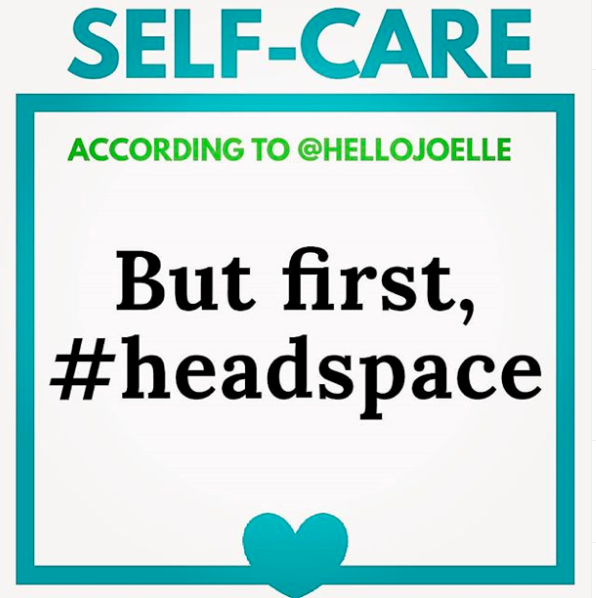 But to help get me in a positive mindset, I decided that every morning after I drop her off at school and before I start work, I will sit and do a 10-minute meditation on the Headspace app on my phone. I go in my home office, close the door, open the curtains on the window, plug in headphones and just close my eyes and listen to that nice British man who tells me that I need to change my relationship with anxiety. And then I can become inspired and conquer the day! Before I know it, 3 p.m. has arrived and I can go pick her up and be grateful for the day.
You Have The Power to be the Hero of Your Own Fairytale
To recap lessons learned in this edition, to help you conquer your goals and live more mindfully and positively:
1. Write a 2020 vision board
2. Hide social media apps on your phone so you can unplug easier
3. Use tools like meditation apps to help ease your worries and change your relationship with anxiety
Here's to making 2020 your best year yet,
Publicist. Author. Human and Rescue Dog Mom. Divorced in my 20s. Remarried in my 30s. Chronic Fatigue Warrior. Anxiety Conqueror. Food Allergic Foodie. Straight-Edge. Mindful Motivator. Positive Thinker. Creator. Former Music Journalist & Internet TV Show Founder. Style Obsessed with Eye Glasses and Handbags. 
Mission: Empowering girls of all ages and life stages through sharing and promoting stories from myself and others that will inspire you to live your best life.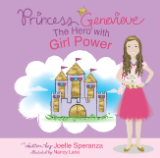 Hero with Girl Power was inspired by the children's book, Princess Genevieve: The Hero with Girl Power—coming 

in 2020. 
Hero With Girl Power (
#
herowithgirlpower
) is an inspirational community to empower girls of all ages and life stages. From recent college grads with aspiring careers, to those starting new chapters as newly single women, and of course, the moms reaching for the stars while they have a child reaching for their hand.  
Visit www.herowithgirlpower.com
FOLLOW US
WHAT DOES GIRL POWER MEAN TO YOU?
I'm asking this question at www.herowithgirlpower.com. You'll see responses coming in from best-selling authors, TV show producers, social media influencers, reality TV stars, mompreneuers...and little girls!
To be featured, answer the question, "WHAT DOES GIRL POWER MEAN TO YOU?"
Send you response, photo, and job title if you'd like. Submit a quote from your daughter, too! Just send her first name, photo, age and response. Email all to joelle
@

joellesperanza
.com to be featured!
HEROS WITH GIRL POWER: Mary and Gracie Murphy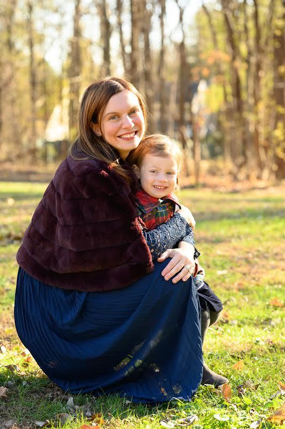 "Girl power is finding confidence and pride in who you are then helping others find it as well."
-Mary Murphy, Freelance News Producer, MSNBC
Being a big strong lady!"
–Gracie, age 3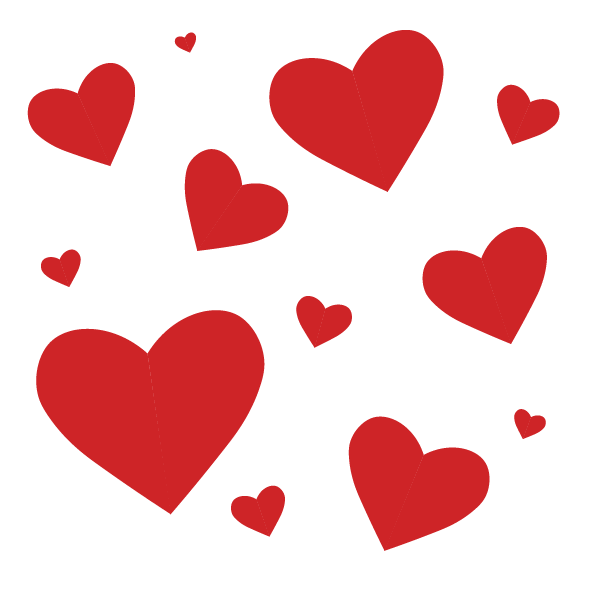 SUPER MOM
All moms are super moms, but some are managing extra stressful situations and this spot is to recognize them with a big virtual hug and high-five. I know a woman, part of my Trash the Dress support group,  who recently gave birth to twin girls very early- at 23 weeks into her pregnancy. Both girls are fighting for their lives and their mom is their biggest cheerleader and remaining so positive in a time when many would fall apart. This is for you, Nicole. You're being as strong as possible for your girls and that means you're being the best mom. Hugs. 
Nominate a Super Mom by emailing me at joelle@joellesperanza.com