Good Morning CSA Members,
  Today, Wednesday July 27th is a CSA pick up.  Your share will be available for pick up from 4-7pm at your chosen pick-up location. 
     We have embarked onto the sea of summer and the swells of tomato, zucchini, beans, and cucumber waves will be upon us soon. 
Dragon Tongue Beans & Green Beans
Artichokes (market pick-up)
Cherry Tomatoes (farm pick-up)
Beets
Head Lettuce
Basil
Zucchini & summer squash
Munson's Sweet Corn
Fruit share: Cherries, Peaches, & Apricots
Egg Share: pick-up every week
Flower Share: sunflower mix bouquet
Bread Share: next week
Coffee Share: next week
Wine & Cheese share: next week
Coming next week: lettuce, tomatoes, carrots, cucumbers, sweet corn, peaches and more.....
    The first crawdad (as big as a whale in some circles it has been said) has been captured by the Kid's Camp, placed in a jar ( the size of a stadium), oggled (via airplane) and then released (very carefully).  It must be summer. 
    The interns hands are calloused and finger nails very of the earth.  The scent of basil and the color of sunflower pollen cover the farm, against the backdrop of mountains with the last streams of snow becoming shorter each day.
    Pigs being moved to new pastures and the piglets now beginning to cultivate their curiosity. 
    The nights now cool and the mercury falling with glimmers of fall though it might be delusional.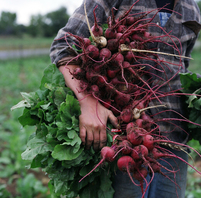 In any case, the prick of the artichoke and the tenderness of its inner leaves have stolen us away to an imaginary Rome where the
carcioffi
was first smashed and fried to quench the thirst of hunger, but now we know to peel the layers and uncover the delicate heart and taste the reprieve which was discovered many centuries ago.
Enjoy!
Summer Succotash Salad
Succotash is traditionally a North Eastern Thanksgiving dish, but this recipe will make you want it all year 'round! Use your sweet corn and wax beans, and add other ingredients from your share for even more flavors and textures!

Creamy Beet Hummus This hummus tastes as great as it looks! Perfect with some traditonal pita chips or dip your wax beans and some carrots for a healthy alternative!

Thai Beef Lettuce Wraps Our tender head lettuce will be perfect in this recipe! Stop by the Farm Store and pick up some All Natural Homestead ground beef from LaSalle, CO to complete the recipe!

Use your cherries, apricots, and peaches together or individually in this delicious cake that can be eaten for breakfast, dessert, or anytime!
Summer Succotash Salad
3 ears corn in husks (about 3 cups of corn)
1 large avocado, halved and pitted, brushed with a bit of olive oil*
8 ounces green beans, trimmed
1 lb. fava beans, shelled (may be substituted with 1 cup lima beans)*
1 cup cherry tomatoes, halved
2 green onions, both white and green parts, sliced on the bias
⅓ cup freshly chopped basil
For the dressing:
2 tablespoons white balsamic vinegar
juice of 1 lime
2 teaspoons maple syrup
¼ cup extra virgin olive oil
salt and pepper, to taste
Directions
Preheat the grill to medium. Once heated, place the corn on the grill in the husks and cook 15-20 minutes or until tender, turning about every 5 minutes. Set aside to cool slightly, then remove the husks from the corn. Place the ears of corn on a cutting board and cut the kernels from the cob and place in a large bowl.
Brush the cut side of the avocado with the olive oil and cook cut-side down for 1-2 minutes or until charred and slightly softened. Dice the avocado and set aside.
While the corn cooks, fill a large pot with water and bring to a boil over high heat. Once the water is boiling, reduce the heat to medium and add the green beans to the simmering water and cook 3-4 minutes or until crisp tender. Drain in the colander and rinse with cold water to stop the cooking process. Cut into 1" pieces and place in the bowl with the corn. Blanch lima beans for 1-2 minutes, rinse, and drain.
Add the cherry tomatoes, green onions, and chopped basil to the bowl and set aside.
For the vinaigarette: Place the vinegar, lime juice, maple syrup, salt and pepper in a small bowl and whisk until combined. Add the olive oil in a steady stream while whisking. Add the desired amount of vinaigrette, then gently toss in the avocado. Serve and enjoy!
3 medium sized beets, washed and trimmed (about ¾ pounds)
3-4 garlic cloves
½ cup tahini
1 cup plain yogurt (I used greek nonfat yogurt)
4 tablespoons fresh lemon juice
1 teaspoon kosher salt (plus more to taste)
fresh ground black pepper to taste
pinch of cayenne pepper
olive oil for drizzling
parsley for garnish (optional)
edible flowers for garnish (optional)
Directions
Preheat oven to 375
Wrap beets in aluminum foil (foil should form a pouch around beets and they should be completely covered)
Place foil wrapped beets on a baking sheet and roast for 60-75 minutes, or until tender. Allow beets to cool.
When the beets have cooled, use a paper towel (or your fingers) to remove the skin. You might want to wear an apron, that beet juice will stain everything!
Cut the beets into wedges and add to a food processor with the garlic, tahini, yogurt, lemon juice, salt, and black & cayenne pepper. Process until smooth.
Transfer to a serving bowl and drizzle with olive oil.
Garnish with parsley and edible flowers (optional)
Thai Beef Lettuce Wraps
1/4 cup Tamari (gluten-free if desired)
1 Tbsp. Sriracha
3 Tbsp. Rice vinegar (or lime juice)
1/2 tsp. Toasted sesame oil
beef:
1 tsp. Oil
1 lb. (454g) Ground beef (local, grass-fed and finished if possible)
1/2 tsp. Crushed red chili flakes
3 cloves Garlic, minced
2″ piece Ginger, minced
2 Sweet bell peppers, diced
1/2 bunch Green onions, thinly sliced
1-2 cups Basil, roughly chopped
1 bunch Cilantro, roughly chopped
toppings:
1 lime, juiced
1/2 lb. carrots (3-4 medium), julienned or grated
1 Cucumber, thinly sliced
1/2 bunch Green onions, thinly sliced
1/2 lb. (227g) Rice noodles
1 bunch Cilantro, roughly chopped
1-2 large heads Lettuce, separate leaves to use a wraps
Directions
To make sauce: whisk ingredients together
Prepare carrots and cucumber: toss chopped carrots and cucumbers with juice of 1 lime
Cook beef: heat oil in frying pan over medium heat. Add beef, cook until browned about 10-15 minutes, breaking up with the back of a spoon. Stir in crushed red chili flakes, ginger and garlic, cook 1 minute. Add chopped peppers and 3 Tbsp. of sauce, cook until peppers begin to soften, about 5 minutes. Turn off heat and stir in green onions, basil and cilantro.
Cook noodles: Bring a large pot of water to a boil. Add noodles and cook for 4-5 minutes (or follow package directions). Stir occasionally to keep noodles from clumping together. Drain and rinse under cold water.
Assemble: using a lettuce leaf as a wrapper, fill with rice noodles, top with beef mixture, carrots / cucumbers, cilantro and a spoonful of sauce.
Artichokes: Worth the Work
This week members who pick up at the Boulder County Farmer's Market will be receiving the first artichokes of the season! We have been growing artichokes here at Cure Organic Farm for a few years now and are excited to offer what we have to some of our CSA members. Growing artichokes here in Colorado can be tricky though, and this is why we cannot yet offer enough to all our members - but don't worry we're working on it and plan to have harvests  that will soon be available to all of our members and hopefully for sale as well!
     So why is this crop so difficult to grow? First off, artichoke seeds have a low germination percentage of about 70%. Therefore when we start the seeds we always must overcompenstate to ensure enough germination. Second off, artichoke plants are biennials, meaning that they have a life-cycle of two years. In the first year the plant sets its roots, stems, and leaves, and in the second year it flowers, creates fruits, and sets seeds. Here at the farm we harvest the same year we plant, and in order to do so, we have to "trick" the artichoke plant. To trick the plants, we start the seeds very early in the season, normally in mid-Feburary. Once the seeds have germinated and the first true leaves have appeared, we then take the flats and subject them to 200 hours of temperatures below 60°F.
     The other reason artichokes are difficult is becuase our growing season here in Boulder, CO is shorter than in most other climates that artichokes are grown. However, all of these reasons are not enough to stop us from growing this great crop.
How are you going to prepare your artichokes?
     First you want to wash the artichokes just before cooking. Do not wash before because this could cause them to spoil faster. Next, trim off the tip and the stem. You also want to remove the outer leaves as these are very tough and inedible. Trim the tips of the remaining leaves. Brush all the cut edges with lemon juice to prevent the artichoke from turning brown.
     At this point you have a few options for cooking. You may steam the entire artichoke in about an inch of water for 20-25 minutes until tender. You can also slice the artichoke in half, drizzle with olive oil, salt, and pepper and grill on medium heat for 10-15 minutes until tender. Finally you could also peel off all the leaves until you expose the prickly "choke" and heart. Remove the choke and use the heart as suggested in recipes.
      Although these plants are a lot of work in the field and the kitchen, we hope you enjoy their delicate flavor and creamy texture and we look forward to bringing more to the table in years to come!
   This week is the time to insert the straw in the remaining wine bottles and make room for next weeks share!  We have received alot of positive feedback from this option and have been adding shares each week and so if the need arises to join please send us an email and we will get you registered. 

Doing what you love is freedom, loving what you do is happiness.
-Anon
Stone Fruit Coffee Cake
Cake
1 large egg, room temperature
1 egg yolk, room temperature
1/3 cup unsalted butter, melted and cooled slightly
1/2 cup granulated sugar
1/2 cup light brown sugar
3/4 cup buttermilk
1 tablespoon vanilla extract
1 3/4 cups all-purpose flour
3 teaspoons baking powder
3/4 teaspoon kosher salt
1/2 cup fresh cherries
2 large peaches, pitted and sliced thin
Or 4 medium apricots, pitted and sliced thin
Cheese Mixture
8 ounces mascarpone cheese, softened
1/2 cup granulated sugar
1 cup all-purpose flour
3/4 cup light brown sugar
2 teaspoons ground cinnamon
1/2 teaspoon ground nutmeg
1/4 teaspoon allspice
1/2 cup unsalted butter, cold and cubed
Directions
Preheat your oven to 375 degrees F and situate an oven rack in the middle of the oven. Grease a 10 - 12 inch springform pan with butter or a non-stick spray. Set aside.
To make the cake, in the bowl of your stand mixer with paddle attachment fixed, cream together the egg, egg yolk, butter, granulated sugar, and light brown sugar until combined. Add the buttermilk and vanilla extract and beat again until combined.
In a medium bowl, whisk together the flour, baking powder and salt. With the mixer set on low-speed, slowly add the dry ingredients to the wet until all of the ingredients are combined. Do not over-mix. Scrape down the sides of the bowl as needed.
Pour the batter into the prepared pan. Set aside.
In a small bowl, whisk together the mascarpone cheese and granulated sugar until thoroughly combined. Spread the cheese mixture over the cake batter gently, so that it doesn't mix with the batter.
Layer the blueberries and peach slices on top of the cheese mixture.
Prepare your crumble topping by combining the flour, brown sugar, cinnamon, nutmeg and allspice in a large bowl. Whisk to combine. Add the cold and cubed butter and crumble the ingredients together with either a pastry cutter, a fork or your hands until coarse crumbs form. Act quickly, so that the butter does not melt.
Sprinkle the crumble on top of the fruit.
Bake the cake at 375 degrees F for 45-50 minutes or until a toothpick comes out clean. If you find that the cake is browning too much through the baking process, you may cover it with foil.
Remove from oven and let cool for at least an hour before serving.
The cake will store at room temperature for 3 days. Enjoy!



Cure Organic Farm

7416 Valmont Rd.
Boulder, CO 80301
cureorganicfarm@yahoo.com
www.cureorganicfarm.com