SHOP HOURS
Monday: CLOSED
Tuesday: 12 - 6
Wednesday: 12 - 6
Thursday: 12 - 6
Friday: 12 - 6
Saturday: 10 - 6
Sunday: 12 - 4

 

 

 

 

"Every ball or skein of yarn holds something inside it, and the great mystery of what that might be can be almost spiritual"  

 

Spring has sprung, folks, and that means it's time to switch gears and move to little, light weight projects. No more afghans or sweaters that cover your lap and keep you cozy. Now is the time for something small and manageable that you can pack around from spot to spot as you enjoy the sunshine and warm weather. Well, if you are looking for a project, we have one for you! Starting Thursday, May 2nd (lasting until May 23rd) we will be hosting the Mount Airy Sock Knit-Along.  Come join us on Thursdays during the month of May from 12:30 to 1:30 and knit a pair of socks, for you or someone knit worthy in your life. We love this pattern and we know you will, too!

Remember, guys, t-shirt orders are due by Tuesday, April 23rd. After that day, our Manatee and Crab ReBelle shirts will only be available in one color and limited sizes. So, get those orders in!! You can even order online-

https://mkt.com/rebelle/item/t-shirt-preorder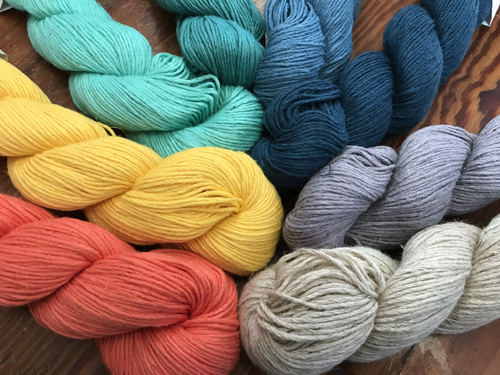 We are happy to introduce you to a new yarn we have in the shop: Mojave from Kelbourne Woolens. This cotton/linen blend is light-weight and perfect for summer projects: Think tank tops, face cloths, and summer shawls.  This yarn comes in 8 exciting colors and we know you will love it as much as we do.
This month's Sassy Holidays colorway by Knitted Wit is dedicated to April Fool's Day and it is...wait for it: Pumpkin Spice Latte! We KNOW! It's amazing!!! Hurry in we don't have many skeins left!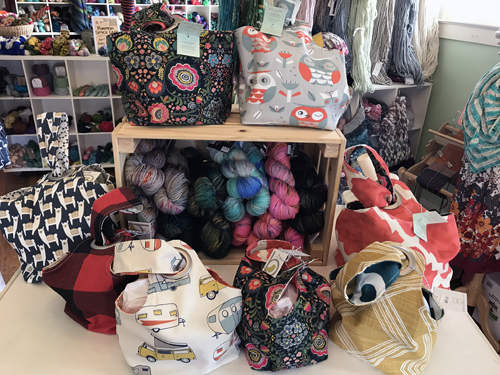 We have new Binkwaffle bags. You loved the large size. You loved the small size. And we KNOW you're gonna love the medium sized bag. It's reversible and comes in all kinds of adorable patterns. Stop in and check them out!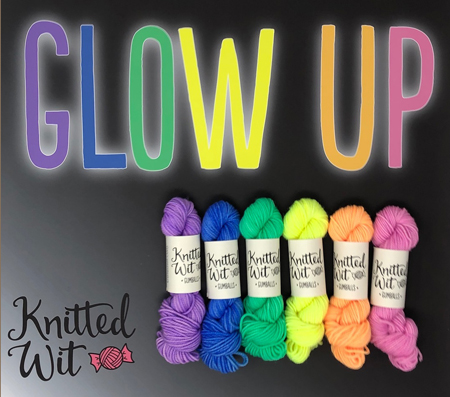 We have Glow Up Kits!!!! This is a neon rainbow gradient kit called "Sixlet" from Knitted Wit. And if neon isn't your thing, we have the sixlets in 6 other colors that would also look lovely with these patterns.
Are you ready for this?! We would like to introduce to HiKOO's Abracadabra, a color changing yarn. This DK weight yarn changes color, either pink, purple, or blue, when exposed to sunlight. This yarn is perfect for shawls or kids clothes or even little toys. You are gonna have so much fun with this yarn!!!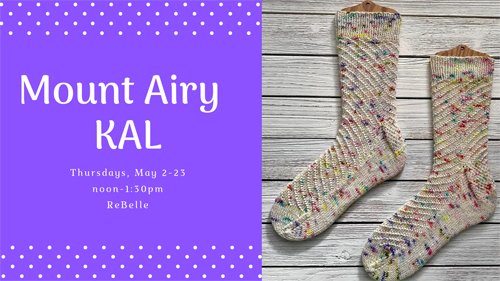 Mount Airy Sock Knit Along
May 2-23
For May we will be knitting the Mount Airy socks by Mary Lukas, a local sock designer. We are really excited to feature these lightly textured socks as our first warm weather knit of the year, they are both simple and engaging and the perfect pattern for that single skein of sock yarn you have been coveting.
All ReBelle knit alongs are free and open to the public. You are welcome to attend as many or as few of the KAL sessions as you like. The pattern can be found
on Ravelry
or you can buy it in the shop.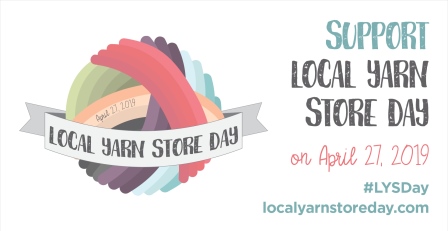 Local Yarn Store Day 2019
Saturday, April 27
April 27, 2019 is Local Yarn Shop Day here at ReBelle. T
Celebrate Local Yarn Store Day at ReBelle!!

This brick-and-mortar yarn shop appreciation day is designed to bring together our unique community of knitters, crocheters, weavers and spinners to drive awareness and celebrate the craft.

We will have

some fun things going on and lots of giveaway

s. T

here will be exclusive free patterns and an exclusive kit from Kelbourne Woolens for the "A Bow in the Sky" shawl. This is a gorgeous shawl and exclusive to LYS Day so make sure and stop in for all our Yarn Shop Day specials!

We can't wait to see you there!!
Our Yarn of the month for April is Malabrigo Rios: The 2019 Yarn Madness Champion!! That means right now, Rios is 10% off. We know this yarn is super popular and here's your chance to add some to your stash or pick up a few skeins for a new project at a discount!
Featured Upcoming Classes
 

Granny Square Class ($15)

 

C

ome learn to crochet 3 different styles of granny squares with Raellyn. You will need to bring a size H or I crochet hook and worsted weight yarn. Beginners welcomed, but basic crochet experience is needed.




Saturday, April 27. 4-6pm




 
 

Sign up for indigo classes 

here

.




Batik




Batik is a wax resist method that can be used to produce beautiful designs on fabric. Raellyn will demonstrate how to apply the wax with brushes, tools, and stamps to create different designs and effects. She will also have instructions on how you can remove the wax resist from the fabric after dyeing. No previous experience is necessary for this class and the class price includes two tea towels and the batik materials as well as a space in the Indigo Dyeing workshop the next day.

 




 

 

The indigo plant has been used to create deep, beautiful blues for thousands of years. This will be a combination class and open dye workshop. For those who want to learn we will talk about the different methods of creating and maintaining an indigo vat and we will make the vats for the class to use. We will also talk about the history and chemistry of indigo dyeing. For those of you who just want to dye with indigo there will be vats made up for dyeing fiber as well as fabric and people to instruct you in the process.

 




 

Shibori Wrap

 

In this class we will learn to make shapes and patterns using various shibori resist techniques. No previous experience is necessary for this class and the class price includes the wrap and the shibori materials as well as a space in the Indigo Dyeing workshop the next day.

 

Saturday, June 1st 10am-12pm