SHOP HOURS
Monday: CLOSED
Tuesday: 12 - 6
Wednesday: 12 - 6
Thursday: 12 - 7
Friday: 12 - 6
Saturday: 10 - 6
Sunday: 12 - 4

 

 

ReBelle will be closed July 3rd - July 8th

 

 

 

We don't have a lot of new yarn in the shop this month, but we do have a whole slew of upcoming events happening at ReBelle for you to get excited about.  You should also check out or Summer

class schedule

, it's packed with great workshops and classes.  Also, note that ReBelle will be closed July 3rd-8th.

 




 

This year we will be participating in the I-75 yarn crawl, one of the largest yarn crawls in the country!  

There will be great prizes and events happening at the 35 participating shops. Passports for the event are $5 and if you register by July 1st, you will receive a limited edition tote bag for the event. You can register here.

 Set your pickup location as ReBelle for a chance to win one of five early entries to our 10th Anniversary Sale.

 

Pop Up shop with local dyer, Rock and String

 

September 10

ReBelle's 10th Anniversary Sale and Celebration




And speaking of out 10th Anniversary Sale, we've announced our 10th Anniversary Contest, magical faux taxidermied animals!  Voting will take place at our 10th Anniversary Sale on September 10th and first prize is a $100 gift certificate to ReBelle and there will be trophies for first, second and third place!  Full details and facebook event here.

 

Pop Up shop with local dyer, Neeley's Knits

 

Malabrigo Trunk Show

 

Pop Up shop with local potter, Hippie Art Chick and local fiber fusionista, Doodle Fibers

 
Robyn has been at the dye pot again and she's dyed up some of her favorite fiber, Falkland.  The fiber is made to be spun, so the colors won't muddy.
She's also dyed up some sock yarn.  It's 90% Superwash Merino and 10% nylon, the perfect blend for sturdy, wooly socks!  Each 100g skein contains 384 yards and it knits up great on a size 2 needle.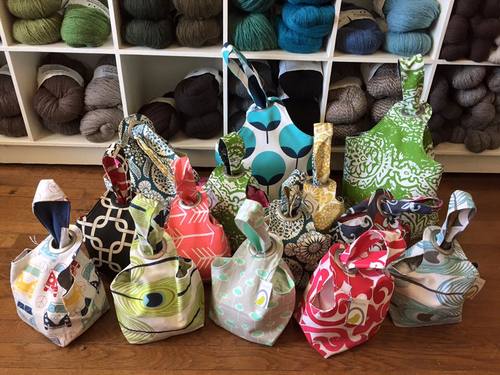 We have a fresh batch bags from Binkwaffle!  Binkwaffle bags have a unique design that allow them to close securely, but open widely, to allow you easy access to whatever you store inside.  These bags make great project bags with a single handle you can sling on your arm and carry with you while you knit.  The bags are made from sturdy fabric and are completely reversible!  That's like having two bags in one!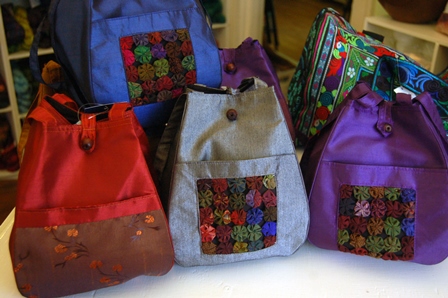 Speaking of project bags, we also have these great little bags (above), just perfect for small projects.  They are made from silk and have interior zipper pockets and at only $20, they are a great deal!  We also have some larger colorful bags (below) that work great for large projects or as general tote bags or purses for your non-yarn needs!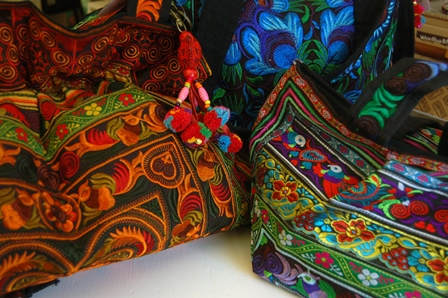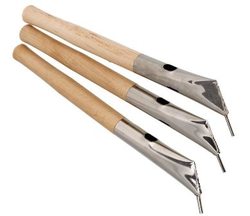 We also started carrying these Tjanting tools and batik wax for those of you who were inspired by the batik class we had earlier this Spring.
Blue Sky Worsted Cotton is the yarn of the month for May and we're offering a whopping 20% off!!  Blue Sky cotton is like no other cotton you have ever felt, it's soft and lofty, aran weight, with 150 yards per 100g.  Knitters love this yarn for baby items, chemo caps, sweaters, and accessories for people allergic to wool.  Here are some patterns that look great for this yarn.  
Organic Heirloom Baby Blanket
,
Girl's Sundress
,
Knit Chickens
,
Bunny Blanket Buddy
,
Super Natural Stripes
(baby/toddler cardigan),
Soft Cotton Dish Towels
, and
Summer Open Cardigan
.
Featured Upcoming Classes
 

Intro to Drop Spinning ($35)

 

Come join Robyn a fun afternoon of learning to spin yarn on a drop spindle. Drop spindles are an inexpensive way to get a taste of what goes into the creation of yarn. In this class you will learn basic spindling techniques and some simple plying methods. This is a beginning class so no prior experience is needed. The class price includes a drop spindle and 2oz of combed top, if you already have the supplies you can take $15 off the class price.

 

 
Introduction to Wheel Spinning 

($35)





In this first class you will learn about the basic mechanics and maintenance** of a spinning wheel, types of fibers and fiber preparation methods used for spinning, and the fundamentals of spinning a basic yarn. You will need to bring a spinning wheel* and 2-4 oz of prepared wool fiber (roving, top, rolags, or carded batts.)

 

In the second class we will ply the singles spun after the first class. We will learn about setting the twist and finishing the yarn. We will also go over how to incorporate your handspun yarns into your knitting projects.

 

*If you don't own a spinning wheel, there are two shop wheels available to rent for this class for an extra $15. You will also receive a certificate for another 5 hours of post-class spinning wheel time or half off a weekend rental which will allow you to practice what you learn in the class.

Sundays, June 26th and July 10th 4-6pm




 
 

Amigurumi: Cactus Cutie ($25)

 

Join Raellyn to create this little cactus cutie amigurumi style! Learn to make crocheted sculptural shapes by using increases and decreases, as well as how to stuff and sew it all together. A knowledge of basic crochet skills is required. You will need US size C and F crochet hooks. All other materials required are included in the class fee.




Tuesday, June 28th 6-8pm