SHOP HOURS
Monday: CLOSED
Tuesday: 12 - 4
Wednesday: 12 - 4
Thursday: 12 - 4
Friday: 12 - 4
Saturday: 11 - 5
Sunday: 12 - 4

 

We are so excited to welcome all our Fiber Friends to the month of March and here at ReBelle that means fun spring colors and light weight fabrics. Think bright pinks and rich, saturated blues, and sunny yellows. Now, is the perfect time to pick out some linen or cotton (or a blend!) and make yourself the perfect summer cardigan. We are super excited about the

Wave of Change Jacket

 knit with Juiper Moon Farm's Zooey but there are so many gorgeous options to try out. So come by the store and we can help you pick out something for our March Casapinka KAL, our April Malabrigo Shawl KAL, or whatever else would make your spring dreams come true.
We have a full stock of all your favorites from Katrinkles- sock rulers, needle and hook gauges, darning looms, stitch marker, and these super adorable cat and dog notions certain to make your projects a bit more fun!!
You might have already heard, but Casapinka revamped and re-released her
Botanique
Wrap in collaboration with Emma's Yarns. Together they created six colorpacks for knitting this beautiful springtime wrap and we have all six color packs and are even doing a Casapinka knit along for the month of March (details below.) Come grab yours and knit along. 
Speaking of Emma's, the Crazy Beautiful Color Club for March is here and it does not disappoint- all the colors of spring without reminding you of an Easter egg. These would be great by themselves or even better combined with some of their other colorways. We also added a bunch of Super Silky yarn in solid colors since y'all can't seem to get enough of them.
Got scraps? Why not try a bit of weaving? We just added a few of these circle looms to the shop and they are the perfect way to show off some of those beautiful yarn, fiber, and fabric pieces that you just can't part with. Circle weaving is fast and easy to learn and these looms come with the tools and instructions you need to get started.
We are very excited to announce that the Yarn of the Month for March is Malabrigo Worsted!! We have carried Malabrigo Worsted since the day we opened and nearly 15 years later and it is still one of our favorites. This ultra soft, ultra warm, merino single ply yarn is perfect for wearables like hats and cowls, but it also excellent for felted items like slippers and mittens. Some of our favorite projects for this yarn are the
French Press Felted Slippers
,
Treza Mitts
,
Bandana Cowl
, and
Headband with a Twist
.
For March's shop KAL, we will be knitting the Casapinka pattern of your choice. There are tons of designs to choose from including the Botanique Wrap that we have special Emma's Yarns kits for. This is also a great way to use up some stash yarns, maybe pair them with a skein or two of new yarn. Robyn created a Ravelry bundle (
https://ravel.me/spingirl/c9
) with several pattern ideas if you need some help finding the perfect pattern. She is also available if you need help finding a pattern for a particular yarn.
All ReBelle knit alongs are free and open to the public. You are welcome to attend as many or as few of the KAL sessions as you like. 
Join Zoom Meeting
Meeting ID: 883 8842 8551
Passcode: 2021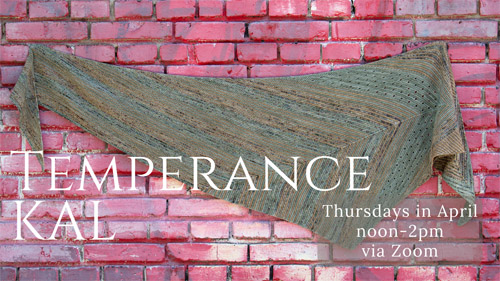 For April's shop KAL, we will be knitting the Temperance Shawl by Malabrigo with Malabrigo Sock or Mechita. Temperance is a three color asymmetrical shawl with simple, yet elegant detailing, it is the perfect combination of mindless and interesting to keep you going. 
The shawl knits up on a US6 needle and uses 3 skeins of Malabrigo's Sock and/or Mechita yarn, which we have exclusive KAL color kits for, but if that yarn doesn't fit your style we have several other compatible yarns for this pattern.
All ReBelle knit alongs are free and open to the public. You are welcome to attend as many or as few of the KAL sessions as you like. The pattern can be found on Ravelry or you can print it in the shop.
Join us via Zoom-
Meeting 
ID: 883 8842 8551
Passcode: 2021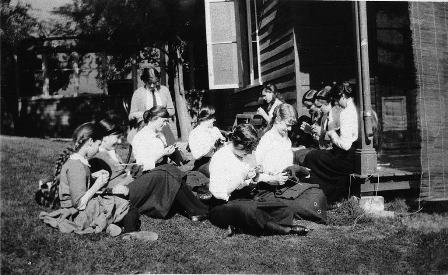 We host a virtual stitch-in on Zoom every Tuesday evening (7-9pm) that are free and open to the public. Community is important and we found that these virtual meetups are a great way to fight cabin fever and to connect with other crafters. Plus, if you find yourself stuck on a project, there will always be someone there to help you out. All stitch-ins are free, join us every Tuesday at 7pm!!
Join Zoom Meeting
Meeting ID: 797 040 230
Password: knitnight