---
| | |
| --- | --- |
| | April 2018 |
Reduced stress. Increased productivity. Improved well-being.
Forte Organizers helps individuals and families stay organized at home, as well as teaching business people organization skills at work.
Lori's Dayton Daily News articles are like a breath of fresh spring air:
Categorize your job functions and start mapping out the best time of day to perform each task. This allows you to work in blocks of time, rather than scattering tasks aimlessly throughout the day. Remember to schedule work that takes more energy and concentration for the time of day when you are more alert.
A Little Dot Will Do It...
Do your gardening tools and outdoor toys wander off throughout the neighborhood never to be seen again? Do you lose track of who you loan them out to? Mark your tool handles and outdoor toys with a small dot of spray paint. That way you and the neighbors will know who they belong to. They might even find their way home!
FREE!
Mindful Home Organizing: Take the First Step
Tuesday, April 10, 6:30 p.m.-8:00 p.m.
Kettering-Moraine Library,

3496 Far Hills Ave, Dayton, OH 45429
Call (937) 463-2665
for details.
Here are two great opportunities to meet Lori, ask her questions and purchase a signed copy of her new book, "Lose Stuff, Find Yourself."
Monday, April 9th, 1:00-3:00 p.m.
Washington-Centerville Library, 111 W. Spring Valley Rd., Centerville, OH 45458
Saturday, April 28, 11:00 a.m.-4:00 p.m.
David H. Pontiz Conference Center, Sinclair Community College, Great Hall-Building 12
444 West Third Street, Dayton, OH 45402
Residents of Centerville and Washington Township with proper ID
Saturday, April 21, 10:00 am-1:00 pm
Public Works Garage, 8190 McEwen Rd.
Saturday, April 21, 10:00 am-1:00 pm
Fire Station 45, 8328 McEwen Rd.
Lose Your Stuff, Find Yourself...
Spring forward with this excerpt from Lori's new book, "Lose Your Stuff, Find Yourself."
"Lack of decision making is often the reason why people are disorganized. Decide now what your goals are in life and set guidelines for what you need to keep so you'll have less to deal with when crises

occur.

"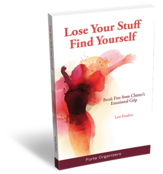 For more great insights and organizing tips, you can pick up a copy of Lori's book by using this link: Amazon.com
One More Thing...
Wednesday, April 25th is Administrative Professionals' Day! Don't forget to take a moment to thank all of those people who keep our work lives organized on a daily basis.
A special thank you goes out to my Office Manager, Amy, who keeps my business running smoothly throughout the year. I appreciate everything you do!