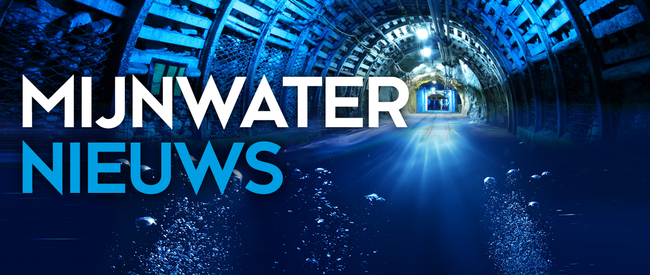 Mijnwater News issue 16 - March 2020
This is an update from Mijnwater B.V. about our work in the field, innovations in mine water technology, findings of our Interreg partners, and our services to customers. We will also share information about our stakeholders and other EU partners. Mijnwater is contributing towards an energy-neutral Parkstad Limburg in 2040 and has the task of making homes and buildings in Heerlen more sustainable and promoting its technology throughout the world. It is precisely this current situation that makes us all too aware that circular energy is the future.
If you have any business contacts whom this information could benefit, please feel free to forward this e-mail to them. Would you like to receive news from us in your mailbox? Then please use the 'Register' button on our homepage:
www.mijnwater.com
.
In this issue:
Impact of coronavirus on our services

Farewell to Louis Hiddes

Mijnwater is relocating to the Maankwartier

D2Grids News

Mijnwater a partner in REWARDHeat Project

Publication of STORM controller

Work in progress: Tacitus/Marcellus, Brunssum

Start of construction of Heerlen city centre pipeline

Cities and Citizen Energy Forum Heerlen has been postponed until later this year

Limburg Leads Maastricht 2020
Impact of coronavirus on our services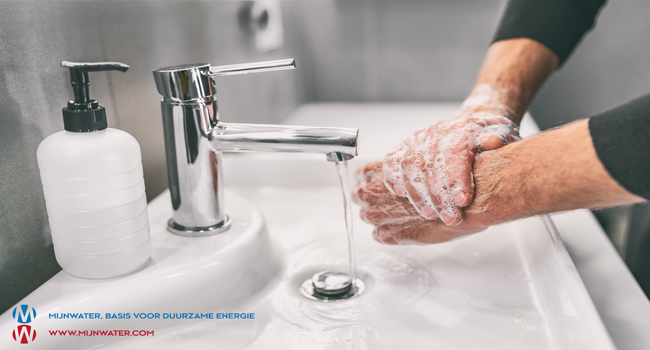 We are all affected by coronavirus. The effect of the virus and the measures taken have far-reaching consequences for people and organizations. We deeply appreciate all those professionals who ensure that society continues to function, that people and businesses receive assistance, and that the sick get the care they need. The services we provide to our customers will also continue as usual: our service staff are on standby in the case of breakdowns and will resolve problems immediately. However, more stringent measures are currently in force with regard to our services and visits in the event of breakdowns.
Mijnwater employees are currently working from home rather than from the office. As a result, they may be slower to respond to a complaint or question. We apologize to customers for any inconvenience.
Complaints and questions will always be addressed.

In the event of breakdowns and urgent repairs, these will be rectified by our service technicians under a number of conditions.

Every time a breakdown is reported, the service technicians will be informed of the situation in the house or building; if there a chance that someone could be infected with coronavirus or if someone displays flu symptoms, the service technicians will take appropriate measures.

Our service technicians will closely monitor their health. They will wash their hands regularly, keep their distance and will not shake hands. We kindly request our customers to do the same.

Only service technicians who are not displaying any symptoms of illness will be called in. This also applies to those working for companies we engage.
Questions
Customers of Mijnwater B.V. can reach us 24/7 on 045 5716920. For less urgent questions:
beheer@mijnwater.com
.
Farewell to director Louis Hiddes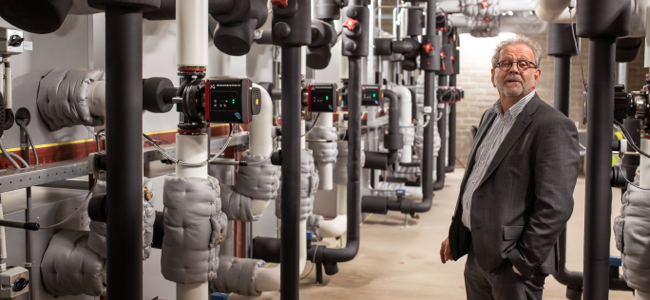 On 12 February 2020, Mijnwater bade farewell to Louis Hiddes, the driving force behind making the urban area free of natural gas using mine water technology. Louis (69) is now enjoying his well-deserved retirement. During the farewell reception, Louis expressed his appreciation to the team: 'I've given you my advice, but now is the time to focus on your own development... about what you can contribute to society.' Mijnwater gave him a beautiful souvenir book and a work of art in the form of a real 'mineshaft' and 'Gen Coel tower' (the building in Heerlerheide, where the mine water project started) made of bronze and Corten steel by the artist John Pennings. Louis handed over the reins to Angelique Palmen in October 2019, who is now the new CEO of Mijnwater B.V.
Mijnwater is relocating to the Maankwartier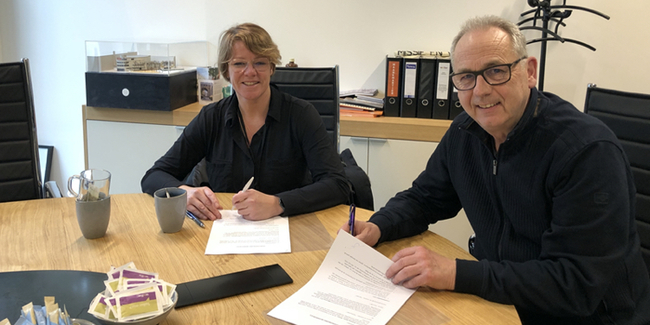 Mijnwater is relocating to the sustainable Maankwartier district. If all goes well, the employees of Mijnwater will move into the office building at Stationsplein square in Heerlen's Maankwartier in June.
The 27 employees will be housed in an office of about 360 m
2
, which is connected to the Mijnwater power plant. The company was set up in 2013 and employed seven people; we have now expanded to 27 employees and we are still expanding. Having an office in the Maankwartier was a conscious choice. In fact, one of the most important conditions when finding a new office was – in addition to better facilities – to move into a building powered by mine water energy. Mijnwater supplies the Maankwartier with heat and cold without the use of gas. Via the climate system, the new office of Mijnwater, just like the office of Weller, will be heated and cooled with energy from its own power plant in the district. At times when the office does not use any heat and residual heat is left over, this heat is returned to the power station to be used for homes and other buildings in the Maankwartier. Our current office at the Open University on Valkenburgerweg will remain our visiting address until the relocation.
In the photo: CEO Angelique Palmen signs the lease with Weller director Jack Gorgels.

D2Grids news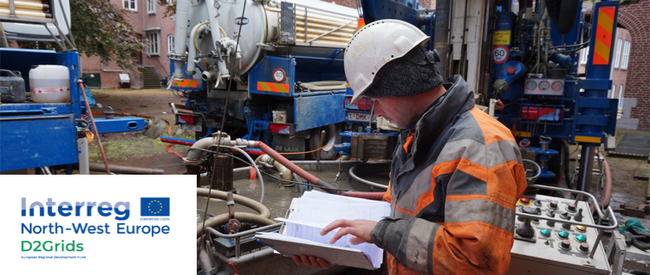 The goal of the Interreg NWE D2Grids project is to decarbonize the urban built-up environment using a new type of heating and cooling network. We could say that we are entering a new era. Although heating and cooling is an important sector for developing renewable energy and decarbonizing our cities, much remains to be done. We believe that 5th-generation district heating and cooling (5GDHC) can help us make our cities more sustainable, which is why the D2Grids project was set up. Read more in the newsletter of D2Grids
Read more in the newsletter of D2Grids.

Mijnwater is a partner in the REWARDHeat project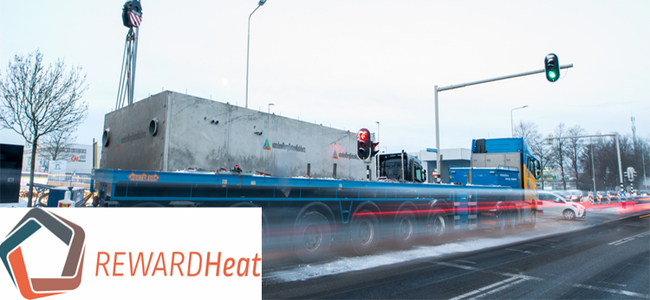 Mijnwater is a partner in the REWARDHeat Project with

ACCADEMIA EUROPEA DI BOLZANO

as the lead partner of the project. Because the demand for heating and cooling is increasing in urban areas and an enormous amount of low-grade residual heat is spread within the urban environment at the same time, an investigation is being made into how this residual heat can be used. At present, most of the residual heat is removed by air conditioners, cooling systems in industrial processes and tertiary buildings (i.e. dry coolers and wet cooling towers), data centres, cooling systems of refrigeration machines, and supermarkets.
Moreover, for historical reasons, cities have developed ​​along rivers, lakes, and seashores. All these sources make low-temperature renewable energy available and therefore directly accessible. The REWARDHeat project started in October 2019 and ends on 30 September 2023.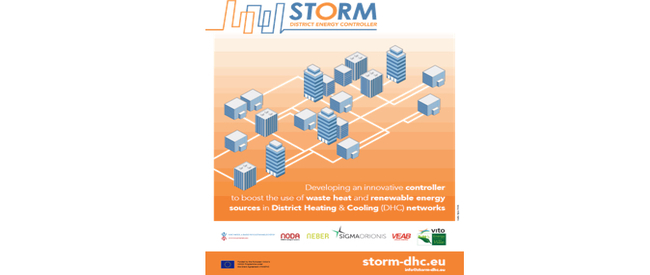 After the completion of the Horizon 2020 STORM project, Mijnwater contributed to the realization of the publication 'Testing and performance evaluation of the STORM controller....' in the Elseviers' Energy magazine
.
Work in progress:
Marcellus- en Tacitusstraat in Heerlen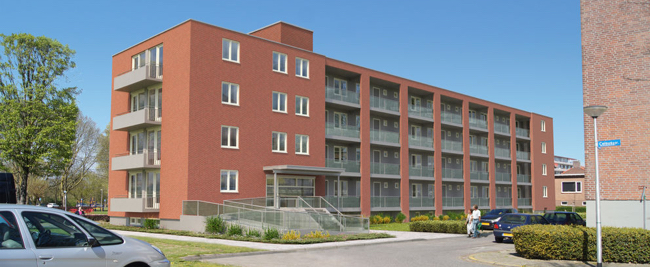 Wonen Zuid is renovating
the flats in
Tacitusstraat and Marcellusstraat in Heerlen in a sustainable way. Mijnwater will soon supply energy to the 94 remaining flats of APG.
Read more about the project in the residents' magazine of Wonen Zuid. https://bit.ly/33TSQEe (only in Dutch)
Work in progress:
Heat and cold storage in Brunssum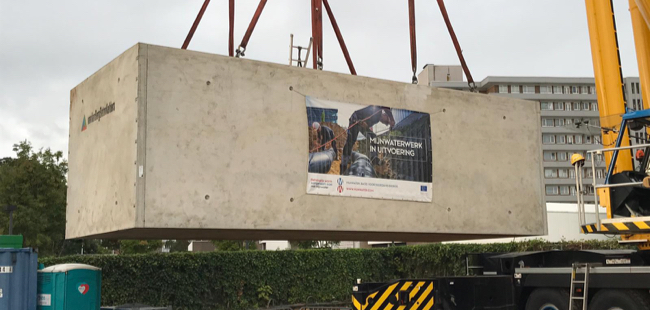 In Brunssum, a temporary
heat pump for cooling/heating has been installed at Tarcisiushofje. This will remain in place until the summer, when the permanent installation that
will supply three subareas with heat and cold will be ready. The heat pumps are used to connect the flats on Pastoor Savelbergstraat in Brunssum, as well as the new buildings at Tarcisius and De Egge, to sustainable mine water energy. At present, this is being done using heat and cold storage rather than with mine water. Mijnwater is constructing a closed-loop network of pipes to supply the flats (and later the new building in the vicinity) with heat in the winter and cooling in the summer. The work will start after the building industry holiday.
Start of the construction of a central pipeline through the heart of Heerlen

It will be announced in April who will carry out the work for the pipeline route of approximately 1,750 metres, consisting of two pipelines through the centre of Heerlen. The Municipality of Heerlen, among others, will connect its new municipal office to this network. The work will start at the beginning of May and last until the beginning of December 2020.
Cities and Citizens Energy Forum has been postponed

The Cities and Citizens Energy Forum 2020 in Heerlen has been postponed to 15, 16, and 17 September 2020 due to measures in connection with coronavirus. Mijnwater will make an important contribution to the forum's programme, which is all about the energy transition. More information about this forum will follow later on the website of Energy Cities: :
https://forum.energy-cities.eu/
Limburg Leads Maastricht 2020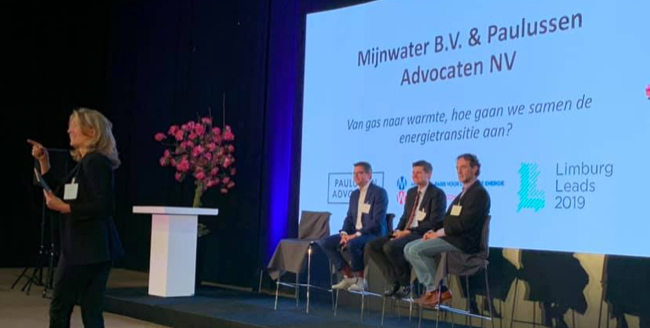 Mijnwater will participate in Limburg Leads on 16 and 17 September 2020, which will focus on
the topics of

Sustainability & Circularity. Circular and sustainable construction will be discussed during Limburg Leads, looking at how to build sustainably and how the principles of circularity can also be applied to this sector. Learn about the reuse of raw materials and innovative, circular alternatives for commonly used components. Mijnwater shares its experiences during a panel discussion with Paulussen Advocaten, among others.
More information:
https://www.limburgleads.com/nl/

Mijnwater is a
new type of district heating grid that can supply both heating and cooling to connected customers. This residual heat or residual cold is exchanged by the Mijnwater B.V. grid via underground cellars where heat exchangers and pumps have been installed. In this way, it is possible to reduce the CO2 emissions of connected buildings by 65%.
Through the PALET (Parkstad Limburg Energy Transition) project, the region is embracing Mijnwater's district heating grid, which aims to
connect 30,000 homes in Parkstad to the heating and cooling grid by 2030. For the rest of the Netherlands, Mijnwater has the proven potential to make the urban environment free from natural gas. Mijnwater is an example of how European cities are being made more sustainable: it is involved in 62 projects in Europe and is a partner in seven European grant projects. Mijnwater is a lead partner of Interreg NWE D2Grids.