Mundelein Community Connection (MCC) is a not for profit organization dedicated to the economic development, historic preservation and healthy community spirit of Mundelein's central business district. Working together we provide an atmosphere where new and established businesses can grow and where families find the hometown they always wanted.
A Message from the Executive Director
It has been a busy summer.  We started with the Craft Beer Festival in June; the Tighthead Mundelein Grand Prix Bike Race in July; two fabulous Park-on-Park nights in July and August; Bingo at the Brewery in June, July and August; and the Farmers Market every Friday!  We have been blessed with good weather and great community support for all the events!  And, the summer is not over--there is more to come! 
A lot happens in September.   The Farmers Market continues every Friday through October 14th, upcoming special market events include Fall Fling September 23rd, October Fest October 7th, and the Grand Finale, October 14th.  Festival Fiestas Patrias, our Hispanic food and music festival, returns on September 3rd, 4th and 5th.  Then, the 11th Annual Mundelein Fine Arts Festival runs September 10th and 11th; and the final Park-on-Park of the year, usually the busiest night of the season, takes place on September 14th.
And that is not all!  September will also feature several non-MCC community events to enjoy:  Village of Mundelein Fireworks, September 2nd; Outdoor Benefit Concert, for the Old #1 Firetruck Committee, September 18th.   October 26th and 29th the Historical Commission will present the Haunted Museum, featuring original, old time, spooky Radio Shows.  Close out the year with the Village Tree Lighting Ceremony, December 2nd; Santa's Cottage, December 2nd, 3rd, 10th and 17th; and MCC Winterfest, a new event December 3rd. 
Keep Mundelein Fun, Support MCC,  Shop Local!
Unfortunately, long-time Board Member Ray Mullen had to step down from the MCC Board recently.   Ray is a founding member of MCC.  He was on the original steering committee in 1990 that established Mundelein Pride, based on the successful National Main Street concept.  Mundelein Pride soon joined the Mainstreet program and became Mundelein Mainstreet in 1993, and later Mundelein Community Connection.
Ray has been an involved and active MCC leader throughout its history.  He remains active in Park-on-Park and other MCC events.  In addition, he volunteers for a number of other volunteer, service organizations.  The MCC Board will miss his guidance and experience. 
Ray's departure opens a position on the Board.  If you are interested in a fulfilling, community-focused, volunteer position, please contact Terry Skriba Mundelein Community Connection, 171 North Archer Street, Mundelein, IL 60060; email
mundeleincc@gmail.com
; or
847-970-9235
) to learn more about the duties and the selection process.
August 5
th
was Kids Day at the Famers Market.  Old #1 was there, action figures, princesses, fun and games, raffle, and more.  It was a great family event.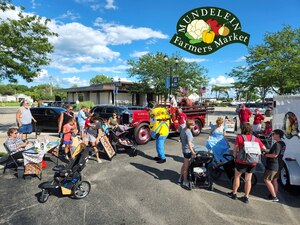 September 30th :  "It's Fall, Ya'll":  The market will be decorated in a Fall theme—hay bales, pumpkins, cornstalks etc. and home-made scarecrows for a photo-opportunity.  
October 7th :  "MCC  Member/Sponsor Appreciation Night":  MCC sponsors and members will be recognized at the market.  There will be live musical entertainment from 3:30 pm to 5:30 p.m. Stop by the MCC tent to learn more about our events, meet the MCC Board and staff, and enter for free raffle prizes.
October 14th:  "Tent or Treat":  Come in costume.  Visit the vendors for Halloween treats for a different Halloween experience. 
Follow the Farmers Market on Facebook for more details on these events and the list of weekly vendors.  Stop by the Market Tent and talk with Market Manger, Becca Merkau.  She would love to hear your input.
MCC Winter Fest (A New Event) December 2nd and 3rd

Plans are underway to expand on the popularity of the Holiday Tree Lighting and Santa's Cottage which have long marked the start of Winter Holiday season in Mundelein.  Both events start on Friday, December 2nd.  Things kick-off with the Tree Lighting at 5:30—kiddy train, refreshments, music, "T'was the Night Before Christmas", Fireworks, and more.  Santa and Mrs. Claus make their grand entrance on a Village fire truck and adjourn to Santa's Cottage to meet with children.
Santa and Mrs. Claus return on Saturday, December 3rd, from noon to 3pm to meet with kids again. This year, Saturday's schedule will also include a number of new activities including: Kiddy Train Rides, Meet and Greet by Princess Elsa and Anna, ice-sculpting, "Shoot-the-Puck" contest, Caroling, and more. 
Support Downtown Mundelein - Become An MCC Member

There are a variety of ways you can support MCC and help promote our goal to make Downtown Mundelein a great destination for fun, family-focused community events.  An easy way is to become an MCC member.  Annual memberships are available for businesses ($200); individuals/families ($45); and not-for-profit organizations ($35).  MCC currently has 25 business members, 10 not-profit members and individual members.  Membership in MCC shows a support for keeping downtown Mundelein a focal point of our community.
Thank You to Our 2022 Business Partners

It takes a lot of hard work from a lot of volunteers and community-minded businesses to put together all the MCC events.  We would not be able to hold these events without the financial support from our business partners.
In 2022 so far we have received donations from over 60 generous, community-minded businesses and community organizations.  A number of the following organizations have contributed to several events.  Please patronize our sponsors, and express your appreciation for their support:
Tighthead Brewery
,
Mundelein Community Bank
;
Brewers Supply Group
;
Oak Trail Spirits
;
Oak Trail TapHouse
;
Rustik Tattoo Studio
,
Perfect Brewing Supply
,
The Bike Attic
,
Calderwood All State Agency
,
Kristan Funeral Home
,
ElderCareLake County
,
The Home Improvement Network
,
Rise Dispensary
,
Crack Master Chicago Inc.
,
County Treasurer Holly Kim
,
Luke's of Mundelein
,
Mouse in the House Interiors
,
Mundelein Automotive
,
Mundelein LGBT Alliance and Allies
,
Park Street Restaurant
,
TieMart Inc.
,
Tina G's Café
,
The UPS Store of Libertyville
,
Acasa Senior Care
,
Accounting Freedom Ltd
,
Ace Hardware
,
Allanson Auto Body
,
Apple Frame Studio Ltd
,
Barrington Construction Services
, Berry Tire & Auto,
Century21 Affiliated
,
Ray Mullen & Steve Kovac
,
Chicago Picture Cars
,
Edward Jones - Jim Glenn
,
FLATOUT Group, LLC
,
Glenn & Sons Automotive
,
Golz Motors
,
Gustafson Body Shop
,
H.P.Performance
,
Hagerty Insurance - Jim Kelly Agency
,
Hot Rod Auto Body
, I
nterstate All Battery Center
,
Keith's Bike and Mower, Inc.
,
Matco Tools - Matco Mike
,
Mid-West Tree Service, Inc.
,
MJ Insurance/Progressive
,
NAC Supply, Inc
,
North End Garage
,
North Shore Classics
,
Prime Beef Ltd.
,
Sudden Impact Collision

Center
,
The Carpet Corner
,
Tri Power Automotive
,
Van Dorf & Freund
,
Mendez Family McDonald's Mundelein Locations
,
Consumers Cooperative Association
,
Rust-Oleum
,
NorthSide Community Bank
,
Digital RVM
,
GMLV Chamber of Commerce
,
Village of Mundelein
,
Mundelein Park and Recreation District
,
Mundelein Arts Commission
Downtown Events: September
- December

Park-on-Park: Seymour and Park Streets, September 14th, 4 - 8 pm
Open Mic Nights at AREA Coffee: Park Street, Fridays, 5 pm to 9 thru October
Benefit Concert in the Park: Kracklauer Park Gazebo, September 18th 2-4 pm featuring the Chicago Metropolitan Brass Ensemble, Prairie Sky and the Grand Dominion Singers
Farmers Market: Park Street, Fridays, 3-7 pm through October 14th
Bingo at the Brewery:  Tighthead Brewery, September 26th, and October 24th 5:30 - 8:00 pm.
Haunted Museum: Mundelein Heritage Museum, 601 Noel Dr., October 26th 4 to 7 pm; October 29th 1 to 4 pm
Village Tree Lighting:  Village Circle, December 2nd
Santa's Cottage:  Village Circle, December 2nd, 3rd, 10th, 17th
Winter Festival (New):  Village Circle, December 3rd 11 am to 5 pm