Welcome to CMCA(UK)
Hello and welcome to the CMCA(UK) Spring 2020 newsletter. Our quarterly newsletter provides a selection of the latest company news and achievements which we hope you will find of interest. If you would like to stay up to date with all CMCA(UK) related activities as they happen go to www.cmcauk.co.uk. You can also find us on Twitter and LinkedIn.
Have you checked out our content on Social Media. Follow us on Twitter and LinkedIn for all the latest on our successes, thought leadership, corporate social responsibility activities, and more importantly any forthcoming events and opportunities for you to meet some of the team. The latest on LinkedIn is a series of bio's on some of our highly capable team.
You can unsubscribe from this newsletter at any time by clicking UNSUBSCRIBE at the bottom of this email.
RISK - There's more to Obsolescence Management than Proactive Component Monitoring...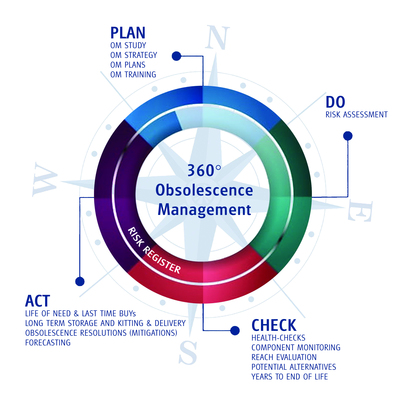 For many years now, Obsolescence Managers and Engineers have utilised our Component Monitoring Reports to track the availability of components on their Bills of Material, with some also using online tools such as QSTAR to supplement this. However, questions often faced by our customers are:
"How do I determine which components to monitor?"
"What actions do I need to take when obsolescence issue is reported?"
Here at CMCA(UK) we are increasingly working with our customers at the outset of their Obsolescence Management Strategies and assisting them in the creation of their Obsolescence Management Plans. A key element of this is conducting Risk Analyses and Assessments on the entire Bill of Materials. This results in components being identified either at a Low Risk of Obsolescence and requiring a Reactive approach, and those that are at a Medium or High Risk of Obsolescence requiring a Proactive approach. In general, for electronic components the principals of the obsolescence triplet of Probability, Impact and Cost are applied in accordance with the international standard IEC62402:2019. However, experience teaches us that 'one size' does not fit all and as such we work closely with our customers to develop risk processes tailored to their needs and product ranges. By following this approach we are able to conduct Risk Assessments on the full range of component types including, for example, mechanical, pneumatic and hydraulic; and we are able to include additional factors such as the impact of the REACH Regulation. Following this risk analysis the component monitoring lists can then be produced.
But that isn't the end of the process with regards to risk. Once an obsolescence issue has been identified for a component, any mitigations or resolutions require management. We can also work with our customers to produce and manage Risk Registers where the process of mitigation or resolution can be tracked to completion, be that a simple 'watching brief', undertaking Last Time Buys , identifying alternatives or equivalents through to conducting more detailed investigations into different engineering solutions. We also have our own specialist Long Term Storage facilities where we store Last Time Buy and critical spares on behalf of many clients, either in a nitrogen or dry-store environment depending on their specific needs. These spares are then issued forward as and when required to enable the client to meet their ongoing repair, maintenance and support commitments. If you'd like to know more then please do get in touch with us.
Message from our Managing Director
On behalf of CMCA(UK), I hope you find something of interest to read within our Spring Newsletter, and hopefully the cold Winter days are now long behind us! Our customers and readers alike might wish to know that we will be continuing to invest in all of our core services throughout 2020, be this in the area of Codification, Long Term Storage, Obsolescence and REACH Management or Procurement Services. In particular:
We have recently commissioned a new storage facility very close to our Brindley Court Headquarters which has given us greater capacity to manage heavy and bulky orders as we continue to grow our Procurement Services footprint

We have been in discussions with overseas National Codification Bureaus (NCB) with a view to providing codification support at various levels as NCBs begin to realise the potential benefits of outsourcing this function to a specialist service provider.

We are innovating on the way in which we deliver our Obsolescence and REACH Management services, focusing on how we can integrate our offerings as an important Management Information tool that effectively captures the through life support risks and offers efficient ways in which to minimise the impact.
The last few months have also taught us that the commercial world in which we operate is rapidly changing as organisations strive to embrace technological and societal advances, and CMCA(UK) as a company is well positioned to be agile and react quickly to our customers changing circumstances. However, some things are less certain and 2020 is set to be an interesting year when considered in the context of Brexit and other unexpected world events such as the current Coronavirus outbreak. These two events, although completely unrelated, have served to highlight the vulnerabilities that the manufacturing and support communities have unwittingly baked in to their 'just in time' supply chains; where small adjustments in the modus operandi can have a significant ripple effect on all aspects of production and support within a relatively short period of time. In many respects this a wake-up call that Original Equipment Manufacturers and third party support organisations will need to carefully consider to determine what mitigation can be carried out to increase business resilience to such events.
As you read this newsletter I would encourage you to think about these risks within your own organisation and to consider whether CMCA(UK) could prove to be a valuable partner in helping both to better understand these risks but also to develop mitigation solutions. We are a progressive, independent company that is highly experienced in developing tailored Codification, Through Life Support and Procurement solutions across a host of industries and we'd be happy to start a conversation to determine how we can help you to help yourself.
Darren Topley, Managing Director
Procurement, Standards & Assurance
Time for a review?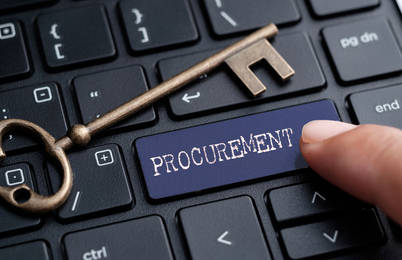 As a dynamic growing business, CMCA(UK) is very proud of our Procurement and Support pillar of the business which has continued to grow year-on-year since its inception. From the early days associated with sourcing difficult to find items, which we continue to support today, through to the many varied contracts we now have in place supporting wide scope procurement needs across the tri-services, further complimented by the various activities associated with industries such as Oil & Gas, Rail and Medical. We now have a very robust Procurement activity ideally placed to develop further over the coming decade.
However, as our business grows so do the number of issues we experience reflecting a steady decline in standards. This is not a decline in product standards as the true source suppliers are proud of the items they supply and ensure compliance in all respects. The decline in standards we are now experiencing relates to the dilution of approach and of true source data, as we are now reaching a point where, in some cases, it is almost impossible to source an item due to current status being unknown thereby creating potential obsolescence issues (which should not exist) for various platforms which could be addressed if the data had been validated and assured prior to procurement requests being generated.
As a very bespoke business associated with the creation, procurement and monitoring of NSN's we take considerable pride in our standards. However, the continued drive to cascade responsibility rather than integrate and support the process provides considerable cause for concern.
With the 'lowest price wins' policy associated with a box-ticking approach to Suppler Quality Assurance, this will only continue to serve the increasing risks associated with continuity of supply. We believe integrated SQA needs to be encouraged and supported by the Authority, as does a strategy to ensure that true source data is validated in support of through life needs to be subsequently addressed and supported by the supply chain.
This is a three day course which enables successful candidates to obtain membership of IIOM at the Associate level. The information gained is invaluable for anyone working in the sphere of obsolescence management, or even anyone whose role is impacted by obsolescence.

There are a few spaces left on the next course in March, if you are interested we recommend that you book early to avoid disappointment.

Click here to book your place today.

Did you know, not only are we able to offer accredited Obsolescence Management (OM) training at our head offices in Worcester, but we are also able to come to your site and deliver the same package, helping to reduce travel and subsistence costs, whilst still offering the same overall benefits to your organisation. Please contact us to discuss your requirements, and to see how we can tailor OM training to suit your needs.

SVHC's in articles: enforcement pilot project results

In November ECHA released a report on Substances in Articles, which you can read here. In brief, whilst nearly 90% of the products inspected did not contain Substances of Very High Concern (SVHCs) above 0.1%, a high rate of non-compliance has been identified for those articles containing them. Out of 45 articles containing SVHCs, suppliers did not communicate about the presence of Candidate List substances down the supply chain for 40 (89%) of them. You'll see they included electrical and electronic manufacturers is the study, so they are now beginning to look.

ECHA will be organising a major enforcement project on Authorisation in 2020, with inspections conducted in 2021 and a report due at the end of 2022.

If your business needs help with REACH Regulation Compliance or guidance on what REACH means to your supply chain contact us.

CMCA(UK)'s Codification Department at Brindley Court Worcester, welcomed Mandy Black and Kirsty Templeton into the fold to complete a two week Codification Training Course. Mandy and Kirsty both work for the United Kingdom National Codification Bureau (UKNCB) and were keen to see how their codification contractor operated in processing NATO codification requests, once released by UKNCB. The course was very much "hands on" and allowed Mandy and Kirsty to experience the different roles within the department, particularly that of the Codification Support Staff and Codifiers. The course covered many subjects including task receipt, source data acquisition (DEFCON 117), foreign transactions, NSN allocation and quality assurance. The course was a resounding success and there are now plans for more in the future.

IIOM Members Meeting: February 2020

As February drew to a close, Business Development and Production Managers Antony Elliott and Shawn Thomas were present at the IIOM Quarterly Members Meeting in Milton Keynes, to discuss CMCA(UK)'s various capabilities and areas of support in Obsolescence Management, REACH Compliance, Procurement Solutions and Long Term Nitrogen Storage. With an array of industries represented, the Networking Dinner and following days' members presentations provided the perfect foundation for wide and varied discussion.

Only 4 weeks to go until the UK's leading annual defence procurement and supply chain event. Defence, Procurement, Research & Exportability (DPRTE) takes place at Farnborough International Exhibition Centre on 1st April and brings together key decision makers across the industry.

CMCA(UK) will be exhibiting on stand 19, next to the Prime Contractor & Supply Chain Pavilion.

Thank you!

May we take this opportunity to thank you for taking the time to read our newsletter. Please don't hesitate to contact us regarding any of our services or to see how we can help you. Contact our Business Development Manager Antony Elliott on; +44 (0)1905 458 307 or email Antony.Elliott@cmcauk.co.uk.