Friends & Neighbors,
I wanted to provide you a few quick updates about Maryland's assault weapons laws and invite you to a happy hour event I'm hosting at Denizens Brewing Co in Silver Spring tomorrow night
(Thursday 11/30). Details on both items and much more are below.

P.S. I hope you had a wonderful Thanksgiving :)
DENIZENS HOLIDAY HAPPY HOUR: THIS THURSDAY 11/30 (6-8 PM) - Please join me tomorrow night (THU) at
Denizens Brewing Co
in Silver Spring for a
Holiday Happy Hour party from 6 to 8 pm
.
Our House Democratic Caucus Chair, Luke Clippinger, is coming down from Baltimore to talk to us about Maryland's political landscape in 2018. He's also the lead sponsor of the Paid Sick Days bill that Gov. Larry Hogan vetoed, so he can tell us about the veto override fight coming to Annapolis in January!
As always, we'll provide tasty snacks & brews with your ticket purchase. But please note that though this is a fundraiser, nobody will be turned away. We have a "pay what you can afford option" and want everyone to take part!
Thursday, November 30 from 6 to 8 pm
Denizens Brewing Co (downstairs tap room)
1115 East West Highway, Silver Spring, MD
Tickets for this event are available online [ HERE ].
MY BILL TO EXPAND MARYLAND'S ASSAULT WEAPONS BAN AFTER THE MASS SHOOTING IN LAS VEGAS

- A few years ago, Maryland passed an assault weapons ban, but NRA supporters challenged the law all the way to the U.S. Supreme Court. Thankfully, the court decided this week to leave our state's gun safety law in effect, so I'm introducing legislation to expand the assault weapons ban.
The Baltimore Sun reported on our efforts:
"Top Democrats in the General Assembly want to expand Maryland's assault weapons ban to also forbid the sale of bump stocks, the device used in the Las Vegas mass shooting to turn a semiautomatic rifle into a rapidly firing weapon. Maryland's sweeping ban on military-style guns and high-capacity magazines had been under court review for years until Monday, when the U.S. Supreme Court let stand a lower court's ruling that the ban was constitutional....
The General Assembly hasn't revisited Maryland's assault weapons ban since it was passed in 2013. The law bans 45 types of semiautomatic weapons and a dozens of features that gun-control advocates say make the firearms more deadly. Gun rights advocates challenge Maryland law at high court But it doesn't ban bump stocks, a previously little-known accessory that converts a legal, semiautomatic rifle into a gun that more quickly fires, similar to an automatic weapon. The shooter in the October massacre of 58 people at a Las Vegas concert used bump stocks as he fired from a hotel room into a crowd 32 stories below....
"'This is not a huge change to gun policy in Maryland," said Del. David Moon, the Montgomery County Democrat who is the measure's lead sponsor in the House of Delegates. 'This is a pretty modest measure that keeps intact the assault weapons ban that was upheld....'"
DELEGATE SHEILA HIXSON ANNOUNCES SHE WON'T SEEK RE-ELECTION - My colleague and teammate in the Maryland House of Delegates, Sheila Hixson, has announced she will not be running for re-election in 2018. The 2018 legislative session, due to begin in January, will be her last time serving in Annapolis. The Washington Post published a nice career recap of Sheila's decades of service for Silver Spring and Takoma Park residents:
"Hixson, 84, is now the longest-serving woman in the Maryland General Assembly.... At a ceremony this week where she was honored by Democrats and Republicans alike, she announced that she won't run again in 2018, making the legislative session that begins in January her final one.... As she looks toward retirement, Hixson said, she hopes to be remembered for promoting a liberal agenda, which she was able to do because her constituents are among the most progressive in the state. 'I tried introducing . . . legislation that otherwise wouldn't have gotten a hearing, making sure issues that needed to be heard were heard...'"
---
"If you look at an aerial map of Bethesda and Chevy Chase, three country clubs aren't hard to point out.... They're all private and each charges membership initiation fees of $75,000 or more, according to news reports and publicly available information.... The assessments let the clubs receive a significant reduction in their property tax payments to the county and state. The tax exemption caught the eye of Del. David Moon (D-Takoma Park), who plans to introduce legislation in the 2018 General Assembly session to remove the tax break in Montgomery County."
DEMANDING STRONGER WATER POLLUTION STANDARDS IN MARYLAND - After the Trump administration rolled back some of President Obama's water pollution standards, I organized dozens of my colleagues to urge Governor Larry Hogan to maintain the stronger Obama-era standards in Maryland. The Baltimore Sun covered our efforts:
"Environmentalists and nearly 50 state Democrats have urged the Hogan administration to immediately impose tougher water pollution standards on coal-fired power plants, rather than wait for rules delayed by the Trump administration. Water pollution permits for three of the state's seven coal-fired plants are up for renewal, and Maryland initially proposed permits that wouldn't require the power plants to immediately install technology that would significantly reduce heavy metals discharged into Maryland waterways. Rules issued by the Obama administration would have required those power plants to install technology next year to reduce the amount of selenium, arsenic, mercury and lead released in their waste water....Democratic Del. David Moon of Montgomery County led the effort to get lawmakers to pressure the Hogan administration."
DEMOCRATS REPLACE REPUBLICAN MAYORS IN ANNAPOLIS AND FREDERICK - Some of us have been watching the shenanigans in Washington and wondering whether there would be voter backlash to this behavior. I'm hopeful this is finally beginning, as the November 2017 election results in Maryland's municipal elections provide some tea leaves. We've still got a lot of work ahead of us, but The Baltimore Sun highlighted the possibilities:
"The comfortable victories scored in gubernatorial elections Tuesday by Ralph Northam in Virginia and Phil Murphy in New Jersey, combined with the crushing defeats Democrats inflicted on Republican incumbent mayors in Annapolis and Frederick, brought an adrenaline rush to a party that was stunned by its loss of the governor's mansion to Republican Larry Hogan in 2014.... In Annapolis, Democrat Gavin Buckley ousted Republican Mayor Mike Pantelides by 24 percentage points while his party took seven of eight alderman positions. In Frederick, Democrat Michael O'Connor beat Mayor Randy McClement by 22 points. Democrats swept all five alderman position by landslide margins."
---
CONGRATULATIONS TO TAKOMA PARK MAYOR & CITY COUNCIL WINNERS - Takoma Park also held elections in November, though unlike Frederick and Annapolis, our races are nonpartisan. Here are the winners of our recent Mayoral and City Council elections (full vote tallies are online here):
---
large businesses with more than 50 employees will be required to pay the minimum wage in 2021

businesses with 11 to 50 employees will have to pay the wage in 2023

small businesses with fewer than 11 employees will need to pay the wage in 2024

"The council also approved a measure to tie the wage to the inflation rate in 2022 to prevent the need to vote to increase the wage in the future."
---
REQUEST A FREE "DAVID MOON" LAWNSIGN OR BUMPER STICKER - As I gear up for re-election in the 2018 election cycle, I'd be thrilled if you'd show your support with a lawnsign or bumper sticker. You can request them [ HERE ].

Talking to Silver Spring immigrant students about wealth & income inequality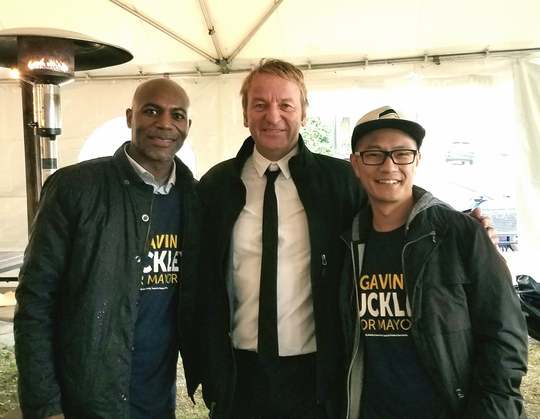 Election Day in Annapolis with incoming Mayor Gavin Buckley!
DISCLAIMER: I do not accept corporate contributions. In addition, by making a donation above, you are certifying that each of the following statements is true: (1) I am not a foreign national who lacks permanent residence in the United States; and (2) This contribution is made from my own funds, and not those of another. Note that a person can contribute no more than $6,000 to one Maryland state campaign account during a 4-year campaign cycle, including in-kind contributions. The current cycle began on January 1, 2015 and will end December 31, 2018. Contributions to political campaigns are not tax deductible.