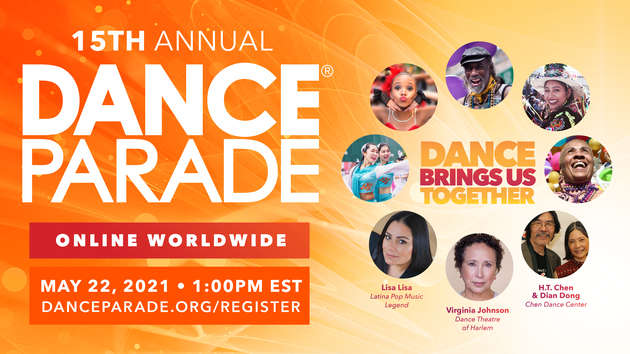 DANCE PARADE NEW YORK GOES GLOBAL  
WITH INTERACTIVE ONLINE FESTIVALSATURDAY, MAY 22ND, 1 PM START, 1000 DANCERS IN 30+ GENRES OF DANCE WILL CELEBRATE!
Dance Parade New York, the annual celebration of dance in all its forms, hosts its interactive online dance festival on Saturday, May 22nd from 1:00 - 4:00 pm EST.
One thousand dancers from around the world connect to family-friendly fun and movement joy in DJ-lead dance rooms, free dance classes with top professionals, dance-offs between participants, and free dance classes.  Winning videos from the Dare-to-Dance challenge contest will be premiered, which invited house-bound choreographers to submit new work to win cash prizes.


Register here to participate https://danceparade.org/register
"The past year has been really hard on all of us, including the tens of thousands of dancers we serve," ruminated Greg Miller, Executive Director of Dance Parade New York. "As a service to the community, Dance Parade has put together a dynamic event and a television show with lots of content, providing something for everyone!  This year we celebrate the theme "Dance Brings Us Together" with dancers from around the world."
Among Parade & Festival highlights:
2021 Grand Marshals:  Emcee Shireen Dickson presents this year's Grand Marshals: H.T. Chen & Dian Dong of Chen Dance Center; Virginia Johnson, Artistic Director of Dance Theatre of Harlem; and Lisa Lisa, the Latina Pop Music Legend.
Ribbon Cutting Ceremony: Kicking off the family-friendly event is a ceremony officiated by Emcee Shireen to pay homage to introduce dance celebrity Grand Marshals Lisa Lisa, H.T. Chen & Dian Dong, and Virginia Johnson.  They will cut the ribbon, unleashing dance styles from ballet to breakdance, tango to tap, and Japanese to Scottish!

Home Stage: Latina Pop Music Legend Lisa Lisa will open the Home Stage with a live appearance and medley of her lifelong work. DJ Ali Coleman invites all to bring your best moves to the participatory stage!  Our scouts go through 1,000 cameras and spotlight those with great energy, costumes, and artistry.  Join a dance battle or vote for your favorite as contestants from around the world vye for cash prizes.  See the winners of the Dare to Dance Video contest that challenged choreographers to connect to their dancers remotely during this period of isolation and social distancing. 
Dare To Dance Challenge: See the winner of the video challenge to house-bound choreographers to create a new work during this period of isolation and social distancing.  Thanks to Nancy Steele of STEELE DANCE, three winners will receive cash prizes and will have their one-minute videos premiered at the festival.
Grandstand Performance Stage: Included are performances from artists who have bucked the pandemic to create riveting work in past year, with interviews that give an inside glimpse behind dozens of movement cultures...Contemporary, Hip-Hop, Chinese, African, Bolivian, Mexican, and more.
Dance Film: This year Dance Parade will present portions of its one-hour TV special, The Resilience of Dance Through the Pandemic, due out in June on NYC Life which includes interviews and performances by Alvin Ailey, Dance Theatre of Harlem, Heidi Latsky Dance, Alison Beatty Dance, National Dance Institute, DrumatiX, Buglisi Dance Theatre, Dance Rising and more.
Teaching Stages: Take a free dance lesson from Dance Parade's best teachers.  Learn Body Mind Movement, Salsa, Break Dance, African, Hip-Hip, Indonesian, Soca-based Carnival, Isadora Duncan Technique, The Latin Boogaloo and Bollywood! Ask our teaching artists whatever question you like either live on camera or in the chat!

Suggested donations to participate: $20 or free for artists and low-income guests. There's something for everyone! 

Or watch all four stages on danceparade.org/livestream


Tune up your moves by taking free dance lessons prior to the event in Japanese, Mexican, Body Mind Exercise Dance, Ballroom, Salsa and African at danceparade.org/virtual

Media inquires - publicity@danceparade.org
Gear up for the big day and support Dance Parade!