I hope this letter finds you and your loved ones well.
It's been a long time since my last newsletter, and a lot has changed. After a period of teaching Dutch over Zoom I've gone back to Face2Face meetings, although only with 2 participants per group. While I was teaching over zoom I missed going for walks so much, so I'm glad to be able to do that again!
Teaching Face2Face Immersion Courses is my biggest passion, and is the best way to learn Dutch fast!
Unfortunately, the rising coronavirus numbers worldwide and in the Netherlands has meant a second partial lockdown for us. Luckily, we will still be able to continue lessons with 2 participants per group while following the guidelines.
If the numbers keep rising and Face2Face lessons become impossible, don't worry! I will return to help you online, using Zoom, whether to learn Dutch or to combat the lockdown loneliness.
I'll keep sending the available hours for (Zoom) lessons to the WhatsApp list (see details below) until I have figured out what to do with my Dates & Rates page on my site. At the moment, it takes too long to update it for every new lesson.
If you want to work on your Dutch Grammar
in the meantime, you can go to this Facebook group and participate in the:
 Drawing Challenge!
If you would like to participate in the drawing challenge,
please do a page of drawings with some commonly used
"het" words
(and make sure they're real het-words, not words that become "het" because of the ending -je),
and post it in the comments. You can draw in black and white, use colour, paint, whatever you like to use, just so long as you have fun! Write the name next to each item ("het huis", "het paard" etc.). The more words the merrier!
With your permission, I will select some to use in my classes!

And for inspiration, I have posted a Wordsearch with only "het"-words in the same Facebook group.

You can even win a discount voucher after you solved the puzzle.
What to do with het-words?
If you're done with a drawing and want to practise your het-words some more, check out other people's drawings in the comments! You can check if they are definitely all correct het-words, and see if there are any that are new to you!
You can also download others' black & white pictures and use them as a colouring page for a mindful time! That way you'll learn the het-words and have fun at the same time.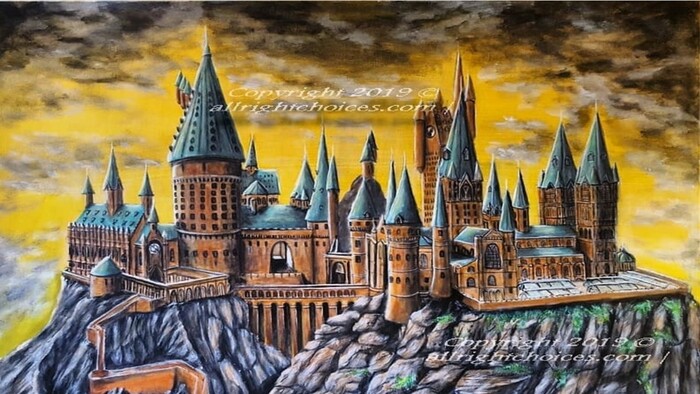 Painting by Loredana Dobre, permission to use this picture

Alternatively, try to imagine a castle made of ice and build up a picture/story in your head of this castle - fill it with as many het-words as you can (such as het huis, het raam, het kussen, het bed, etc.)
and try to visualise what this would look like.
Also, imagine these things all as being very cold because they're inside this ice castle.

You will build associations of these het-words with the cold feeling of the castle you're putting them (in your mind), and will learn them as being 'cold' words. This should help you to visualise whether a word should be "het" or not when you're practising your Dutch - is it inside the castle, or not?
If you are interested what grammar is linked to de/het words, mail me: info@learndutchfast.nl 😉
I will try to post a Dutch related doodle assignment regularly going forward. You can send in requests if you like.
Have fun, doodle away and stay healthy!


Syl

(the ideas for this letter where put into words by Kristina Hall,
thank you so much, Kristina!)
----

P.S.: Are you looking for a nice gift to fight the Corona boredom & practise Dutch at the same time?

Perfect Holiday Gift for Dutch Learners: HOW TO SOUND DUTCH

Are you curious about what Dutch persons could say if…
·       Their dog is misbehaving in front of another person?
·       They get unexpected visitors and they are afraid the visitors will find it messy in their house?
·       They see a cute animal or baby?
·       Their floors are spic & span?
·       When they postpone work or quitting a bad habit?
·       When it rains and they believe there is still a chance for better weather later on?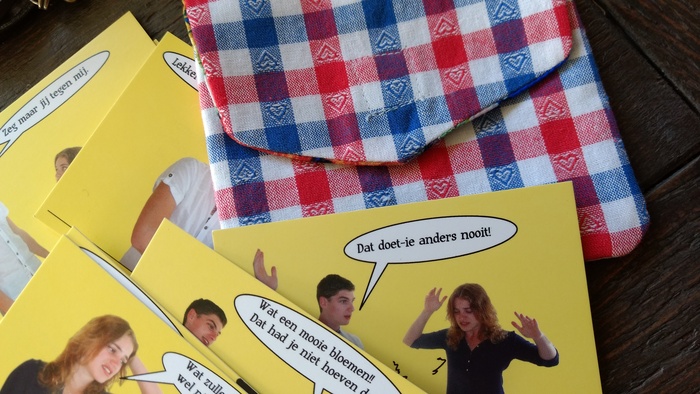 You can now amaze your Dutch friends by using Dutch clichés!
We made a hilarious set of 52 Dutch Cliché flashcards for Learn Dutch Fast, to teach you just this! You can use them on your fridge, toilet door (why not? :) ) or even in your Christmas tree to practise at any point of the day.
You could also put it UNDER your X-mas tree,
since it's a perfect gift for Christmas, for Dutch learners of all levels.
A set of 52 cards costs €17,50 (shipping not included, €4,- within Holland for 1 set). If you order five sets or more, e.g. teachers for group games like "find your partner" or for X-mas presents for your friends, they will cost €15,- per set.
The cards will come with:
·       A beautiful hand-made Dutch pouch to store the cards.
·       A discount coupon for an immersion course at Learn Dutch Fast (€30,- for a 3-day immersion, €50,- for a 5-day immersion).
·       Many ideas on how to use them.
·       On-line exercises like this one.
·       A link to the sound files.
Do you want to try some of the flashcards before ordering?
Subscribe here.
You will receive one cliché per week in your mailbox, for the next 10 weeks.
Interested in buying them?
Order your set today: info@learndutchfast.nl!
P.S.2: To receive monthly updates about course dates &
last minute offers, you can join my WhatsApp list
  by sending a Whatsapp to 06-45185335.

Please don't use this number to contact me for other reasons.

(I can be reached at 035-6923960 / info@learndutchfast.nl)
or share on social media:


Thank you!