=============
**
PLEASE note new 2010 Workshop times and fees: $30 prepaid or
$33 at the door.
<><><><>
Sunday January 3
1-3 PM
<><><><>
EFT® for Abundance!
Saturday January 9
3-5 PM
<><><><>
EFT® for Physical & Emotional Healing
Sunday January 17
<><><><>
Lose Weight, Gain Confidence with EFT®!
Call 623-334-3393
to reserve your place at least 48 hours in advance!
Six or more attendees are required for the workshop to be held.
=============
**
Contact Colleen for a free consultation or to book a session for an hour of surrogate muscle testing, tapping, laughing, fear blasting and SWEET RELIEF!
<><><><>
<><><><>
DISCLAIMER: EFT is gentle acupressure and has produced remarkable results in relieving emotional and physical distress.
USE EFT AT YOUR OWN RISK ON YOURSELF AND OTHERS, INCLUDING ANIMALS.
If you apply this newsletter's techniques to yourself or others, you are agreeing to take full responsibility for any side effects and/or outcomes.
* * *
Thank you for subscribing to my newsletter!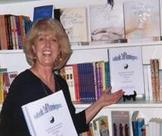 Please forward this newsletter to family and friends who could use the news!
Need help identifying the Core Issues to tap on?
Products to help YOU heal your life with the power of Tapping and Louise Hay's teachings.
* * **
Click
HERE
for Private Session information
.
Mega thanks to YOU, my Worldwide Subscribers for inviting my EFT® Tips into your inbox!
**

<><><><><><><><><><><><><><><><><><>
Happy New Year, Happy New Decade!
May you and your loved ones enjoy incredible joy, peace, health, wealth, love and success in 2010 and beyond!
Please share this newsletter with your loved ones.
<><><><><><><><><><><><><><><><><><>
*
People have been tapping away their animal's fears, allergies and misbehavior tendencies using my
NEW ANIMAL EFT® E-BOOK!
Details HERE!
<><><><><><><><><><><><><><><><><><>
Do you need a
reliable, talented massage therapist, handyman, Reiki practitioner or intuitive healer
in Phoenix?
I've found them and they're listed
here
!
<><><><><><><><><><><><><><><><><><>
Gift Certificates for Private Sessions with Colleen
are NOW available for birthday or Valentines Day gift-giving!
Give the gift of health and peace to your loved ones... or ask them to purchase a gift certificate for YOU!
<><><><><><><><><><><><><><><><><><
10% of Colleen's session fees are donated to charities -
you're helping yourself and others!
<><><><><><><><><><><><><><><><><><>
20% session discounts for veterans, military personnel and anyone age 65 and up!
<><><><><><><><><><><><><><><><><><>
If you haven't already heard, EFT Founder Gary Craig is retiring this year and closing his website on March 1st, 2010. We'll all miss him, his fabulous newsletters, DVDs and EFT articles.
For further details, click on
this link
to his blog.

<><><><><><><><><><><><><><><><><><>
FEATURED ARTICLE
EFT for Success in 2010!
by Colleen Flanagan, EFTCert-l
*
If you're like me, the last New Year's resolution you made and successfully kept was to never make any more New Year's resolutions! This year I decided to replace the dreaded words "goals" and "resolutions" with the words "manifestations" and "intentions".
*
I also created a Vision Board to hasten my manifestations and get the Law of Attraction accelerated in my life. A Vision Board is simply a collage of pictures with affirmations and timelines of what you intend to manifest in your life. You look at it daily, feel the emotions of actually having the these manifestations come true then the Universe lovingly responds.
*
Here are three tips to create your Vision Board (VB):
1) Vision Boards can be on paper or in your computer. Don't want to share your private manifestations on paper with anyone living with you? You can create your VB in a folder on your computer or in a password-protected MS Word or PowerPoint document. You can also use a photo album and make each page a separate manifestation for wealth, business, health, travel, relationships, etc.
*
2) Your first VB can be simple. You can create a VB for just one thing you want to manifest, such as your perfect new job or business. Later you can add more things to create in other areas of your life. Or not.
*
3) Use EFT to release ALL doubts about creating a VB or manifesting the results. I shamelessly confess that I started a VB in 2006 and never finished it! It sat in my bedroom closet for 3 years. This year I felt overwhelming daily urges to complete the VB. I pulled it out of my closet and knew all the photos and clippings did not apply to my life now. I felt stuck and stymied about how to proceed.
*
My intuition suggested I use my muscle-testing to find any fear blocks then apply EFT to release the fears. Duh! Why didn't I think of that 3 years ago? My conscious mind thought that creating a VB would be fun and very effective in manifesting my new life.
*
My subconscious mind retained BIG fear blocks that stopped me from finishing my VB in 2006. After I identified then tapped away my fears, I got to work on my VB and finished it 2 hours later! I knew exactly how to construct it with a feng shui bagua in the middle, photos and affirmations in each of the bagua sections... after 3 long years of being blocked. Amazing!
*
Below are the fears I found in myself about creating and using a VB. You may want to tap on yourself before creating your own VB or ANY New Year's manifestations.
*
(1) Identify your fears about creating a Vision Board and/or manifesting your ideal life on a scale of zero (none) to ten (maximum). If you cannot identify your fears or severity level, you can tap using general setup statements based the below setup statements.
(2) Use these EFT® Setup Statements or something similar customized for your situation. Tap on your karate chop point or rub your sore spot and repeat three times:
*
"Even though I'm afraid of the success and changes that will come to my life if I create a Vision Board and manifest my dreams, I release this silly fear. I know that this desire for change is in me now because it is meant to happen!"
*
"Even though I've got this fear of failure to manifest anything in my life because I've tried in the past and it didn't work, I release this fear now. If I feel drawn to create a Vision Board to manifest my dreams, I know it is something I should do with joy and excitement!"
*
"Even though I'm afraid of my family and friends might reject or abandon me when I've successfully manifested my dream life, I release this fear now. Creating a Vision Board to manifest my intentions for the good of everyone involved is safe and fun. So be it!"
*
(3) Repeat these Reminder Phrases based on your fears as you tap on the EFT® acupressure points (face, torso, hands).
*
Inner Eyebrow: These potential life changes frighten me!*
Side of Eye: Afraid to be out of my comfort zone and not safe
Under Eye: Feeling afraid to create a Vision Board
Under Nose: Terrified my loved ones or I might not like the new me
Chin: I choose to release all these silly fears now
Collarbone: Trusting that these manifestations are meant to happen
Under Arm: Relaxing now and feeling confident to create the VB
Finger points: I release all fears of change NOW. I now feel safe to manifest my dreams and my desires. The fears of success, failure, rejections and abandonment flow out of my body now. Change is safe. When my desires become reality, I can help many more people and animals.
*
(4) Do a 9-Gamut Routine.
*
(5) Repeat the above Reminder Phrases or something similar, customized to your situation as you tap on the EFT® acupressure points listed in step 3.
*
(6) Take a deep breath or two then relax. Did you feel any anxiety as you tapped? If so, apply more rounds of EFT® until you have no emotional charge about creating the LIFE of your DREAMS!
*
If you need assistance with your EFT core issues, contact Colleen for a free consultation and an EFT session with surrogate muscle testing to identify subconscious fear blocks! Session times are available in January 2010.
*
Enjoy a session with Colleen to release any resistance or blocks to your 2010 manifestations or intentions!
*
Tap each day for the optimum health of you, your loved ones, and your animal friends-especially during the holidays!
<><><><><><><><><><><><><><><><><><>
Want to learn HOW use MUSCLE-TESTING and TAPPING

together

like Colleen does?
*
People around the globe have ordered my
Muscle-Testing and TAPPING SECRETS in
ONE E-BOOK to help themselves, pets and their loved ones! You can NOW get the E-book and 3 bonus e-books through PayPal, then

download them right away

!
*
Check out the Table of Contents and get details by clicking HERE.
<><><><><><><><><><><><><><><><><><> *
GOT ALLERGIES? Get the facts about worldwide allergies and how TAPPING can help HERE!
* <><><><><><><><><><><><><><><><><><>
PET MISBEHAVIOR, ALLERGIES OR ILLNESS?
Get Colleen's 5 years of ANIMAL TAPPING experience and PROVEN TECHNIQUES in one informative e-book.
E-book's table of contents is HERE!
It's the BEST $20 you'll ever invest in your animals' emotional and physical wellness!
<><><><><><><><><><><><><><><><><><> *