Is It Blackmail or Justice For Sale In Oklahoma County?
They say you cannot cheat an honest man. When the deal sounds too good to be true and you stand to gain much for little effort, an honest man knows to beware. That appeared to be the case with another anonymous set of documents that found their way to the Sooner Tea Party last week. Boy did that turn out not to be the case… it is looking like Oklahoma County is a place where you can receive as much justice as you can afford, or as much as your attorney can afford.
The documents alleged campaign donation ethics violation against Oklahoma County District Attorney David Prater along with either a blackmail scheme or a justice for sale scheme, tying the campaign donation ethics violation with a court case.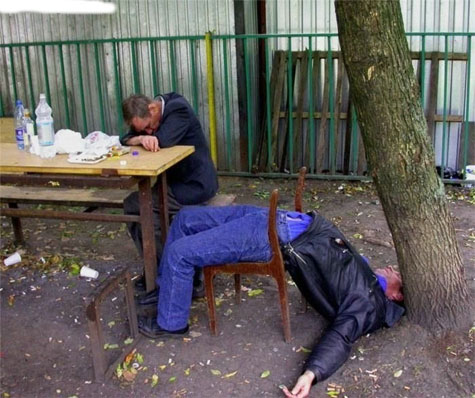 The story starts on September 12th2008 at 1:40 am when Oklahoma City DUI Attorney Lewis B. Moon and Oklahoma County public defender David James Bedford tried to go through a Whataburger drive through. No, the State Chamber and the RINO's haven't made a post partying munchy stop at 1:00 am illegal yet. The drunken miscreants were driving the wrong way through the drive through and nearly hit another car.
Warr Acres police responded but Moon waved a Oklahoma County Sheriff office badge in an attempt to evade arrest. The badge was an "eagle" badge, a keepsake type badge given to political supporters of the Oklahoma Sheriff's office, not an official police badge.
Moon allegedly was reeking of alcohol and exhibited other signs of intoxication so the Warr Acres officer placed Moon under arrest after a struggle. Once cuffed, Moon then cursed at the officer and spit in his face. After Moon arrived at the Warr Acres he made threats to "track down" the store clerk who called the police to report the drunken driving incident, dropped names of numerous Oklahoma County judges, threatened to sue everyone involved, all the while demanding to be "taken immediately to Oklahoma County jail".
The video of these two drunken morons is pretty funny to watch. Anyone ever hear of a criminal demanding to be taken to jail? Did they expect for their arrest to be covered up once they reached Oklahoma County jail? One would think they would want to sober up,post bail, and go home.
Moon was charged with four felonies; Actual Physical Control of a motor vehicle while under the influence of intoxicants (DUI), resisting arrest, spitting on a police officer, and impersonating a police officer. Moon was released on $8,000 bond and Bedfordwas freed on $245 bond. On November 3rd, Oklahoma County District Attorney David Prater files the charges against Moon in Oklahoma County court. Bedfordwas charged with public intoxication.
So far so good, the system caught a couple of drunks and was dealing with them. But then it gets complicated. Looking at the court records of Moon's court case shows over 60 separate entries and 23 court dates set between November 3rd 2008 and present but three years later Lewis Moon has yet to face a judge or jury. Many of the continuances were requested by Prater himself according to the docket notes. Why would it take almost three years for this case to come to trial?
There is a trial set in November but given the special treatment so far, is Prater going to properly prosecute this case? And I can hear the questions from our readers, why would Prater not want to prosecute this case and get a conviction?
That question might have been answered by looking at the Oklahoma Ethics Commission campaign donor info from the 2006 Prater campaign. Lewis Moon maxed out as a contributor to Prater's campaign in 2006, giving the maximum allowed donation of $5,000.00. Normally in cases where a campaign donor is brought before a D.A. or judge who had accepted campaign donations from the litigant, the case is sent to the Attorney General Office and it is put out to another D.A. in another county. They do this in all cases where a conflict of interest might occur. So why did Prater not only keep the case, why did he personally show up on many of the court hearings?
Sadly our story is about to turn from a simple good old boy system protecting a drunken peer to a possible blackmail or justice for sale scheme.
Accompanying the info given to the Sooner Tea Party on the Moon arrest was an affidavit (page 1 , page 2) from a local restaurant owner stating that on November 20th of 2006 campaign victory party/campaign debt retirement fundraiser was held an a popular North side OKC restaurant . The information claims that Prater approached five supporters before he hit pay dirt with Lewis Moon who whipped out his credit card and paid the $12,700.00 bill for the event.
I redacted identifying info from the affidavit to protect the man that signed it. He runs a business with many employees and adverse publicity could harm his business. The original copy of the affidavit will be provided to authorities this week. If the media gets hold of this info it will be from the authorities. Yes we need to clean up government but we need to limit the damage to good people during the fight.
Looking at Prater's ethics commission reports, a $5,000 donation by Moon was found on page three of this CR-1 campaign report. The significance of this is that donating more than the allowed $5,000.00 per year is a felony under Section 187.1 of Title 21 of the Oklahoma Statutes. If these documents lead to charges against Prater, he will be looking at charges for soliciting and accepting donations over the limit, not reporting the donation, not reporting the fundraiser expense, and possibly conspiracy charges for evading campaign finance laws.
David Bedford also donated a few times to a Prater campaign. And even more strange, there seems to be no court record for David Bedford in the oscn.net data base. Bedford is still employed by the Public Defenders office so did he get off scot free?
Once we researched the campaign donation data and satisfied ourselves that the court data supported what the anonymous documents claimed, we went looking for the notary public that notarized the document. She was found in Moore Oklahoma but wouldn't return a phone call.
Next we went looking for the NW OKC restaurant owner that had signed the affidavit. He wasn't eager to cooperate. A call to his restaurant went unreturned as did a message sent via his Face book page. That message seemed to hit a nerve because it appeared that the Face book page was reset to a private viewing only for "friends" of the restaurant owner a few days after the message was sent. I am no Face book expert but the web page changed dramatically from one that was filled with wall postings to one that merely announced recent activity concerning "friends".
A thorough inter net search brought up phone numbers from previous businesses he had owned and we eventually got him on the phone. No, he wasn't pleased to receive the call, it must have looked like trouble knocking on his door but he agreed to a face to face meeting on Monday morning.
To tell you the truth, I went in on Monday morning believing that the affidavit was likely fraudulent, perhaps with his signature forged or cut and pasted off a legitimate document. But the restaurant owner turned out to be a man of immense integrity. Although he was not happy to see the affidavit surface on account of it potentially hurting his business, he came right out and told me that the affidavit was genuine except that the notarized statement had been added after he signed it, which is not in itself illegal nor unusual, there is a loophole in the notary public laws allowing such additions. The story behind the affidavit was that a friend had learned of the fundraiser and Moon paying for the event, and then asked if the restaurant owner would sign an affidavit setting out the facts. The restaurant owner was reluctant and asked if Moon or Prater would get in trouble if he signed the affidavit, but he was told no, it wasn't that sort of deal. And just who drew up the affidavit and got the restaurant owner to sign?
We know who drew up the affidavit but were unable to speak with them today as their firm was closed for Columbus day. This story will continue next week after we have the time to do more research and find out if we can get the person to cooperate.
Oh, one more thing about this story. The Lewis Moon case wasn't the case that brought this story to light, it was the third case involving alleged irregularities at the Oklahoma County District Attorney office with Prater involved in some manner. The Lewis Moon case was chosen to lead the story due to the drunken attorney arrest being a very public story and the three year gap between arrest and trial is very unusual. Do the other cases involve Prater campaign donors? Find out next week with part two of this story.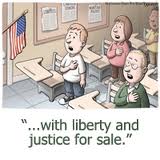 Justice for Sale in Oklahoma County?
Oh, how the good Lord clears a path for you, if you are going in the right direction…. Late Wednesday night I got a call from a source telling me that District Attorney David Prater would be speaking at the High Noon Club on Friday. I have been a fan of those folks that show up every Friday at H & H Gun Range for lunch ever since they tore Kris Steele a new b**….. uh, a new Dan Sullivan over his part in the killing of Open Carry this last legislative session. Rowdy bunch, I like that.
So I laid the tools down before lunch on Friday and attended my first High Noon Club meeting to listen to Prater speak about the Ersland shooting case. He did a good job presenting his case, and I tend to agree that Ersland didn't help himself with his behavior after the shooting. That said, watching the videos of Ersland's interrogation was the first time that I had listened to Ersland speak, and let's face it, he isn't the sharpest knife in the drawer. Kinda scary that he filled prescriptions for a living in my opinion. Ersland came across as a little slow, couple that with less than a minute to make multiple life and death decisions, add the shock and terror of being interrupted at your job with two thugs wearing ski masks one of which is pointing an automatic at your head while jacking the slide, and I can see that the guy was likely overwhelmed to the point that he made a really, really, bad decision. Not as bad as the thugs that decided to knock over his drug store though.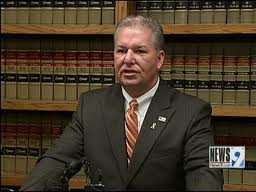 Some attendees were won over by Prater's presentation. In every group of activists there are those that I call "groupies", seemingly rock solid, hard core, conservatives until someone sways them with pretty words. Next thing you know they are groveling for attention around their rock star politician, reveling in the fact that "an important man" like that took the time to notice them. But the majority of the crowd was solidly against Prater's decision to charge Ersland. Prater even got booed once when he decided to spar with Senator Ralph Shortey.
After the presentation was over, I joined a small group of individuals asking Prater questions, leading to a five or ten minute exchange about the fundraising/victory party event that Lewis B. Moon allegedly paid for on November 20th of 2008. Prater knew who I was when I introduced myself and was not happy with the newsletter article last week. He was quite defensive at first, but warmed up a bit when I asked for his side of the story. It was a sometimes heated exchange, and trying to remember exactly what was said while trying to get the facts uncovered is difficult to do. So if I miss any points I am sure that Prater will let me know.
Prater denied that Lewis Moon paid for the event at the Northwest OKC restaurant. He said to contact Josh Welsh and Ogle, and I am assuming David Ogle, one of his campaign contributors (and another attorney that he had allegedly drug his feet on prosecuting), to find out the details of who paid for the fundraiser/victory party event in 2006. I told Prater that we would question both attorneys and that if they came up with proof that someone other than Lewis Moon had paid that bill, then we would publish a correction in our next newsletter.
Prater relaxed a bit with that, and we had a fairly civil talk about other aspects of the investigation. His answer for why he didn't recuse himself from the Lewis Moon case was that "If I ran from every case where someone was a former contributor then I'd get nothing done." I thought it was a fairly stinging indictment of the kind of people that donated to his campaign but let it pass and questioned him on the three year time frame from arrest to setting a trial for Moon. Prater's defense was that Anderson, Moon's attorney, had strung him along by promising him that Moon was in some sort of treatment program for drunks and getting help. Prater thought that they could push this case back to municipal court if Moon was getting help and avoid the felony charges. Prater said that he treated the Moon case like every other case--tried to work things out. I dunno, I have a pretty good idea what would happen if I were pulled over driving drunk, resisted arrest, spit on the cop, then made all the threats that Moon made, and it dang sure wouldn't be three years before I faced a judge!
I brought up the other two cases that lead to the Sooner Tea Party investigation, the David Ogle case and the former CLEET program administrator that was arrested after a road rage incident in Edmond, and I asked Prater if he understood how it looked to those of us on the outside.
The conversation was relaxed enough at that point that Prater agreed to sit down with me in a few days to discuss the allegations and give his side of the story. The connection between Joe Reynolds, the attorney that procured the affidavit from the Northwest OKC restaurant owner, and Tammy Bass-LeSure was discussed as well as Anastasia Pittman's connection with Tammy Bass-LeSure. I am grateful that Prater took on Tammy Bass-LeSure and understand that he took a lot of heat doing the right thing to get a crooked judge off the bench, but then again, that is his job.
The conversation eventually returned to the November 20th 2006 fundraiser/victory party invoice and the affidavit that allegedly Lewis Moon paid over $12,700.00 to settle. When asked why the event expenditure didn't show up on his campaign report, Prater said he didn't believe that the event was a reportable event and that they had "gone the extra mile" by calling the Ethics Commission to find out if the event was exempted. He stated that there were no tables set up, no donation jars, that it was just a victory party. Was this true? Did it make any difference in whether or not the event must be reported? I didn't think so but I knew who to call to find out.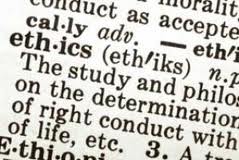 Oklahoma has this wonderful state agency, the Oklahoma Ethics Commission, which is in charge of keeping political contributions and expenditures open and accountable. Now I am not a big fan of most government agencies, most are rife with bureaucracy and difficult to deal with. Not the Ethics Commission though! Those ladies are so helpful and focused on their task; it is a delight to call down there to speak to one of the staffers. The Executive Director of the agency, Marylyn Hughes, had walked us through the process in reporting the Tea Party PAC donations and expenditures, and had told us to call anytime if we had questions. So this afternoon after talking with Prater, I took her up on her offer and called her office.
Ms. Hughes was out of town so another staffer listened to my questions then forwarded me on to one of their experts. I explained the campaign donation situation, a victory party that may or may not have had fundraising going on, that the bill was paid by one or more individuals, that the expenditure did not appearing on any of the campaign reports and the insistence of the candidate/politician that the event was exempt from reporting because the event was after the election. I was given a short but thorough explanation of campaign finance reporting, the different kind of campaign donations, and was told that, no, the expenditure must be reported even if it was after a campaign had concluded. Further questioning confirmed that political subdivision (county) was regulated by the Ethics Commission. At the end of the conversation, the lady said that she had my phone number from the phone system but would I give my name so they could contact me if needed? I said sure, "Al Gerhart with the Sooner Tea Party".
When you hear them catch their breath, you know that they know of your group and its work and in this case, I'd bet money that she had been following our newsletter and knew of what I was describing or had heard of the controversy. I reiterated that I would relay the info back to the candidate that I had been talking to and urge them to get in compliance with the campaign reporting law. And really, isn't that what we are doing here? Trying to find out the truth of these allegations and get something done?
Prater doesn't have any excuses to not know the Ethics Commission rules as he was his own campaign chairman and treasurer for his election campaign.
So, I am going to contact Prater on Monday and ask for a meeting to get his side of the story. He claimed to have prosecuted five or six of his campaign donors already since he was elected, even started naming some names. Alas, there I was without paper or pen, so I asked if I could contact him later so we could get his side of the story and report back to our readers.
The two other cases that led to us getting involved in the Lewis Moon/David Prater controversy were a bribery case against Prater campaign contributor/attorney David Ogle and a road rage/brandishing a weapon charge against Larry Birney.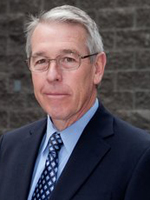 Birney was the executive director of the Council on Law Enforcement Education and Training (CLEET) until he tendered his resignation at a CLEET Council meeting on Friday, April 29th 2011. Although the CLEET Council gave no reason for the resignation, confidential sources are telling us that Birney was arrested in Oklahoma County on after a road rage incident where he allegedly brandished a firearm, made threats, and was allegedly arrested for assault with a deadly weapon.
Prater has been accused by confidential sources of refusing to file the assault charges since March of this year. When questioned about the issue on Friday, Prater remembered the incident but offered no solid information on whether charges were filed or not. A quick search of the Oklahoma County Court dockets on OSCN.net didn't return any charges filed on Birney. Oklahoma County Assistant District Attorney Scott Rowland is supposed to have close ties to Birney, not an outlandish claim given Birney's former job as the director of CLEET.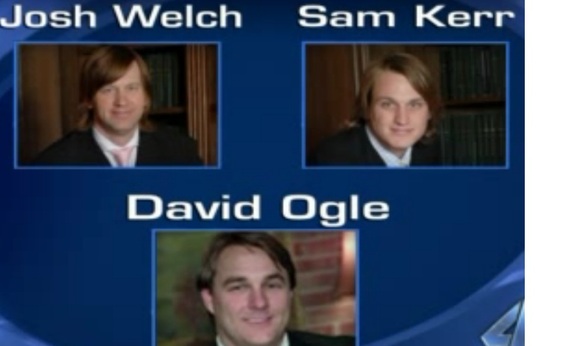 David Ogle was one of three attorneys charged with bribing a police officer on August 22nd of 2007. The other two attorneys were Sam Kerr and Josh Welch-- the same Josh Welch that Prater asked us to call for information on who paid for his alleged fundraiser/victory party event. The bribery case had languished for almost three years until Prater finally charged Ogle on July 30th of 2010, nearly hitting the statute of limitations on the bribery charge. Kerr was charged with offering a bribe, Ogle with actually bribing the officer, and Welch is charged with obstructing an officer from his duties.
The entire mess started sometime in 2007 with a DUI client being represented by Ogle's law firm. The DUI case was settled but the client needed to reinstate his driver's license with the Department of Public Safety. The charges state that Welch contacted a retired Edmond police officer named Chris Caplinger and offered $500.00 to Edmond officer Danny Austill if he would not show up at the DPS hearing.
What Welch didn't know was that Officer Austill was an honest cop. Austill had contacted his supervisor and the Edmond Police Department and OSBI conducted an undercover investigation.
After the DPS hearing, Austil was paid the $500.00 from Caplinger, and then Caplinger picked up a check for $750.00 from Ogle a few days later. For their troubles, Caplinger and another officer, Andrew Adnrande, were arrested on felony charges.
And what happened to these officers?
Here is the last relevant docket entry for Caplinger:
10-28-2009 DEFERRED 1 CAPLINGER, CHRISTOPHER 61704429 Nov 10 2009 4:17:34:370PM - $ 0.00
KENNETH C WATSON , JUDGE: CASE DISPOSED. DEFERRED. / / DEFT PLED GUILTY / REPRESENTED BNY COUNSEL CHRIS BOX / STATE BY DAVID PRATER / CT#1...3 YRS D/S UNTIL 10-28-2012 / DA PROBATION REPORT/FEE / DEFT AGREES TO TESTIFY IF CALLED ON AS A WITNESS IN AN ASSOCIATED CRIMINAL MATTER / CT#2...3 YRS D/S UNTIL 10-28-2012 / COURT COSTS / MONEY DUE INSTANTER
It looks to me like Caplinger got a three year deferred sentence. Wow, mighty tough on those crooked cops.
And officer Andrade? Got his charges dismissed by signing a cooperation agreement.
01-22-2009 MOD&O - ANDRADE, ANDREW 56415052 Jan 22 2009 11:50:39:220AM - $ 0.00
MOTION TO DISMISS AND ORDER OF DISMISSAL/RECALL WARRANT - COUNT 2 DISMISSED, PURSUANT TO SIGNED COOPERATION AGREEMENT - JUDGE BASS-LESURE
Document Available at Court Clerk's Office
MICROFILM: REEL 1471 FRAMENUMBER 4516
David Ogle has a trial set for December 5th of 2011, four years and four months after he bribed the Edmond police officer. Confidential sources claim that Prater filed the bribery charges only after being threatened with a Bar Association complaint for not pursuing charges against Ogle, Kerr, and Welch.
A search on OSCN.net for Josh Welch turns up an obstructing an officer in the performance of his duties charge. The last docket note shows that Welch has yet to answer for his crime four years and two months after Welch aided and abetted the bribery of a police officer:
08-25-2011 CTFREE - WELCH, JOSH T 68215580 Aug 30 2011 9:07:05:873AM - $ 0.00
HALL: COURT MINUTE-MOTION FOR CONTINUANCE AT REQUEST OF DEFENSE. ORDER GRANTED.DISPOSITION DOCKET IS CONTINUED BY AGREEMENT TO 12-15-11 @8AM
The third attorney, Sam Kerr, the great grandson of former U.S. Senator/Oklahoma Governor Robert S. Kerr, is no longer practicing law. A search of the OSCN.net court docket records turned up nothing other than some cases where Kerr was acting as an attorney and a traffic ticket.
And who were campaign contributors to District Attorney David Prater?
Detailed Transaction List for
JOSH WELCH
Monetary Contributions
Transaction Date Accepting Committee Name Accepting Ethics Number Aggregate Amount
03/22/2006 David Prater for District Attorney, 2006 106103 $1,000.00
09/01/2006 David Prater for District Attorney, 2006 106103 $2,000.00
10/23/2006 David Prater for District Attorney, 2006 106103 $500.00
Total: $3,500.00
District Attorney, District 7, 2006 OGLE, DAVID
Self-employed
Attorney 117 Park Ave
Oklahoma City, OK 73000 David Prater for District Attorney, 2006 106103 $2,500.00
Detailed Transaction List for
ROBERT KERR
Monetary Contributions
Transaction Date Accepting Committee Name Accepting Ethics Number Aggregate Amount
10/04/2006 David Prater for District Attorney, 2006 106103 $50.00
10/05/2006 David Prater for District Attorney, 2006 106103 $300.00
Total: $350.00
Okay, let's review boys and girls. Two crooked cops and three crooked lawyers. One deferred sentence, one dismissed charges, one trial set four years and four months after the bribery occurred, one case yet to be set for trial four years and two months after the bribery case occurred, one campaign contributor that paid $3,500.00, another campaign contributor that paid $2,500.00, and another campaign contributor that paid $350.00 to Prater's 2006 campaign.
Anyone need a crystal ball to make a guess how all this is going to end?
Call the Oklahoma County D.A. office (405) 713-1600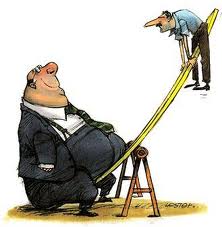 Justice For Sale in Oklahoma City
Early last week we received a phone call that laid out more information on corruption at the Oklahoma County Courthouse. District Attorney David Prater has enemies and they wanted us to have more leads on the David Ogle case.
Ogle was one of the attorneys that Prater told us to contact to get the information on his victory party/fundraising event back in 2006, the nearly $13,000.00 event that was never reported on the State Ethics Commission campaign finance reports. Ogle was also one of the three attorneys and two Edmond police officers who were caught in a bribery scheme over a suspended drivers license after an honest cop turned them in to Edmond police and the OSBI. Courthouse sources alleged that District Attorney Prater refused to file charges against the three lawyers until a Bar Association complaint was threatened, leading to a four year and two month time frame between arrest and a court date. One of the three attorneys caught in the bribery scheme, R. Kerr IV, the grandson of former governor Robert S. Kerr, appears not to have been charged at all.
Last week we laid out the twisted trail of campaign donations and the slow motion justice and we predicted that a crystal ball would not be needed to guess how these cases would come out. This week, armed with the inside information on a change of attorneys in the Ogle case, we looked at the court docket and verified what our confidential source had claimed.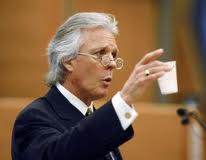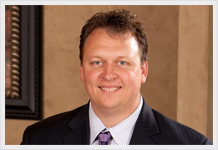 Attorney Mack Martin Attorney Derek Chance
High profile criminal defense attorney Mack Martin had represented David Ogle until District Attorney Prater told Ogle that he was going to trial. Our source told us that the case was handed over to Derek Chance , a fairly low level criminal defense attorney but an up and coming attorney due to his reputation for getting plea deals that no other criminal attorney can. Sure enough, on 6-16-2011 Derek Chance appeared before Judge Bass as Ogle's attorney. But just how can Chance pull off these defense lawyer miracles? Let's meet Derek Chance's secret weapon.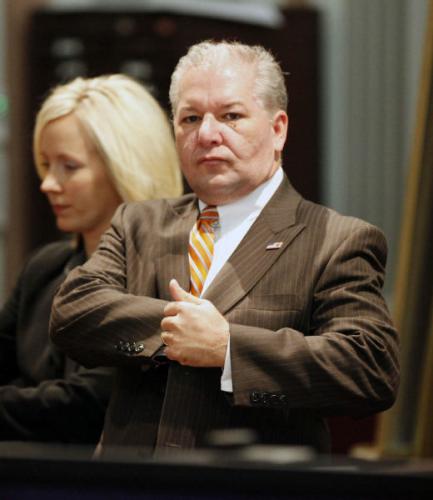 Assistant District Attorney Jennifer Chance on left District Attorney David Prater on right
Meet Jennifer Chance, Derek Chance's wife
Jennifer Chance is an assistant District Attorney serving under District Attorney David Prater. Our sources claim that David Ogle will accept a plea deal from Prater rather than go to trial on his bribery case. Does anyone really doubt that there is a connection between Derek Chance's miracle worker status and his wife's job as assistant D.A.? How in the world can this be looked at other than as corruption, undue influence, and justice for sale to the highest bidder?
I received a call for Jury duty next week, the third time since I moved to Oklahoma City in the early 90's. As a juror how can I overlook the obvious favoritism and corruption permeating the Oklahoma County courthouse? Just look at the examples exposed in our last two newsletters:
The David Bedford case
The David Ogle case
The Josh Welsh case
The Samuel Kerr (Robert S. Kerr the IV, grandson of Robert S. Kerr the former Oklahoma governor)
The Edmond police officer Chris Caplinger case
The Edmond officer Andrew Adnrande case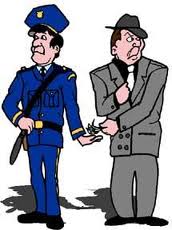 That is eight cases ranging from spitting on a police officer, drunken driving, public intoxication, bribing, obstructing an officer, impersonating a police officer, assault with a deadly weapon, to resisting arrest.
How is it fair that the District Attorney's office can pick and choose who he files charges on and who faces a judge? If I am be asked to act as a juror on a case, how ill I know if the defendent is getting three or four years to prepare before they are brought to trial like these attorneys are getting? Does their attorney have a wife in the District Attorney's office to help smooth the way to a plea deal?
I don't see any way that I should not ask the judge during the jury selection process how a citizen can justify acting as a juror when he or she knows the system is totally corrupt. Should a reasonable man not question the prosecution's integrity on every point?