The increasingly acerbic, anti-immigrant sentiment running rampant in our own community and around the world has convinced us that now is the perfect time to celebrate and support immigrants and refugees by hearing their stories. These Urban Tellers® narratives enrich our community by helping us realize the humanity we share.
Friday, November 2 Urban Tellers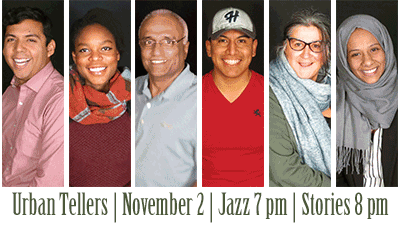 It's Portland Story Theater's fourth edition of this special program and we are very excited to have storytellers from Venezuela (Victor Bencomo Acevedo), Nigeria (Onyeka Azike-Jones), India (Sankar Raman), Mexico (Ivan Hernandez Hernandez), Iraq (Israa Hasani), and Yemen (Wafa Almaktari). The show is happening on Saturday, November 2nd at The Old Church, 1422 SW 11th Avenue (11th & Clay). Get your tickets today!
Jazz at 7 when the doors open, with Stories at 8.
Hosted by Lynne Duddy and Lawrence Howard with music by our house band,
Tonight's Special.
Portland Story Theater's 2018-2019 Season is generously supported by The McIvor Family Charitable Fund; Tonkon Torp; John Moe; Diane Ponti and Ward Greene; Ronni Lacroute; Polk Family Charitable Fund; Dana and Steve Dennis; members of the Portland Story Theater Board, Founding Circle, and Narrative Network, and many other individual supporters, as well as by the Oregon Community Foundation; The Collins Foundation; James F. and Marion L. Miller Foundation; Meyer Memorial Trust; The Kinsman Foundation; The Autzen Foundation;
NW Natural Gas; and
The Oregon Cultural Trust. Thank you! If you would like to support our work, please click here:
[

Make a Donation
]