MOMENTUM TALKS Q4 AND BEYOND
THE GIRL WITH EXTRA FOOTAGE
INBETWEENERS' FIRST DAY HAUL
AT THE SCENE OF THE CRIME
SECOND SIGHT'S TRIP TO THE PARK
DUAL FORMAT TAKES OVER AFTER BLAZE
---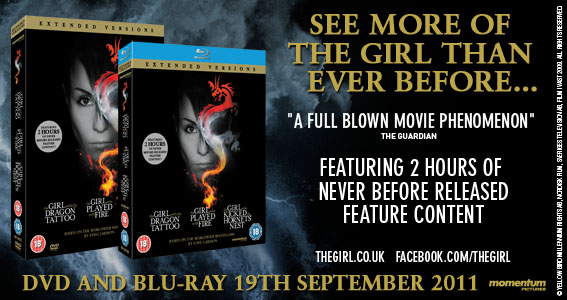 ---
It Was A Good Week For..
.

The Inbetweeners, with a stunning bow…
I
t Was A Bad Week For…

We're refusing to be pessimistic this week (see below)
N
ow, is it just us, or is there something resembling a mood of optimism sweeping the industry? After constant press reports of doom and gloom this year, it appears as if, with Q4 on the horizon, that the business could be set for some big, big months ahead of Christmas. We've been chatting to a few retailers and they seem to be genuinely looking forward to the final quarter. The summer months have seen some blockbuster box office receipts and much of the feature film content is hugely home entertainment friendly. Oh, and the comedy and special interest markets are looking strong too, with new to DVD acts breaking through and some of the bestselling acts ever returning to the fray. We were at a Q4 presentation with Universal this week and sales director Paul Ludlam seemed to sum up the mood. "We're very confident in the balance of the year in the market," he said. "It's been quite a tough year so far, we can't get away from that. Whilst catalogue is challenging there are some great opportunities and the new release slate is really strong. The gifting part of the market is as robust as ever. We feel it could be as much as 10 per cent up on last year. It's not just us, it's the market." He pointed to the fact that with Christmas falling on a Sunday, the last week before December 25 "could be the biggest week ever on DVD". "We're really excited about Q4, we're really excited about the gifting part of the market and we can really capitalise on that demand." We'll have more on Universal's hefty Q4 slate in next week's newsletter…
More Q4 and this week we were over at Momentum's offices to hear about the months ahead and 2012. The figures speak for themselves. Momentum is enjoying its best ever year, with a whopping 15 per cent market share at theatrical and, for the first five months of the year, a home entertainment market share that's almost doubled in value terms. What's more, it can't just be passed off as The King's Speech effect either, for Limitless and the soon to come Insidious are as far away as you can get from the awards-friendly British drama. As sales director Neil Williams said: "2011 has been an incredible year for Momentum Pictures. It is notable of course for the exceptional success of The King's Speech which was an astounding result both at the cinema and home entertainment, however our strength and growth this year can not simply be attributed solely to that one release. Insidious, Limitless, The Fighter, Skyline and the continued Girl trilogy releases have all been incredibly successful releases and continue to highlight the width and breadth of our varied line up." We've been chronicling the company's annus mirabilis (any excuse to use that phrase, we say), but its recent strong performance looks even more impressive when laid out as part of its Q4 presentation. There's not loads of new product, but what it does include is a batch of titles that have yet to enjoy a Christmas in the limelight, as it were, including the aforementioned trio as well as others from its 2011 slate, including the likes of The Fighter and the Stieg Larsson trilogy (more on that below). Its catalogue, both new to Q4 titles and others, will be marketed in the run-up to Christmas, with the independent currently assessing where best to place its advertising. Its biggie for the quarter is the October release of the romantic comedy Chalet Girl. The company has extensively researched the release to get both the sleeve and its marketing spot on. Momentum's Clare Dundrow said: "Chalet Girl with it's winter theme and snow sports hook is a very strong Q4 release for us. Rising Brit star (and new face of Burberry) Felicity Jones and Gossip Girl's Ed Westwick lead the brilliant British cast in this funny, savvy, sweet tale about budding snowboard champ Kim's season in the snow. With heavyweight media planned for TV and online and strong promotional partners, including Roxy and River Island already confirmed we see this is a strong self purchase release as well as a perfect Christmas gifting title." The company also has a batch of first time on Blu-ray titles, with Amelie (remarkably celebrating its 10th anniversary) leading a pack that includes Eternal Sunshine Of The Spotless Mind, Lost In Translation and Requiem For A Dream. Momentum's Kristin Ryan said: "Celebrating the 10th Anniversary of it's original release, Amelie will be available for the first time on Blu-ray this October. The highly acclaimed award winning film transcended the foreign language barrier to become one of the highest selling DVD releases of all time and it's Blu-ray release will swiftly follow a selection of special Cinema screenings and events to mark the anniversary. Award winners Eternal Sunshine of the Spotless Mind, Lost in Translation, Control and Requiem for a Dream will also all be released for the first time on Blu-ray completing our 'First time on Blu-ray' pack. Above the line media commitment and broad PR campaign should ensure that these films are high on all film lover's Christmas lists."
---
Looking forward to next year, and its success on 2011 is having a positive effect on the company. As the company's svp for acquisitions and production Robert Walak said: "It's had a halo effect on us a a company. In the UK the success of The King's Speech has drawn attention to our involvement in local production which we continue to build on with The Woman in Black and Welcome To The Punch whilst internationally it helps give us access to bigger projects as well as as a more allure when it comes to releasing more upscale or indie titles." It's another diverse slate, taking in the first post-Harry Potter film from Daniel Radcliffe and running through to The Wettest County, a crime drama penned by Nick Cave, helmed by John Hillcoat (The Road, The Proposition) and starring Guy Pearce, Tom Hardy, Gary Oldman and Shia LeBouef. Outlining the company's slate for 2012, Ken McMahon said: "Our release slate for 2012 is as exciting and as varied as 2011's. Releases include Daniel Radcliffe's first post Harry Potter starring vehicle Woman in Black, Steve McQueen's long awaited 2nd feature Shame, the first feature adaptation from #1 best-selling Jo Nesbo with Headhunters, Jason Stathan action film Safe, big budget remake of haunted house horror The House At The End Of The Street, prohibition-era gangster epic Wettest County starring Shia LeBoeuf, Tom Hardy, Guy Pearce and Gary Oldman, Steven Soderbergh's star-studded action film Haywire and crime-caper Gambit starring Colin Firth, Cameron Diaz and Alan Rickman from the Coen Brothers."
More on the forthcoming plans for Stieg Larsson's Millennium trilogy. September 19 will see the release of a box set containing all three of the films (that's The Girl With The Dragon Tattoo, The Girl Who Played With Fire and The Girl Who Kicked The Hornet's Nest, in case you weren't paying attention) in extended forms, meaning an extra two hours' worth of running time being added. "This is all the extra material the fans want," said the company's Kristin Ryan. It's being released ahead of Q4 box set madness to give fans a chance to pick it up and Momentum will continue to market the release right through until Christmas.
Our last bit of Momentum news for the week, and we've already discussed the company's Weekender, a British film looking at the acid house scene and rave culture from more than 20 years ago, and last night we were on hand at London's Courthouse Doubletree Hilton for a special screening of the film for some of the UK's biggest name DJs to get them talking about the film. Acid house legend Terry Farley was on hand to talk to the press about the release (he acted as music and creative consultant and compiled the soundtrack, released imminently by Demon imprint Harmless, we've got a copy and it's highly recommended) and those present included legends such as Norman Jay MBE, Danny Rampling and, er, Dangerous Dave Pearce off the radio. The film is out on DVD on September 19 after a theatrical release.
---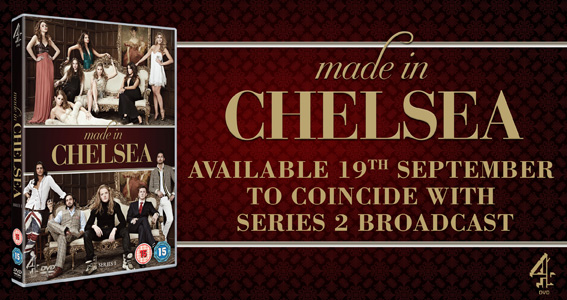 ---
Also last night and almost as far removed from the acid house as you could get, was a special premiere for newly-restored Ealing classic Kind Hearts And Coronets held in association with VW's See Film Differently promotion at Henley-on-Thames (where some of the film was shot). Director Terence Davies, a huge fan of the film, took part in a Q&A after the screening and there was also an exhibition of behind the scenes stills from the film. Optimum's Edith Chappey said: "Last night was a great success. We worked with Volkswagen See Film Differently and Picturehouse Cinemas to present the world premiere of the restoration. Bringing the film back to its original locale made the event very special. Director Terence Davies, who's a huge fan of the film, was there to attend and took part in a panel discussion after the screening with British cinema expert Steve Chibnall during which both told us about their love for Ealing films. There was also an exhibition of behind the scenes stills taking place at the cinema which everyone seemed to have really enjoyed." The film is released theatrically this week ahead of a September 5 Blu-ray bow. We watched it again this week and it really is a wonderful film…
Talking of titles being released theatrically this week, The Inbetweeners came out on Wednesday to quite remarkable box office numbers, taking £2.5 million in previews and making it to the top slot. It seems as if any fears as to the film's content (let's face facts, TV to feature film comedies are hardly the stuff of legend, apart from maybe the Please Sir film) have been allayed. Sadly we couldn't make it to the premiere this week, but retailers were present and were all hugely impressed by the film ("They've really pulled it off," one told us). 4DVD's Karla Berry said: "The Inbetweeners Movie is really very funny and it's a really fitting end to the TV series – fans won't be disappointed. It has that perfect balance of friendship and banter between the boys, without over-doing it on all the well-known catchphrases. It has many laugh out loud memorable moment." The film is due out in Q4 after what now looks to be a big theatrical release.
Anyone who reads a tabloid newspaper or it's or any other celeb website will be only too aware of the fact that you're never more than a page or click or two away from a story about The Only Way Is Essex, or TOWIE, to use its more popular Twitter-friendly acronym. The public's obsession has continued on to DVD too, as 30,000 plus sales of 4DVD's series one release will testify. So let's welcome the second outing for a TOWIE title, as the sophomore series (and a combined series Vajazzle box set (if you don't know what this is by now then we're not going to explain it), due on September 26 from 4DVD. 4DVD's Lucy Bulmer said: "We're investing our media spend targeting popular female publications including OK! and New. Also, due to the overwhelming success of the first DVD signing in Lakeside we are planning a higher profile signing in central London with key cast members during the week of release."
---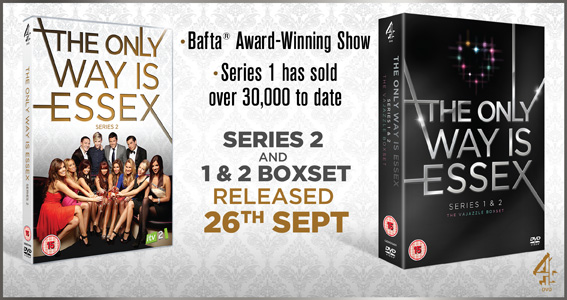 ---
The unique reality style of TOWIE is one of the key reasons for its success and it's also being transferred to new reality programmes. Chief among these is Made In Chelsea and, following the success of TOWIE on DVD, it was only a matter of time before this too arrived on DVD. And it is – on September 19 – and 4DVD will be releasing this one too. Lucy Bulmer said: "Due to the resounding success of The Only Way Is Essex (a genre that does not typically work on DVD) and a demand for this style of reality TV, we're excited about releasing Made In Chelsea Series 1 on DVD and have been benefitting from combined PR strategy with The Only Way Is Essex Series 2 DVD. Made In Chelsea performed well on E4 and key cast members have gained lots of media coverage heightening the programme's strong fan base. We are releasing to coincide with the Series 2 launch on E4 we have confirmed DVD trails after the broadcasts to really hit our target market."
Last week we covered ITV Studios Home Entertainment's Q4 line-up and we've got more from the company this week, as it prepares to embark on a major promotion for its detective titles. The ITV Crime Thriller Collection is a price-led promotion running through Amazon and Asda and Sainsbury's in September and October, offering the likes of The Adventures Of Sherlock Holmes (in his Jeremy Brett incarnation), Poirot, Lewis, Marple, A Touch Of Frost, Prime Suspect, Cracker and recent outing Vera, among others, at a special price. ITV's Richard Bernard said: " For quite some time ITV Studios Home Entertainment's detective franchises have enjoyed great sales success on DVD. It stems in part from the public recognising both ITV1 & ITV3 as the destination for high quality UK Crime Drama, the likes of Lewis, Sherlock Holmes and Poirot to mention just a few. The ITV Crime Thriller DVD promotion, in partnership with Amazon and selected Sainsbury's and Asda stores, celebrates the ITV Crime Thriller Awards season by offering these great value box sets at a price to consumers which is quite frankly a steal."
With a line-up that read's like a Who's Who of Hollywood acting royalty, taking in Al Pacino, Robert De Niro, Jeff Bridges and a young upstart in the shape of Leonardo Di Caprio, Second Sight's slate for the new few months looks decidedly A-list. First among those is the long-dormant Al Pacino classic Panic In Needle Park, in which the acting great appears as a heroin addict hustling in and around New York in the early 1970s. Grim it may be, but it's a great film with a fine turn by Pacino. Second Sight's Chris Holden said: "We've got an exciting lineup this autumn starting with this classic Pacino performance that won him The Godfather role. Finally getting the release it deserves, first time in widescreen and with some great newly commissioned extras." More on other titles from the independent in the coming weeks.
---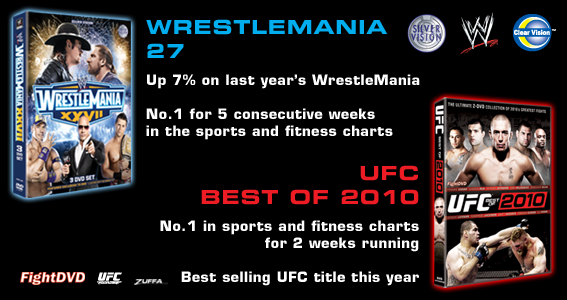 ---
Second Sight was, of course, one of the labels affected by the dreadful fire at Sony DADC and as the industry regained a semblance of normality this week, with few titles being affected, it's been interesting to note that some labels, such as Arrow and Eureka's Masters Of Cinema imprint, are using the fact that they've got to replicate their titles all over again to introduce dual format editions for all their catalogue rather than separate DVD and Blu-ray versions. Arrow's Alex Agran said: "It was already part of our plan to do this. We've found that dual format works best for classic titles as opposed to do a solus special edition Blu-ray and a solus special edition DVD although it really is title by title specific. One title may work as a dual format and another may not, you roll the dice and take your chances." Agran praised Sony for its efforts and speedy work, saying: "We were very impressed that Sony was so quick to act and get back on its feet. [It showed] true professionalism. It will be interesting to see how the industry looks once all stock has been replenished. I think the number of titles available to buy may have just dropped off a little."
It seems as if bad news certainly sells. Last week's grim news saw people turning to The Raygun in droves, offering up a record week in terms of opens for the newsletter, click throughs and visits to the website. See our details of the Sony blaze, industry tributes to Richard Larcombe (with new additional comments, including old trade press editor John Ferguson), our weekly round-up of the week's press coverage for DVD and an excellent report from Empire's Big Screen event here. We've got more features, including our look at acid house flick Weekender going up shortly.
Fundraising news now, and he may have moved on from the DVD side of the business, but we're still pals with Disney's Philippe Roucoule. And in the not so wise words of Marvin Gaye "Ain't no mountain high enough. Ain't no valley low enough. Ain't no river wide enough". Roucoule, from the house of Mouse, and six friends, will be attempting to climb Kilimanjaro next week, to raise money for Great Ormond Street Hospital. This is the first ever trekking challenge most members of the group are attempting, and they have spent the last eight months training through the thick of the British weather, braving the elements in North Wales and Ireland (seven people who before this challenge had only ever visited the jacuzzi in their local gym, as Roucoule, conjuring up an image we're sure you enjoyed us sharing with you). They've endured two wet and windy trips to lovely Snowdon, one trip to Carrantuohill and several weekend hikes through wet, muddy and inhospitable countryside. They've had blisters, soggy underwear, sunburn and developed an appreciation for Welsh cakes. They will greatly appreciate your support, by donating generously on the following link: http://www.justgiving.com/Philippe-Roucoule. We have been promised pictures on their return.
---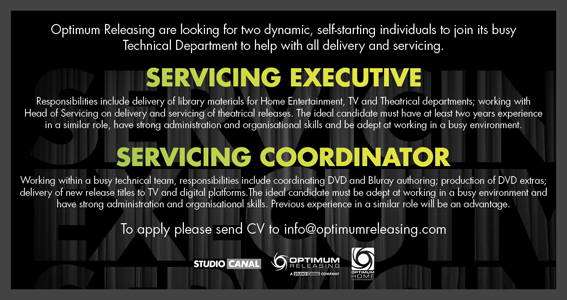 ---
And if you thought that was a bit much, what about Tom Bird from The Delta Group? He's going to be spending October trekking more than 200k through the Amazon for a jungle marathon. What makes his endeavours even more outrageous is the fact that he's done it before, so he knows exactly what he's letting himself in for. Read more about it here and in the Metro here. And come on, if he's mental enough to do it, you should sponsor him here.
"It's a day to remind customers that their local brick-and-mortar independent video stores are here to serve them, from finding catalog titles to repairing discs. It's not a day to bash Netflix. It's not a day to bash Redbox, Blockbuster or even Family Video. It's a day to celebrate the art of movies." US rental store owner Stacey Mooney announcing plans for a national Video Store Day in the US and Canada on October 15, aping the Record Store Day event.
---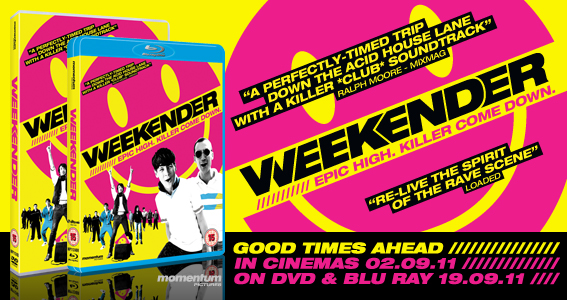 ---
AT THE MOVIES
An excellent week for Fox's Rise Of The Planet Of The apes, which followed a strong US bow with an opening weekend's haul of £5.84 million. Also following its strong American showing with a £3.78 million bow was Sony's The Smurfs. It's also worth noting that Warner's Harry Potter And The deathly Hallows Part 2 is now the highest earning film of the franchise. Warner also this week passed the $2 billion mark at the international box office.
The news that's got the fanboys all excited this week concermed Ridley Scott. Seems the director is planning a new Blade Runner film. Whether it is a prequel or a sequel is unclear, but we at The Raygun, along with half of the Internet by the looks of it, are hugely excited about the project, even though the details are very sketchy.
If it moves, remake it. More Scott-related news, and Ridley's sibling Tony is looking to take a fresh look at Sam Peckinpah's classic The Wild Bunch (one of our favourite films ever) as one of his next projects. It will likely come out after Hell's Angels, the film he is planning based on Sonny Barger's book about the biker gang.
Mostly we concern ourselves with films going into production here, but here's something interesting from Disney, where production on the forthcoming new take on The Lone Ranger has been dramatically halted. The move came after executives looked to try and cut the film's gigantic $250 million plus budget. The film would have been directed by Gore Verbinski and starred Johnny Depp as Tonto, and was being produced by Jerry Bruckheimer. Depp will still get his hefty pay-packet for the film.
Has anyone else noticed how The Guardian has joined the "exclusive" bunfight with the likes of Empire and Total Film? Anyway, this is a genuinely good trailer…
New clip from this eagerly awaited Guillermo Del Toro production…
We really like the look of this one…
And another Anchor Bay production…
We can guarantee that we will laugh and cry hysterically at this…
To unsubscribe, email
info@theraygun.co.uk
with unsubscribe in the subject
For editorial or advertising queries, contact
tim@theraygun.co.uk