SHOP HOURS
Monday: CLOSED
Tuesday: 12 - 6
Wednesday: 12 - 6
Thursday: 12 - 6
Friday: 12 - 6
Saturday: 10 - 6
Sunday: 12 - 4

 

 

 

The Kentucky Sheep and Fiber Festival is coming up this weekend, May 19th & 20th at Masterson Station Park. There are some great workshops as well as vendors, fiber animals and the Stockdog Trials are just a short distance away. We will have a booth there, but don't worry, the shop will be open as well! Learn more about the Kentucky Sheep and Fiber Festival at their website

here

.

 

It's also the time of year to order your passport for the I-75 yarn crawl coming up August 7-12. You can order your passport here and specify ReBelle as the pickup location.

 

Coming up in June we have a Crochet-a-long. We'll be crocheting the

Contour Shawl

by Joanne Scrace (pictured above)

. The project requires 800 yards of fingering weight yarn and a size 7 crochet hook. So, break out your crochet skills and join Raellyn on Fridays June 8, 15, 22 & 29th 12-1:30

 

Also, our next Sunday afternoon knit-in is June 10, 1-4pm.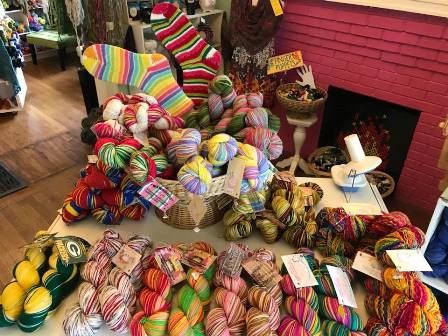 We have some new, really awesome, hand-dyed sock yarn from Artistic Yarn by Abi.
Her colorways are truly inspired and inspiring. We have Dragon Fruit, Rainbow Cake, Rainbow Trout, Green Bay Packers, Sock Monkey, Lucky Charms, Bollywood, Gingerbread, Cheeseburger, Wonder Woman and Grainbow. We've already sold out of Watermelon and we will be reordering after the fiber festival, so if there's any colorway you would like, please let us know. They are generous 460 yard skeins of a 75% Superwash wool 25% nylon blend and each skein even comes with a cute stitch marker!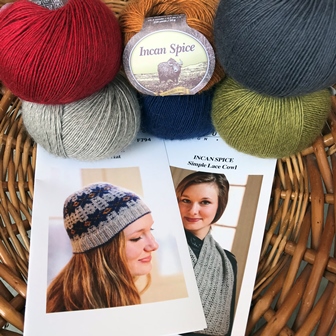 We also just got the luxurious Incan Spice, a blend of 45% extra fine merino, 25% baby alpaca, 15% mulberry silk and 15% yak. Incan Spice is a single ply fingering weight yarn with 218 yards per 50g. Priced at just $12 a ball, that's a luxury you can afford.
It comes in six rich colors and we have free patterns for a single skein cowl and a 3-skein fair isle hat.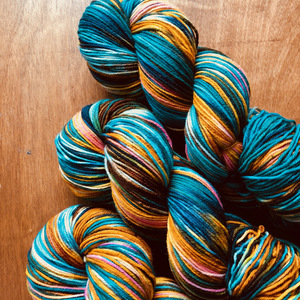 The newest Knitted Wit Herstory Club color, Moduli Curve, is in honor of Maryam Mirzakhani, a trailblazing mathematician. It was inspired by the colors in the Nasir al-Mulk Mosque in her native country of Iran (aka, the Pink Mosque).  Go read her amazing story
here
and don't forget that all of these Herstory colorways are limited edition so once they are gone, they're gone. 
Grab yours now!!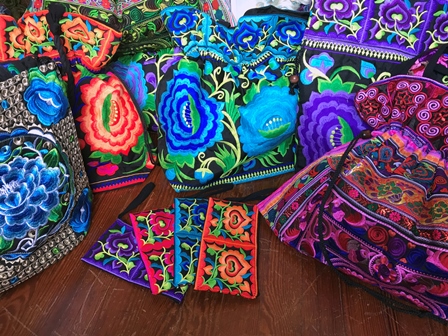 We have some great new bags and pouches.
They are fully lined with zippers on the top and an interior zipper pocket perfect to contain your knitting projects, or they also work great as a purse.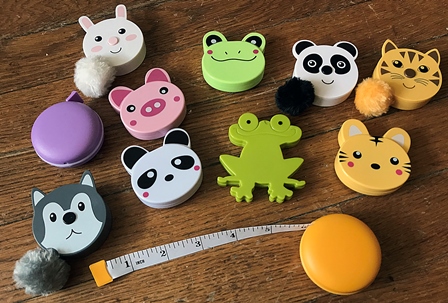 We have a ton of cute tape measures in stock right now!!
We've also got a fresh shipment of baskets and ceramic buttons,
we'll be posting pictures of those on our Facebook page.
 The yarn of the month is actually two yarns: Hempathy by Elsbeth Lavold and Hempton by Hemp for Knitting. Both are very similar and can be used interchangeably. They are both sport weight blends of hemp, cotton, and modal. Hempathy has 153 yards per 50g skein and Hempton has 130 yards per 50g skein. Cast on now and your project will be done by the time the warm weather finally gets here. Some projects that work great with either of these yarns are:
Miss Terry
(shawl), 
Hip in Hemp
(skirt),
Summer Tank
(kids tank),
Girly Dress
(kids) 
Fruit Loop
(kids tank),
Gemini
(tee), 
Saco Stripes
(tank),
Summer Scarf
, and
Classic Bread Basket Liner
.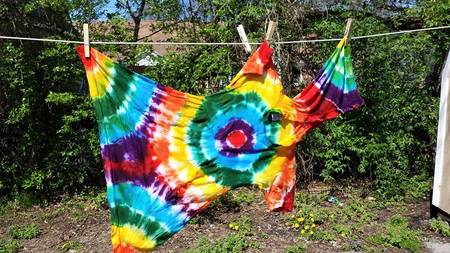 Come spend a fun couple hours tie-dyeing with us! We will be dyeing with professional quality dyes for vivid, long-lasting colors. Each participant may bring 3 items to dye (one pound of fabric or less). Suggested items include t-shirts, pants, skirts, bandanas, cloth napkins, socks, tea towels, lightweight tote bags or plain fabric. We will review basic folding and tying techniques and supply all the materials needed for you to tie and dye your pieces. Recommended for ages 5+, younger children are welcome, but they may need extra help.
Materials needed: Light colored or white, clean fabric or garments made from cotton, linen or rayon.
One class $15 for parent/child pair, each additional child $5
Children must be 18 years and under, maximum 3 children per adult.