Hello CSA members,
This is just a reminder that today, Wednesday August 9th is a CSA share pick-up. Your share will be ready for you to pick up at your chosen pick-up location between 4-7 pm.  We are excited about this week's harvest.

We are looking forward to seeing you on the farm!
Just when some of us were ready to give up on summer and summons the fall to rush in faster, Mother Nature surprised us with some wonderful and much needed moisture. The crops are loving all of the rain. This past week we took advantage of the cool soils to plant more of our fall crops including spinach, kale, and brassicas. The crops that have been producing beautifully this summer season burst into serious action and as such we have turned our attention to harvesting the farm bounty. This included crops like our broccoli which must've received notice from the head lettuce and beets that this season is all about "big" every thing and so it heeded the notice and it is both large and tasty! Our green beans and peppers also soaked up every bit of the rain and jumped into action as well, so much so, that we are thrilled to be adding them to your shares this week! While our veggies thrived in this unexpected weather so did the crew. It is always exciting when we get to take our rain boots for a spin through the farm puddles. All in all, we are very thankful for the refreshing rain showers and can't wait to continue full steam ahead into the rest of the surprises this summer will hold in the fields.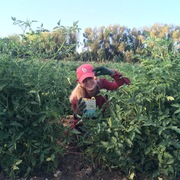 Speaking of happy crew members, we are so excited to announce that our youngest crewmember and livestock expert, Cooper Kline of Fairview 4H, won Reserve Grand Market Goat, Grand and Reserve Grand Breeding Goat, Reserve Champion Intermediate Market Goat Showman, Reserve Grand Market Steer, Champion Intermediate Steer Showman, and Champion Round Robin at the Boulder County Fair this past week! His champion goat will be available in the farm store soon and the steer is being split by a few lucky bidders including Carl's Junior, who will be donating their portion of the steer to "There With Care" an organization that  does many amazing things for the community incluing donating meals to families with children being treated for critical illness.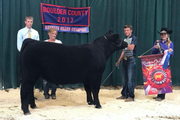 Not only did Cooper impress the judges but we have it on good authority that some of our younger CSA members took home impressive prizes as well. We couldn't be more elated and proud to see that the future of agriculture is in such capable hands of a bright young generation of [to-be] farmers. Once again, congrats all to all of the fair participants!!! If your aspiring farmer wants to get involved with a local chapter, check out
http://4-h.org.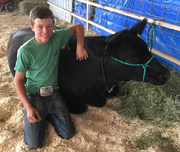 Speaking of kids and the future (guilty as charged, these segues are a bit far stretched, but kind of clever, no?) it is officially that time when we are thinking about back-to-school and as such, planning ahead for the rest of the year. Here at the farm that means, the BACK TO SCHOOL PORK SALE, 10% off of all cuts!!! Stop by the farm store to get your freezer stocked to feed all of those hardworking hungry scholars! And, in jumping right ahead to future plans lets chat WINTER CSA SHARE! We will be releasing the sign up info soon so that we can prepare our fields to make sure everyone is well fed into the first part of the winter.
See details here.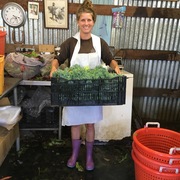 Turmeric Rice
2 teaspoons olive oil

1/4 cup minced yellow onion

2 teaspoons minced ginger

1 cup short grain brown rice

1 teaspoon ground turmeric powder

1 1/2 cups low-sodium vegetable broth

salt, to taste
Kale
1 bunch kale

1 tablespoon olive oil

4 cloves garlic, minced

1/2 cup low-sodium vegetable broth

3/4 cup full-fat coconut milk

salt, to taste

Toasted Cashews, for topping

Toasted Coconut Flakes, for topping
Heat a medium sized pot over medium-low heat. Add the onion and cook for 4 to 5 minutes, until the onions are translucent and fragrant. Stir in the ginger, cooking for one minute. Next, add in the rice and turmeric, toasting for one more minute. Measure in 1 1/2 cups vegetable broth and bring mixture to a boil, reduce to a simmer, cover, and let cook for 35 to 40 minutes, until the majority of liquid has been absorbed. Remove from heat and allow to sit for 10 minutes.

Prepare the kale by removing the stems and cutting the leaves into 1/4 inch strips. Towards the end of the rice being ready, heat 1 tablespoon of olive oil in a large, wide pot. Add in the garlic, cooking for roughly a minute. Add the chopped kale and stir to coat with the garlic. Add in 1/2 cup vegetable broth, cover, and let kale cook for 5 minutes, stirring occasionally.

Add in the coconut milk and continue to cook greens until tender, roughly 3 to 5 minutes more. Taste and add salt as needed.

Serve greens over a large scoop of turmeric rice and top with toasted cashews and coconut. 
1 head broccoli

1/3 cup sliced white onion

4 tablespoons olive oil, divided

1/4 teaspoon salt

1/4 teaspoon black pepper

2-3 tablespoons lemon juice

3 tablespoons sliced almonds

1/4 cup shredded asiago cheese

4-6 ounces pasta

Sliced almonds, for topping

Shredded asiago cheese, for topping
Preheat oven to 425˚. Cut broccoli into roughly equal-sized florets, keeping as much of the stem as possible. Toss with sliced onion, 1 tablespoon olive oil, salt, and pepper. Roast until broccoli is just starting to char, 15-18 minutes.

Bring a pot of water to a boil with a pinch of a salt. Add pasta and cook until tender but not mushy. Drain, reserving at least 1 cup of water.

Place cooked broccoli in blender or food processor with remaining olive oil, lemon juice, almonds, and cheese. Puree, add 2-3 tablespoons pasta water at a time, until a thick sauce forms (will look more like a dip than a sauce). Taste and add more salt/pepper as desired. Combine with hot pasta.

Serve with a sprinkle of slice almonds and extra cheese.
1 lb kale(lightly steamed and then chopped finely)

2 onions (chopped finely)

3 garlic cloves (chopped finely)

6 eggs (beaten)

1/2 cup corn (can be the frozen kind you defrosted or fresh)

Flour (I use whole wheat or almond flour – just a dusting to make it stick together a bit)

pepper and salt

olive oil or coconut oil
Steam the kale in a steamer for a few minutes. You want the leaves to still be crisp. It's just right when the leaves get that bright green color. Chop it fine.

Stir-fry the chopped onions and garlic in a pan and then add the corn to it to lightly brown everything.

Combine the kale, onions, and corn in a big bowl and then add the beaten eggs, along with your seasoning and flour. Mix it all together with your hands and let it all cool down to room temperature.

Heat coconut or olive oil in a big frying pan. Form burger-shaped patties with the veggies and then sit them in the pan and flatten them with a spatula. That way the egg mixture can evenly distribute and glue it all together. Cook both sides until golden brown.

Serve them warm or cold (you can even freeze them to store for later). Great with an egg for breakfast. 
Thank you to our awesome CSA member Rebecca for sharing this great recipe!
In your CSA share this week
Head Lettuce
Kale
Broccoli

Green Beans

Sweet Corn
Zucchini 
Peppers
Garlic
Coming next week... sweet corn, tomatoes, chard, zucchini and more.
Fruit share - Peaches
Flower share - Mixed bouqet
Egg share - pick up this week
Coffee share - pick up this week
Bread share -pick up this week
Wine & cheese - pick up this week
Detailed recipes are below
This week's wine share features the Verdicchio grape, one of the most widely planted white varieties in the Marches region of central Italy, which has been cultivated in the area for over 600 years. The two most important DOC's in the region are dei Castelli di Jesi, 20 miles from the Adriatic sea, and di Matelica (from where this wine comes) further inland, close to the Umbrian border. The four-hectare Colle Stefano is owned by Fabio and Silvia Marchion and the estate stands at 420m above sea level. The grapes are grown organically. (Verdicchio's name is derived from 'verde' meaning green, referring to the yellowish-green skin of the grape which imparts a subtle greenish hue to the wine).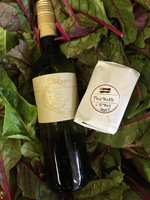 This week the Italians have it as the lovely goat cheese pairing hails from the same country. Sardinia is known for its sheep's milk cheeses, but Pantaleo is a unique and rare goat's milk cheese that also hails from the mysterious Italian island. Ivory in color with a thin, natural rind, Pantaleo has flavors of herbs with hints of lemon and lime in the finish. Aged a minimum of 100 days, the cheese has a firm, almost dry paste that makes it perfect for shaving over salads. Now all you have to do is uncork the wine and close your eyes while dreaming of being on a "mysterious Italian island" yourself. 
Bacon me crazy for pork. PORK SALE!!!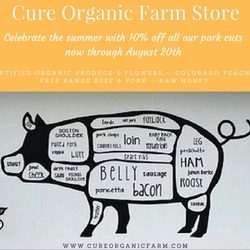 We can't believe our 'beeting' little hearts either, but we are excited to announce Winter CSA Share signups as we anticipate preparing our field for your fall/winter table bounty. We think you have better things to do this fall than shop, so go ahead and just mark your calendars for the rest of the year with your Wednesday CSA pick-up! Winter Share will seamlessly resume where Summer CSA stops, with the first pick-up is on Wednesday October 25th through Wednesday December 13th.
The abundant CSA will feature fall favorites including potatoes, garlic, dried beans, our sweet cool weather spinach, broccoli and cauliflower, and of course oodles of fall/winter squash! Included in the winter share is a fruit share in partnership with western slope farmers that will include incredible pears, plums, and apples, perfect for fall baking. Winter Share is all one size and is priced at $240 for the eight-week bounty of veggies and fruit ($30 per week).
As one of our CSA members so poignantly quoted the television show Game of Thrones, "winter is coming," so we encouraged you to prepare! Pick ups will happen every Wednesday from 3:30-6:00pm. We are already excited thinking about you snagging your share cozied up in hats and mittens, so treat yourself to some good food this fall including:
Winter Veggie Share with Fruit $240 

Egg Share $48

Bread Share (every other week) $30

Wine + Cheese (e/0 week) $120

Coffee Share (every other week) $44
Live in the sunshine. Swim in the sea. Drink in the wild air. 
Ralph Waldo Emerson
3/4 pound green beans, ends trimmed

1 green or red pepper

1 tablespoon olive oil

3 tablespoons soy sauce or tamari

2 teaspoons honey (or vegan sub)

1 teaspoon minced fresh ginger

2 teaspoons toasted sesame seeds

6 ounces brown rice noodles (see note)

8 to 10 rice papers (white or brown)
Preheat oven to 400˚. If green beans are thick, slice in half lengthwise. Cut red pepper into similar sized strips as the green beans and toss together with olive oil on a roasting pan. Spread out into a thin layer and roast until green beans are tender and starting to brown, 15 to 20 minutes.

In a small bowl, stir together soy sauce, honey, and ginger. Right after you pull the green beans from the oven, pour the soy sauce mixture over, sprinkle with sesame seeds, and toss until the green beans are coated. Allow to cool slightly, tossing mixture occasionally.

Cook the noodles according to the package. Drain and rinse under cool water.

Set up your rolling station with the hot water, bean mixture, rice noodles, and a place to roll/cut each summer roll.

Soak the rice paper for 10-15 seconds, until pliable but not extremely soft. (Soaking time may be longer or shorter depending on water temperature.) Place the wrapper on the cutting board and add 1/4 cup cooked noodles and roughly 1/2 cup of the green mean mixture, lying them slightly off center, towards you. Fold the wrapper edges closest to you over the filling, tucking the edge under the filing. Fold the sides over and continue to roll away from you. Repeat with remaining ingredients.

Once done slice in half and serve. Delicious with peanut sauce or sweet and sour dip!



Cure Organic Farm

7416 Valmont Rd.
Boulder, CO 80301
cureorganicfarm@yahoo.com
www.cureorganicfarm.com