Thank You
for
Your 2015
Membership
Registration
   You have added your voice to the only organization whose sole purpose is to maintain the viability of the McKay Scholarship Program.
   We will keep you in- formed of any issues affecting the MSP.
We would like to welcome our new board members, appointed to replace our open positions. We will have board elections in the Spring.
Crystal Wilson, Rocky Bayou Christian School, Niceville
Debra Rains, North Florida School of Special Education, Jacksonville
Patricia Giner, Atlantis Academy, Miami
Tim Vanderveer, Ruskin Christian School, Ruskin
We bid fond farewell to Jay Doughtery.  Jay is a Charter Board Member.  He is the headmaster of Halifax Academy.  We will miss his energy and presence.
   The legislature will begin in January this year instead of March.  The Coalition of McKay Scholarships is working with legislators to address two issues.
   The first is to develop a Transition to Work component for McKay Scholarship students, ages 17-22, which would allow them to work in an On the Job Training Program designed by their school.  This would release them for 10 hours a week to a job site.   We will keep you posted when the bill is filed.
   The second goal is to have the deductions from the McKay Scholarship for students taking FLVS courses removed.   We will need parent and school actions on this.  Please email Steve Hicks at
info@mckaycoalition.org
  if you have parents who have had deductions  taken from their McKay Scholarships and who would be willing to help on the legislative front.
Rally in Tally - January 19th
Get Involved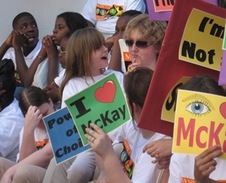 "The Florida teachers union and school boards association filed suit against the Florida Tax Credit Scholarship in 2014, claiming that private school scholarships harm public schools. A Leon County Circuit Court judge ruled the teachers union lacked the right to sue the Florida Tax Credit Scholarship, as these scholarships are funded by businesses and not state funding from the Florida Legislature. The Florida teachers union has promised to bring this lawsuit to the Florida Supreme Court, if necessary." 
(source saveourscholarships.com)
   While the McKay Scholarship is not listed in the law suit, should the suit be won by the teachers union and school boards association, we can expect an attack on the McKay Scholarship next.
   Voices for Choices is leading a Rally in Tally on Tuesday, January 19, 2016.  Students, parents and teachers from schools supporting the Florida Tax Credit Scholarship will descend on Tallahassee with their message loud and clear:  Respect the parents' right to choose what educational situation works best for their children.  The Florida Tax Credit Scholarship should be left alone. 
   We would encourage McKay Scholarship Schools to attend the rally.  
AAA Scholarship Foundation, Inc
"AAA Scholarship Foundation, Inc. is a 501(c)(3) non-profit and an approved Scholarship Organization with offices in Alabama, Arizona, Florida, Georgia, Nevada and Pennsylvania. AAA administers innovative state-approved scholarship programs that fund education scholarships exclusively for low-income and special-needs children. AAA has had the privilege of awarding over $20 million in scholarships since March 2010, including Florida's Personal Learning Scholarship Account (PLSA). The PLSA is a new type of scholarship program – an education saving account – which is intended to provide parents with options to help empower and better meet the individual needs of their uniquely abled children."  Information at
www.aaascholarships.org