D
epletion of natural resources, economic and environmental issues provoke the search for new approaches and innovations so that we can cope with the serious challenges we face. In this issue of our e-newsletter we will meet you with Exeron - an outstanding Bulgarian achievement in the energy sector and you will get acquainted with the latest news from the international partners of the 10th edition of the South-East European Exhibition and Forum on Energy Efficiency & Renewable Energy (EE & RE) and Smart Cities (5-7 March, 2014):
'Transparent' discovery in solar industry

Which building in Spain has recently obtained LEED Platinum certification?

A+++ Solar Systems on the Market In 2015

Did all Member States of the European Union succeed in transposing the Energy Efficiency Directive?
The Via Expo team wishes you a nice reading.

---
Interview with

Alexander
Rangelov
,
CEO of International Power Supply (IPS)
Please provide a brief description of your products and specify the field they
are used in.
Currently
IPS
manufactures
33
different products.
Our
power
systems
are used in Renewable energy sector
, Telecommunications,
Energy,
Defense
,
Agriculture,
and any other
fields
where the aim is to achieve safe
and
reliable
power supply
combined
with maximum efficiency.
Tell us more about Exeron – a hybrid modular system for autonomous power supply.
We developed
Exeron
about 2 years ago
.
This was
our
top
innovation.
The system
was recognized
in Munich
as
the first and only
modular
hybrid system
worldwide.
The particular in Exeron is the capability of combining 5 energy sources in 1 system – sun, wind, batteries, diesel generator and grid, if there is one available. Exeron is entirely based on a modular structure. It
has
many advantages - high efficiency, lowering the costs of the conventional energy, unified structure, easy repairing and maintenance, replacing a module takes only a few seconds in case of a defect, extremely small size, mobility etc. The system ensures full energy independence and can be monitored remotely from everywhere in the world that has access to the global network. The redundant energy, that is unused by the loads, can be stored in batteries for further use or it can be back feeded to the grid.
Exeron
allows
establishing
of
an autonomous and
integrated
power supply
system with
capacity up to
65
MW
in paces of
2
kW.
At the same time, the
system can provide
energy storage
in batteries
- up to
315
MW
h.
It has application in various areas
- from
power
pumps for
extraction of
water, through power
supply
of
single
houses and
sites
for mobile
telecom
operators
to
power supply of
entire residential
neighborhoods.
Where do you see the potential of our market in intelligent energy solutions?
In practice,
smart energy
solutions
can be applied
everywhere.
Increasingly,
those
solutions
are integrated into
everyday life,
as
they help to
achieve energy
efficiency and
autonomy
, which
are
primary
elements
affecting
every citizen.
Which will be the leading trends in the coming years?
On the background of
growing prices of electricity
and
electrical
instability
such
systems will become
increasingly relevant
. The
Energy independence
, the efficiency
and
the
autonomy
will increasingly take
leading
positions on a global
scale.
IPS takes part at exhibitions around the world – just to mention some of them from the last year: EE and RE, Intersolar, GulfSol and PowerNigeria. What is their role for the expansion of your business?
We focus
on the markets in
Africa and Middle
East,
so the role of
these local
and
international exhibitions
is key to
our business
.
These are
emerging markets
and
in these countries,
the need for
electricity
is
paramount
.
What do you expect from your participation in the exhibition for EE and RE and Smart Cities in 2014?
In the
next
year's
edition
IPS
expects to
meet
many new friends
, clients and partners with
in the country.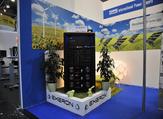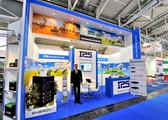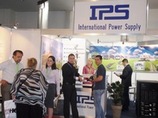 ---
News from our Partners:
Solar International, FuturEnergy, InstalNews.ro
and ESTIF

A glimpse of the future of BPIV transparent PV has being shown by a team at the Institute of Photonic Sciences. High power conversion of new solar cells that are thin, flexible, and transparent make them ideal for a wealth of new applications.

Cell color may be tuned by changing the layer configuration of the photonic crystal.
In a recent study carried out in the group led by Prof. Jordi Martorell and published in Nature Photonics, researchers have fabricated semi-transparent Organic Photovoltaic (OPV) cells utilizing a light-trapping layered architecture to obtain an optimal light harvesting.

...

---
Repsol Campus is certified as one of the most sustainable buildings in Europe
Repsol Campus has obtained the LEED-NC certification in the Platinum category, the highest distinction possible for new constructions awarded by the prestigious U.S. Green Building Council (USGBC). The LEED-NC certificate (new constructions and major renovations) guarantees that the entire building was designed and built according to the strictest sustainability criteria.
Repsol Campus is located on Calle Méndez Álvaro in Madrid and occupies 123,000 m
2
. It consists of 4 buildings forming a cloister around a large central garden; its size is 1.5 times the size of a football pitch, with 100 trees suited to the Madrid climate. The building, designed by the architect Rafael de La-Hoz and with interior design by Aguirre Newman and Enrica Rosellini, is the only corporate business campus in central Madrid. It is a cutting edge project in terms of accessibility, sustainability and security.

...

---
A+++ Solar Systems on the Market In 2015
The eco design and energy labelling regulations for space, water, combi heaters and storage tanks were published
in September
in the Official Journal of the European Union. After many years of effort and a very constructive cooperation between the EU institutions and the solar thermal industry, the energy label will show, in a harmonised and user friendly way, the benefits and savings brought by solar to end consumers all over Europe.
"
We welcome the happy ending to this long process", said Robin Welling, President of the European Solar Thermal Industry Federation (ESTIF). He added: "The energy label will allow consumers to visualise the potential savings and to make more informed decisions. We are very proud of the significant contribution we have made by co-designing the package label with the Commission. As an industry, we intend to build on the fact that Solar "thermal packages" for water heating will be the only A+++ technology, a trigger for the market uptake of solar heat which the EU needs".
...

---
–
News, Events and Updates from the Installations Field
Energy Efficiency in Buildings: the Czech Republic and Romania are requested to adopt national measures on energy efficiency in buildings
The Commission has formally requested the Czech Republic and Romania to ensure full compliance with their obligations under EU legislation on energy efficiency in buildings (Directive 2010/31/EU). The Commission sent a reasoned opinion to the two Member States asking them to notify the Commission of all their transposition measures for the directive, which had to be transposed into national law by 9 July 2012. If the Member States do not comply with their legal obligation within two months, the Commission may decide to refer them to the Court of Justice. Under this directive Member States must establish and apply minimum energy performance requirements for buildings; ensure that the building`s energy performance is certified and carry out regular inspections of heating and air conditioning systems. In addition, the directive requires Member States to ensure that from 2021 onwards all new buildings will be so-called nearly zero-energy buildings.

..

---