Download, Print & Post the Official Poster: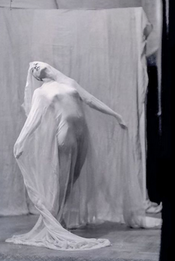 "Nobody cares if you can't dance well. Just get up and dance. Great dancers are not great because of their technique, great dancers are great because of their passion."

Team

Non Profit Board of Directors:
Erik Bryan Slavin (Chair)
Nicola Creary
Valerie Feit
Jerry Goldman
Mahayana Landowne
David Leventhal
Greg Miller
Philip Ribolow
Steering Commitee:
Greg Miller, Executive Director
Jenny Boissiere, Parade Production
Celia Kutcher, Parade Production
Carlye Eckert, Education
Valerie Feit, Education
John Dalton, Sponsorship
Michelle DeBlasi, Marketing
Martha Ma, Marketing
Jamila Holman, Festival Production
DJ McDonald, Curatorial
Mark Schmidt, Curatorial
Hal Lamster, Web
Donnie D'Amato, Web
Howard Gibbs-Hobgood, Volunteer Coordination
Jessii Parham, Volunteer Coordination
Rebecca Myles, Media
Bianca Rodriguez, Finance Director
Natalya Grigoriev, Finance
Brian Austin, Creative
Jason Parrish, Creative
Chauncey Dandridge, Social Media
Xi Zhu, China Committee
Honorary Committee:
(Power Team & Grand Marshals)
Maurice Hines
Frankie Bones
Mestre Joao Grande
Rosie Mendez
Garth Fagan
Kwikstep
Rokafella
Carmen de Lavallade
Robert Battle
Mary Verdi-Fletcher
Rekha Malhotra
Savion Glover
Jawolle Willa Jo Zollar
Hex Hector
Jacqulyn Buglisi
Baba Chuck Davis
Louie Vega
Ashley Tuttle
Elisa Monte
Bill Shannon
Trevor Hochman
Peter Zehren
Samir Bitar
Mel Alvarez
Jonathan Peters
Charles Reinhart
"Billy Elliot" (Joseph Harrington)
Kat Wildish
Amy Marshall
Jellybean Benitez
Elizabeth Zimmer
Ellenore Scott
Don Campbell "Campbellock"
Morocco (Carolina Varga Dinicu)
Luis Salgado
Luigi
Kool Herc
Danny Tenaglia
Djoniba Mouflet
Advisory Board:
Jeanne Fleming
David Katz
Teddie Kern
Anil Kumar
Joseph McElroy
Fred Shequine
Tasha Blank
Sponsorship Team:
Greg Miller
John Dalton
Nikki Creary
Phil Ribolow
Parade Production:
Jenny Bossiere (Co Lead)
Celia Kutcher (Co Lead) 
Cristin Lafata
Grace Marinao
Jenn Converse
Erik Bryan Slavin
Gabriel Kutik
John Dalton
Dan Rosenstark
Daniel Kahn
Disco Mike Park
Bobby Speakerwire
Wandalynn Miftahi
Cheryl Gant
Phil Ribolow
Mekeshia Brown
Marjorie Liebman
Wandalynn Miftahi
Peter Vassilatos
Ollie Chase
Jerry Goldman

Akil Davis

Festival Production:
Jamila Holman (Chair)
DJ McDonald (Curatorial Chair)
Mark Schmidt (Curatorial Vice-Chair)
DJ Sweat
Shiela Jamison
Ben Vazquez
Ameca Holman
Bianca Rodriquez
Mango
Norman
Donnie D'Amato (Emcee, Main)
Shireen Dickson (Emcee, Family)
Educational Outreach
Carlye Eckert (Chair)
Valerie Feit
Caryn Cooper
Shireen Dickson
Leslie Pieters
Jamee Schliefer
Finance:
Bianca Rodriguez (Chair)
Natalya Grigoriev
Elizabeth Zaklama


Legal:
Victoria Behr
Carmen Casado
Jerry Goldman
David Leventhal
Paul Llewellyn
Kaye Scholer LLP
Marketing:
Greg Miller
Brian Austin
Jason Parrish
Hal Lamster
Martha Ma
Sarah McGlaughlin
Amanda Alston
Luis Vargas
Media & Promotions Team:
Rebecca Myles
Teresa Bigelow
Chauncey Danridge
Michelle Deblassi
Kevin Farley
Shiela Jamison
Special thanks:

·New York City Mayor Bill de Blasio
·NYS Governor Andrew Cuomo
·Manhattan Borough President Gale Brewer
·City Council Member Rosie Mendez
·NYC Cultural Affairs Commissioner
Tom Finkelpearl, Deputy Commissioner Eddie Torres, Assistant Commissioner Kathleen Hughes and Program Officer Stephanie La Froscia
·Community Boards 2 and 3

·NYC & Co Foundation
·NYPD Lt Christopher Cheng and Sgt Patrick McGuire
·NYC Department for the Aging
·New York State Council on the Arts
·Lower Manhattan Cultural Council
·NYC Parks & Recreation Director Claudia Pepe, District Supervisor Terese Flores, Deputy Director Venus Melo and Kevin McClain (Citywide)
·NYC Dept of Sanitation Superintendent Thomas Lincoln
·NYC Dept of Transportation Event Coordinators Michael Callery, Ivory Henderson-Robb and G.I.S. / Events Coordinator Shuan Bruney
our 2017 Sponsors and Partners: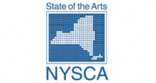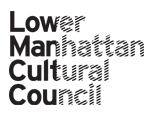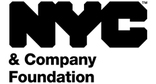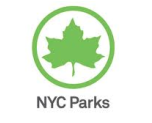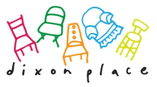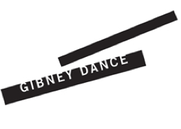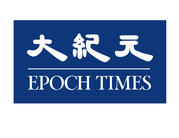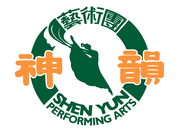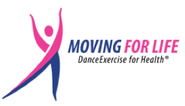 We're all set to dance strong tomorrow and honor our theme "DANCE FOR PEACE." This year, the passion literally translates into a movement celebrating peace, culture and a shared passion for dance in 80 unique forms of expression.
Huge thanks to the thousands of artists, djs, Pirate Ship builders, Salseras, Hoopers, Hustlers, Folkloric Divas, Burners, City workers, NYPD, NYDP, volunteers, media, and Team Dance Parade for all your support!
Saturday's forecast is PARTLY CLOUDY and 68 DEGREES--Perfect weather to shine in the streets. We kick everything off with a ribbon cutting ceremony at 12:45pm at 21st Street and Broadway. 
Dances of Universal Peace
bless us with sacred dances and then all 10,000 dancers will raise our hands in the air at 12:59pm in a minute of silence for all those who cannot dance with us. 
And at 1pm Grand Marshals Maurice Hines, Mestre Joao Grande, City Council Member Rosie Mendez and Frankie Bones cut the ribbon as thousands celebrate together in the largest dance event in New York City.
Can't join us? Watch us live on NTD.TV/Live
Grandstand viewing back in Astor Place will be especially fun this year with emcee Jerry Goldman and the Park Festival on 4 stages in the lush Tompkins Square Park with our Pirate Ship stage will be one like no other.
Lots of pics and details below and on our website. Be sure to join us after the park to keep the mojo going at the
After Party,
the fundraiser with Frankie Bones and guest DJs that helps make it all possible.
Much love--See you tomorrow!
 

Greg Miller






This is your invitation to join thousands of dancers as we explode down Broadway in the heart of Manhattan, sashay through Union Square and leap across Saint Mark's Place.

 

Having 80 unique styles of dance will be the world's largest display of cultural diversity.

 

The theme "Dance for Peace" sets a positive and joyous tone as we kick off the parade with Dances of Universal Peace.


 

Never-seen-before dance genres and choreography that highlight the human experience -- everything from Ballet to Breakdance, Two-step to Dub-Step, and African to Zydeco--all in dazzling outfits, with live bands, djs and decorated floats.

 

 

It's FREE to dance with one of the 167 dance groups. And all individual dancers with or without a dance group MUST register here!

Are you a group coordinator? Read the Paritcipant Guide to know how your order & step off time.


 

 

 

"Dance For Peace"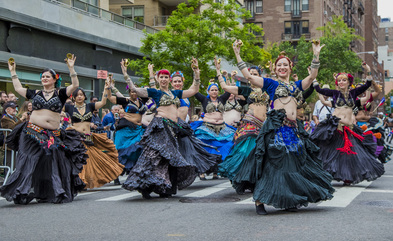 Artists: Manhattan Tribal (American Tribal), Photo by Peter Cai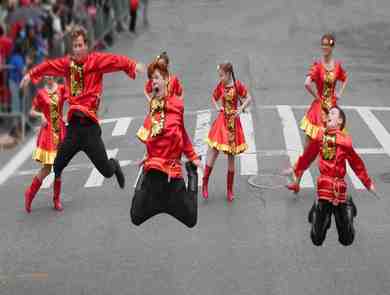 Artists: Folk Dance Club - Kaleidoskope, Photo: Suzie Samuel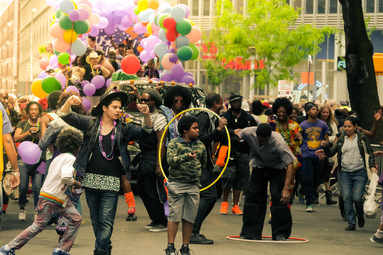 House Coalition, Photo by Glenmore Marshall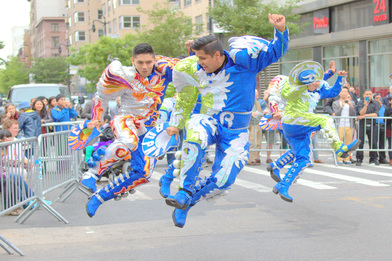 Proudly expressing Bolivia Culture, Photo: Don Lang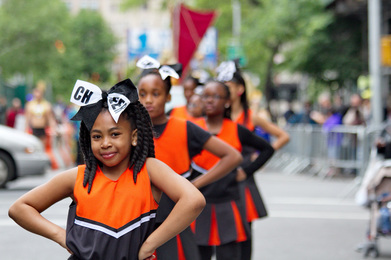 Look Mom I'm dancing on Broadway! Photo: Maria Guarriello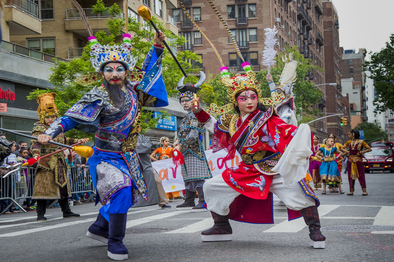 Passport To Taiwan,  Photo: Peter Cai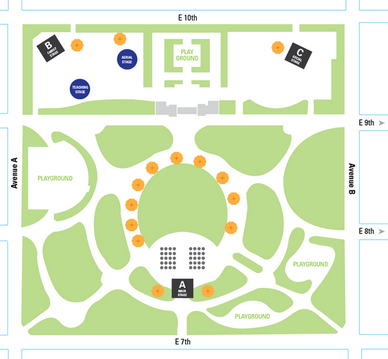 As nearly 10,000 dancers end the parade on Saint Marks and Avenue A, DanceFest comes to life from 3 to 7pm with 4 stages, site specific dances, workshops and a dance party -- All FREE to the public!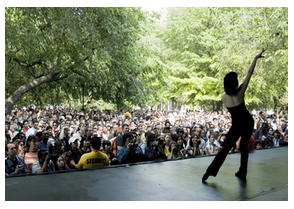 Main Stage (A): Free seats to see vinyettes of African, Indian, Hip-Hop, Voguing, Roller Disco, Polynesian, Hula and more!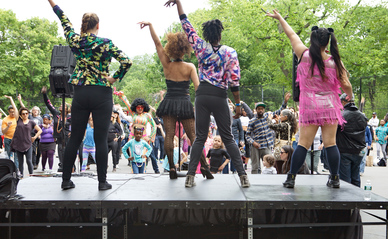 Teaching Stage: Princess Lockerooo (BDC/Peridance, credit Maria Guarriello); How many of the 8 30minute teaser workshops can you do?!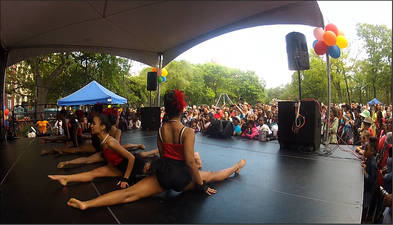 Family Stage (B): See how our Community Engagement programs in schools and community centers look on stage  Enjoy Chinese, Hip-Hop, Step and more!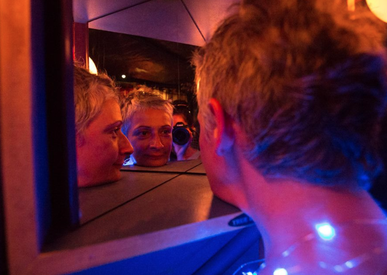 True Mirrors comes to DanceFest:  Come see yourself as never before – where you can see yourself without being backwards!  Prepare to be amazed as you see how beautiful you are when the Real You is reflected back. For more info visit
truemirror.com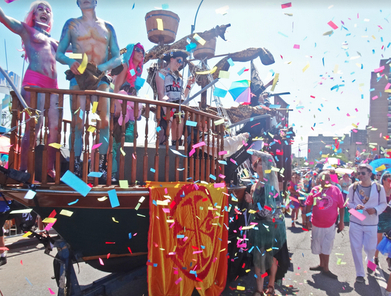 I
Social Stage (C): Kostume Kult's Pirate Ship sails down Broadway and throws anchor at DanceFest's Social Stage -- House Coalition will kick it off with soulful classics followed by legendary DJ and 2017 Grand Marshal, legendary DJ Frankie Bones!
In order to plan on 20,000 moving and grooving feet in the parade, we need lots of hands (personell). 

Volunteers get a cool Dance For Peace T-shirt and a pass to the Pizza party afterwards, along with legendary DJ Frankie Bones.  To share in the fun of making the parade and festival happen, apply with the brief volunteer form here!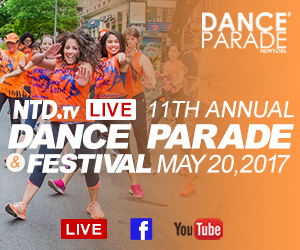 You're from far away and your kid is in the parade? Watch it live on NTD TV!   www.ntd.tv/live
Keep the good vibes going at the OFFICIAL AFTER PARTY at NUBLU,
62 Avenue C, just a few blocks from DanceFest!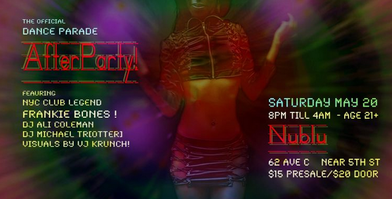 2017 Dance Programs:

We employ Teaching Artists at our programs in all five boroughs of New York City. Each program ends with participation in the May 20th 2017 Parade and Festival!


 

Ageless Action: 

Serving older Americans through the joy and movement of dance.  





Community Kinect:

Using dance to instill a lifelong enthusiasm for physical fitness.

 

Cultural Residencies:

Multi-week residencies focusing on culturally specific dance forms.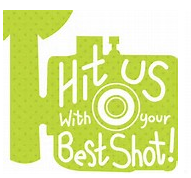 Each year Dance Parade attracts hundreds of photographers to capture the magic found when 80 unique styles of dance and cultures are all presented together. They love the energy, movement and color found among ancient cultures and highly ambitious artists!

 

Our Mission

is to promote dance as an expressive and unifying art form by showcasing all forms of dance, educating the general public about the opportunities to experience dance, and celebrating diversity of dance in New York City by sponsoring a yearly city-wide dance parade and dance festival.
Dance

Parade really needs your support

and any help you can give us is appreciated. At

Dance

Parade, we are grateful for every tax deductible donation no matter how small.

 

 
  · Make check payable to "

Dance

Parade" and mail to 789 Westminster Road, 1st Floor, Brooklyn, NY 11230
  · Click on the Donate button from danceparade.org and pay by credit card (PayPal account not needed)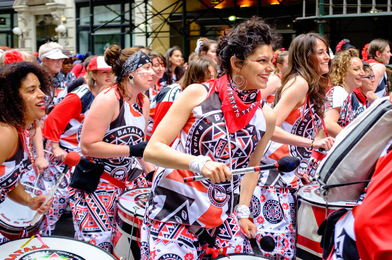 Click here to see a list of registered groups so far.