NEWS & ADVENTURES

of a Philosophical Folk Songstress
~
March 2011
Hello Friends,
Happy Monday!
Just wanted to offer & remind you of a few things you could do in Santa Cruz before the month is over that involve Rejuvenation, Meditation and Guitars... All in three lovely upcoming shows. In particular I've been working very hard on the
Mariposa's Art Guitar Fundraiser Concert
and I do hope you'll join us at the Crepe Place on Sunday March 27th.
If you live elsewhere, I'll be going elsewhere very soon. Check the updated
calendar
. If I'm not currently scheduled to visit YOUR elsewhere and you want me to be, let me know. I'd love to see you.
I've recently added some awesome new
links
on my site that I hope EVERYONE will visit & be inspired by. This one in particular has been rocking my world:
Go!
~ with songs, love, & an open heart,
U P C O M I N G S H O W S :
---
Saturday March 19th @ 7:30pm
DiviniTree Yoga & Arts Studio| 1043b Water Street, Santa Cruz, CA
OmMamaOm Productions and Universal Life Church proudly present the first Fun(d)raiser for Santa Cruz Rejuvenation Festival, at DiviniTree Yoga & Art Studio, with yoga, and Live Conscious Music by:
Sasha Rose (yay! been wanting to share a show with her forever, she's AMAZING),
Love Eternal (some of my fellow Santa Cruzans),
The Mystic Truebudoors,
Visit www.RejuvenationFestival.com for info on the upcoming May festival.
Sunday March 27th @ 9am
Center for Spiritual Living| 1818 Felt St., Santa Cruz, CA
Offering new & uplifting songs for connecting with the Divine in morning services & meditation. Pete Solomon accompanies.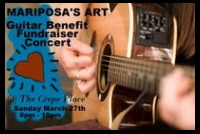 Sunday March 27th @ 6-10pm
The Crepe Place| 1134 Soquel Ave, Santa Cruz, CA
MARIPOSA'S ART GUITAR FUNDRAISING CONCERT ~ Mariposa's Art is an integral non-profit organization of Santa Cruz County, providing after-school leadership, art and music programs for underprivileged schools and communities, particularly around Watsonville. One hundred percent of this evening's proceeds will go towards purchasing more guitars for the Guitar Teach Program and inspiring young musicians to dream big. www.mariposasart.org

The Wonderful Musicians of the Evening are (in the order of appearance):
Amanda West ~ Philosophical Folk Songstress
Michael Gaither ~ Americana Songwriter & Storyteller
The Juncos ~ Acoustic Charged Roots Music
Audiafauna ~ FolkSoulPop
The Recognition ~ Classic & Modern Rock
Wubakia ~ Progressive Jam Rock

Door: $10-$20 sliding scale donation, OR, bring a guitar or case to donate and get in free!
---
Amanda West with Pete Solomon
@ The Ladies Limelight,
Aubergine After Dark
Sebastapol, CA
~ Feb 22nd 2011
p.s. If you are receiving this email it means you are on my general list where I love to share all upcoming show information and general thoughts. If you ONLY want to receive updates about shows in you area, please let me know.
Philosophical Folk Songstress
PO Box 7345 | Santa Cruz CA 95061