The Pure Water Occasional for November 17, 2014
In this cool November Occasional you'll hear about fracking chemicals, John Muir, China's Lancang Dam, pesticides in Coke and Pepsi, and the "Waters of the United States" rule. Learn how drought increases thievery, what's happening to the Salton Sea, and why they're having a sludge war in Charleston. Then there's the "Big Thirst," the soft drink fight at Gurarat, pollution from the tanneries of Bangladesh, the growing popularity of farmed fish, the number of motorist who die of drowning, alum, ultrafiltration, nephelometric units, the Jordan aquifer, a beached whale in Nicaragua, recycled numbers from B. Sharper, Pure Water Annie on turbidity, and, as always, there is much, much more.
The Pure Water Occasional is a project of Pure Water Products and the Pure Water Gazette.
To read this issue on the Pure Water Gazette's website, please go here. (Recommended! When you read online you get the added advantage of the Gazette's sidebar feed of the very latest world water news.)
Seen, but not noticed
In his 2011 book "The Big Thirst," Charles Fishman explains how water comes from space and has been on Earth in a fixed amount since the planet's been here. It's an fundamental part of weather and the ecosystem and it's the essential molecule in our bodies.
That doesn't mean we humans think much about it, however.
"Given that water is both the most familiar substance in our lives, and the most important substance in our lives, the really astonishing thing is that most of us don't think of ourselves as having a relationship to water," Fishman wrote. Meanwhile, "it's perfectly natural to talk about our relationship to our car or our relationship to food, our relationship to alcohol, or money, or to God."
With the advent of plentiful, clean water, Fishman continued, life expectancy among those of us who have it has increased dramatically.
"We've spent the last hundred years in a kind of aquatic paradise: our water has been abundant, safe and cheap," he wrote. "The 20th century was really the first time when all three of those things were true. It has created a kind of golden age of water, when we could use as much as we wanted, whenever we wanted, for almost no cost."
At least in the Rio Grande Basin, that golden age appears to be at an end, said David Gutzler, a climatologist at the University of New Mexico who sits on the Intergovernmental Panel on Climate Change.
Gutzler, along with the overwhelming majority of his colleagues, believes that human activity is making the Earth warmer. There's less consensus about how quickly it's happening, and how exactly to predict its effect on individual regions such as the Rio Grande Basin, he said.
People don't even have to believe that humans are heating the planet to worry that not enough water will run down the Rio Grande in the not-so-distant future, Gutzler said.
"We had tremendous population growth in the late 20th century," he said. "We can't assume that conditions during that population growth will continue. That would be a huge mistake."
That's because analysis of other data — including those gleaned from the rings of 700-year-old trees — indicates that the period when El Paso, Juárez, Las Cruces and Albuquerque grew so rapidly was unusually wet, scientists say.
"Much of the recent, huge urban population growth in the middle Rio Grande region has taken place during an anomalously wet period in the late 20th century that is not at all typical of millennial average conditions," Gutzler wrote in a 2013 scientific paper.
The above is excerpted from "Protecting our dwindling water" by Marty Schladen. Read the full article in the Alamogordo News. --Hardly Waite.
Coke's Gujarat plant in troubled waters
As water becomes scarce, there are increasing conflicts between large for-profit users of public water, like bottled water sellers, and citizens who feel that water should be conserved for public use. A recent Occasional reported conflict over large amounts of water a Nestle bottled water operation is drawing from tribal lands in the US. The article below details a conflict between the soft drink giant Coca-Cola India and the citizens of Gurarat.--Hardly Waite.
Soft drinks giant Coca-Cola is finding itself in troubled waters, again. After rows over water usage at its plants in Kerala and Uttar Pradesh, it is now the turn of its Gujarat factory.
Congress leader Ahmed Patel has questioned the Gujarat government's decision to allot to a Coca-Cola plant over three million litres of water a day from the Sardar Sarovar Dam, even as many villages in Sanand go without water.
In a letter to Chief Minister Anandiben Patel on October 10, Patel expressed concern over her government's September decision and noted that the dam had been built to provide water to drought-prone parts of North Gujarat, Saurashtra and Kutch.
Patel highlighted concerns raised by non-government organisations and citizens' groups over the alleged daily effluent discharge of 450 kilolitres by the plant, which executives of the multinational beverage company said were baseless because the unit was located in a no-effluent industrial cluster.
Coca-Cola India executives did not want to get drawn into the controversy. They said the company had taken all approvals for the plant and any response to Patel's letter should come from the Gujarat chief minister, to whom it was addressed.
The plant, being set up by Hindustan Coca-Cola Beverages, the largest bottling partner of Coca-Cola India, will be the company's second unit in Gujarat. Coca-Cola has a plant in Goblej in Kheda district, its second-largest in the country after the Dasna unit in Uttar Pradesh.
The Gujarat government has allotted 185,000 square metres to the company to make sweetened aerated drinks like Coke, Sprite, Fanta and Thums Up.
In 2003, the multinational firm had faced resistance from residents in Kerala's Plachimada, who alleged groundwater was receding because of extraction by a Coca-Cola plant set up in 2000 and that it was discharging toxic waste and sludge. The Kerala plant was shut temporarily after the protests.
Coca-Cola in August shelved expansion of its Mehdiganj unit near Varanasi after it failed to get regulatory clearance. Villagers had last February told the government to reject Coca-Cola's application for the $25-million expansion, saying it would lower the area's groundwater. The plant has been in operation since 1999.
The National Green Tribunal allowed Coca-Cola to resume operations at Mehdiganj in June, staying an order of the Uttar Pradesh Pollution Control Board that directed the company to close the factory for violations, including groundwater extraction. The tribunal said the stay would be effective only if the plant limited production to 600 bottles a minute.
The Mehdiganj plant is a single-line facility and the only glass bottle unit of Hindustan Coca-Cola Beverages. According to media reports, groundwater levels in Mehdiganj have dropped 7.9 metres (26 feet) in the 11 years since the start of Coca-Cola's bottling operations there.
Coca-Cola and rival PepsiCo had also been in the news for pesticide residue in their bottles - first in 2003 and then in 2006. The Centre for Science and Environment in 2003 alleged Coke and Pepsi were among a dozen drinks that contained dangerously high levels of pesticides and insecticides. Coca-Cola suffered an 11 per cent decline in sales that year.
In 2006, the controversy resurfaced, with the environmental group alleging Coke still had high pesticide levels. The Kerala government, by this time, had completely banned the sale of soft drinks, including Coke, in the state. Other states, such as Gujarat, also considered a partial ban on colas.
Reprinted from Business Standard (Mumbai).
Water News for the week of November 17, 2014.
Charlotte's sludge plan brews rural rebellion. A rural rebellion is brewing over Charlotte's plan to expand its exports of sewage sludge to fertilize farm fields east of the city. For the second time in two years, Charlotte-Mecklenburg Utilities is stirring anger among residents dead set against a practice that authorities say is safe.
The Salton Sea's increasing brininess and oxygen deprivation caused by abundant algae are fatal to fish, whose remains sometimes line the beaches.
The Salton sea is a 110-year-old, increasingly briny, shallow lake that covers 350 square miles but is dwindling fast. It was actually an accident, created when Colorado River floods overwhelmed flimsy dikes, but it now fills crucial ecological niches in southeastern California. Its wetlands and fish attract as many as 400 species of migrating birds. As it disappears, officials are scrambling to fend off the consequences.
Every year, the north shore of the Salton Sea is a little farther from this Sonoran Desert town, partly because of drought and partly because of the sale of Colorado River water to coastal areas. The migrating pelicans and grebes that hang out there have fewer fish to eat as the shallow water disappears. And the dust from desiccated shallows blows into the air and is easily inhaled by local children, whose asthma rates lead the state Read the rest on the NY Times website.

Massive whale beached in southern Nicaragua. A huge whale was stranded Friday on a white sand beach on Nicaragua's southern Pacific coast, despite efforts by dozens of tourists and residents to get it back to sea. The whale, estimated at 18 meters (59 feet) long, beached itself Friday morning at Popoyo beach, in the town of Tola, some 111 kilometers (70 miles) south of the capital, according to the Environment Ministry's delegate in the region, Mario Rodriguez.
Study: Fracking fluid has same chemicals as everyday products. A study of one component found in the fracking fluid injected into shale to release oil and gas contains chemicals found in substances most people ingest all the time, including ice cream, laxatives and toothpaste, according to new research from the University of Colorado at Boulder.
John Muir's legacy questioned as centennial of his death nears. John Muir is the patron saint of environmentalism. But now some critics are arguing that the world has changed so much in the century since his death that Muir has gone the way of wheelwrights. He is no longer relevant.
California drought puts water thievery on rise. As California's drought has grown more extreme this year, so have efforts to obtain water — some now veering toward the criminal. Parched places like the East Bay hills have experienced not only an increase in water thefts in recent months, authorities say, but a bump in brazenness.
As EPA water rule looms, GOP prepares an assault. While the politics of climate change were at the top of the president's agenda this week, a different environmental proposal is heading for a showdown. The issue is the proposed " Waters of the United States" rule, is an attempt to simplify and clarify which waterways are covered by the Clean Water Act.
Here's what the controversy is about:
The water rule proposal seeks to clarify what is covered by the Clean Water Act – whether certain streams that dry up part of the year, for example, should be covered along with traditional rivers, streams and lakes.
It's a reaction, in part, to two U.S. Supreme Court cases that addressed EPA's water oversight.
The Obama administration and environmental groups have strongly pushed the rule, arguing that it would help keep rivers, lakes and other waterways healthy. But agriculture and other industry groups just as strongly oppose the plan, saying it represents a massive overreach by the federal government that would curtail farm activity.
In Kentucky, organizations from state-level agriculture groups to county-level farm bureaus have submitted comments to the EPA opposing the rule.
The Kentucky Farm Bureau Federation issued an "action alert" urging members to submit comments because the rule "would create confusion rather than clarity" and could "lead to farmers facing increased frivolous litigation over what are considered 'normal' agricultural practices."
Meltdown in Tibet. China's construction of dams on the Lancang (or Upper Mekong) threatens a complex ecosystem downstream that supports over 60 million people in Southeast Asia.

China's construction of dams on the Lancang (or Upper Mekong) threatens a complex ecosystem downstream that supports over 60 million people in Southeast Asia. Five megadams have already been built, eight are underway, and several more are being planned upstream in Tibet and Qinghai.
The dark stain on Bangladesh's $1 billion leather export industry. The Hazaribagh, or "Thousand Gardens," neighborhood in Bangladesh's capital city of Dhaka has no trees or flowers. Instead, the industrial area is saturated with toxic chemicals from more than 200 leather tanneries polluting the air, water, and soil.
In Ireland, on Monday, November 10, the Kerry County Council unanimously passed a motion opposing public water fluoridation. The motion states that ". . . Kerry County Council will write to the Government calling for the cessation of public water fluoridation."
Why farmed fish are taking over our dinner plates. Not long ago, full farming of tuna was considered impossible. Now the business is beginning to take off, as part of a broader revolution in aquaculture that is radically changing the world's food supply.
Growing water use threatens to strain Jordan aquifer. Rapidly growing industrial and residential use of the Jordan aquifer is prompting Iowa environmental leaders to consider new restrictions to better protect the massive underground water source
"We know at some point we can't keep pumping it down and pumping it down," said Todd Steigerwaldt, manager of the Marion Water Department and leader of the task force looking at the issue. "We know there is additional cost — it's more energy, which is money; and at some point, the lower we pump that water, the poorer the water quality would become.
The Jordan aquifer runs underneath most of the state, ranging from 2,500 feet underground in southwest Iowa to near the surface in northeast Iowa. But Iowans also rely on other, shallower aquifers, rivers and lakes for water. The aquifer also provides water to parts of six other states, including big metro areas such as Milwaukee, Minneapolis and Chicago. Read the rest in the Des Moines Register.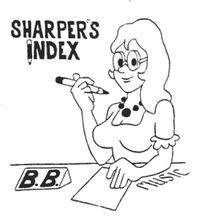 Gazette Numerical Wizard Bea Sharper brings you up to date on the current water news in numbers. Ms. Sharper is still away at the World Numbers Conference in Brussels, so you'll have to be content again this week with some previously used numbers. These go back to a 2012 Occasional.
Number of significant medical studies that have found the children living in areas where water is fluoridated have lower IQ scores than children from non-fluoridated areas–36.
Projected increase in the number of water-consuming Texans between 2010 and 2050 — 25 million to 55 million.
Number of years an artificial Christmas tree must be used to make its environmental impact equal to that of a "real" Christmas tree — 20.
Fraction of US winter food crops that are grown with irrigation water from the Colorado River — 1/3.
Low temperature at the site of this year's (Dec. 23) annual Christmas Bath in Poland's Warta River– minus 10 C.
Temperature at which performance figures for residential reverse osmosis membranes are rated — 77 F.
Inlet pressure at which residential reverse osmosis membrane are rated — 60 psi.
Number you multiply by to convert milliliters per minute to gallons per day to figure reverse osmosis production rates– 0.38.
Gallons of fresh water accidentally lost by an El Paso County fracking operation — 1.8 million.
Number of households this water would supply for a year — 54.
Percentage of Americans' mercury intake that comes from eating tuna — almost 40%.
Number of years that medical authorities used and recommended bloodletting as an effective treatment –2500.
Size increase of some water-absorbing toys when placed in water (or a child's stomach) — 400 times.
According to the UN, the number of people worldwide who are suffering from water scarcity — 700 million.
According to the Minnesota Department of Health, the amount being charged by many "high pressure" sellers of water treatment equipment for $1,000 worth of equipment — $6,000.
Approximate number of US motorists who die each year from drowning — 400.
According to the Mercury News, the rank of Jamie Nolan among girls' water polo players for 2012 — #1.
Water saving claimed by the maker of a new aerating shower head — 35%.
Length of a controversial water pipeline recently approved to transport water to Las Vegas — 264 miles.
Number of Rose Bowl fulls of water that are dumped into Santa Monica Bay by a good rain– 100.
Number of gallons — 10 billion.
Number of California's ten most polluted beaches that are in Los Angeles County — 7.
"Water Footprint" of the average modern Californian– 1500 gallons per day.
Turbidity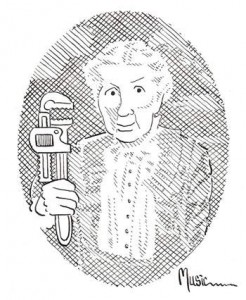 Pure Water Gazette Technical Writer Pure Water Annie Explains Turbidity
Turbidity can be thought of as the general cloudiness of water. It is actually a measurement of the degree to which particulate in the water interferes with light transmission. Suspended particles absord and diffuse light.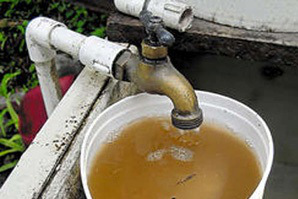 High turbidity can be identified without a water test.
A turbidity test uses an instrument that passes light through the water and measures the amount of interference from suspended particles.The turbidity test reports results on an artificial scale using nephelometric units, or ntu. Anything above one ntu is technically an EPA "action level" violation, although the human eye only begins to detect turbidity in water at about 4 ntu. Therefore, water that appears completely clear to the eye can have excessive turbidity with health implications.
Turbidity in groundwater is often from tiny mineral particlses. These can include precipitated iron, clay particles or calcium carbonate precipitation. In surface water turbidity is more likely suspended organic matter or other sediment.
The level of turbidity can, of course, range from invisible to the eye to highly colored water that is not transparent.
Turbidity in water is more than an aesthetic issue. It is a frequent indicactor of microbial contamination because microbes can attach themselves to suspended sediment. Turbidity also makes it more difficult to disinfect water with chemicals. The same is true with UV treatment because suspended particles can shadow microbial contaminants protecting them for the germicidal effect of the UV lamp.
Residential sediment treatment can range from the "sand trap" shown above, which relies on gravity to drop large particles from the water, to extremely tight membrane filters that can screen out sub-micron sized particles.
Treatment for turbidity is mainly by filtration. Sediment filters can be cartridge style, granular beds, or membrane-style. With large particles, simply holding the water in a tank will allow particulate to settle out. In municipal treatment, settling and filtration are often aided by chemicals like alum which promote coagulation and flocculation of small particles to form larger particles that settle or are filtered easily. The very tiniest if particles can be treated by membrane technologies like microfiltration, ultrafiltration, nanofiltration, and reverse osmosis.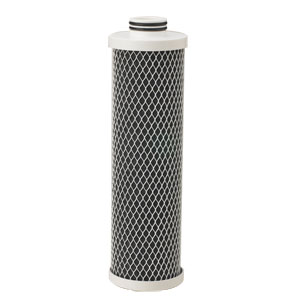 This "microguard" cartridge filters out particulate (as well as bacteria and cysts) down to a tiny 0.15 micron absolute.
It is important to realize that turbidity in water is not just an aesthetic consideration. While crystal clear water is certainly more appealing to the eye and to the palate, turbidity is also an important health consideration because microbes thrive in unclean water. Even if water appears clear, it is a good idea to test for turbidity and to take high turbidity readings seriously.

When cloudy water clears from the bottom upward as in the picture, the problem is not physical particulate but simply excess air trapped in the water. This sometimes occurs when carbon filters are new.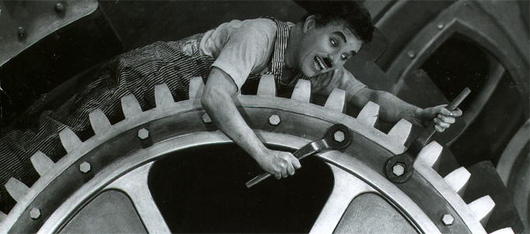 Please visit our RO Parts Page for tanks and accessories. We also have dedicated parts pages for countertop water filters, undersink filters, and aeration equipment. We stock parts for everything we sell.
Thank you for reading. Please come back next week.
Places to Visit on Our Websites in the meantime.
Garden Hose Filters. Don't be the last on your block to own one.
Model 77: "The World's Greatest $77 Water Filter"
"Sprite Shower Filters: You'll Sing Better!"
An Alphabetical Index to Water Treatment Products
Our famous whole house Chloramine Catcher
Pure Water Occasional Archive: Sept. 2009-April 2013.
Pure Water Occasional Archive: April 2013 to present.
Write to the Gazette or the Occasional: pwp@purewaterproducts.com
Please Visit
The Pure Water Gazette – now now with an up-to-the-minute feed of the latest water news.