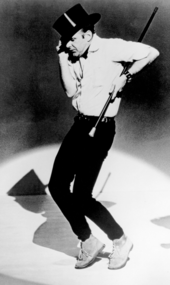 "I want such intensity that it feels like light is streaming from every finger"
Team 2019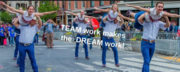 Non Profit Board of Directors:
Valerie Feit (Chair)
Michelle DeBlasi
Jerry Goldman
Nicola Creary
Shireen Dickson
Kevin Farley
Mahayana Landowne
David Leventhal
Greg Miller
Philip Ribolow
Erik Bryan Slavin
Steering Commitee:
Greg Miller, Executive Director
Darya Mars, Project Manager
Julian Sanjivan, Parade Production
Adele Godfrey, Parade Production
Janelle Issis, Parade Programming
Alan Wright, Grandstand
Gabriel Kutnik, Grandstand
Carlye Eckert, Education
Jamila Holman, Festival Production
Sherrell Whitmore, Festival
DJ McDonald, Curatorial
Henya Emmer, Team Coordination
Jessii Parham, Team Coordination
Rebecca Myles, Media
Audrey Ross, Media
Doug Kolessar, Finance
Natalya Grigoriev, Finance (CPA)
Brian Austin, Creative
Jason Parrish, Creative
Chauncey Dandridge, Social Media
Honorary Committee:
(Power Team & Grand Marshals)
Bill T. Jones
Baayork Lee
Louis Mofsie
DJ Dara
Camille A. Brown
Mickela Mallozzi
Rafael Espinal
Doc Martin
Maurice Hines
Frankie Bones
Mestre Joao Grande
Rosie Mendez
Garth Fagan
Kwikstep
Rokafella
Carmen de Lavallade
Robert Battle
Mary Verdi-Fletcher
Rekha Malhotra
Savion Glover
Jawolle Willa Jo Zollar
Hex Hector
Jacqulyn Buglisi
Baba Chuck Davis
Louie Vega
Ashley Tuttle
Elisa Monte
Bill Shannon
Trevor Hochman
Peter Zehren
Samir Bitar
Mel Alvarez
Jonathan Peters
Charles Reinhart
"Billy Elliot" (Joseph Harrington)
Kat Wildish
Amy Marshall
Jellybean Benitez
Elizabeth Zimmer
Ellenore Scott
Don Campbell "Campbellock"
Morocco (Carolina Varga Dinicu)
Luis Salgado
Luigi
Kool Herc
Danny Tenaglia
Djoniba Mouflet
Advisory Board:
Jeanne Fleming
David Katz
Teddie Kern
Anil Kumar
Joseph McElroy
Tasha Blank
Sponsorship Team:
Greg Miller
Lauren Williams
DJ McDonald
John Dalton
Nikki Creary
Phil Ribolow
Parade Production:
Julian Sanjivan, (Lead)
Adele Godfrey
Janelle Issis
Meke Brown
Rhina Valentin
Jerry Goldman
David Sanders
Alan Wright 

Silvian Martinez
Zahidel Alvarado
Frank Bator
Hal Lamster
Alan Wright
Gabriel Kutnik
Julia Johanson
Daniel Kahn
Phil Ribolow
Zakeya Warren

Festival Production:
Jamila Holman (Production Lead)

Sherrell Whitmore (Assistant Lead)

DJ McDonald (Curatorial Chair)
Donnie D'Amato
Francisco Tavernes
Educational Outreach
Carlye Eckert (Chair)
Jacque Colburn
Caryn Cooper
Shireen Dickson
Jamee Schliefer
Finance:
Doug Kowlessar (Chair)
Darya Mars
Natalya Grigoriev
Elizabeth Zaklama


Legal:
Victoria Behr
Carmen Casado
Jerry Goldman
David Leventhal
Paul Llewellyn
Kaye Scholer LLP
Marketing:
Greg Miller
Alan Wright
Brian Austin
Jason Parrish
Media & Promotions Team:
Rebecca Myles
Audrey Ross
Nhadyr Reyes Cardenas
Chauncey Dandridge
Josef Pinlac
Ali Coleman
Michelle Deblassi
Kevin Farley
Shiela Jamison
Special thanks:

·New York City Mayor Bill de Blasio
·NYS Governor Andrew Cuomo
·Manhattan Borough President Gale Brewer
·City Council Member Carolina Rivera
·NYC Cultural Affairs Commissioner
Tom Finkelpearl, Assistant Commissioner Kathleen Hughes and Program Officer Alana Dapena Fraiz
·Community Boards 2 and 3

·NYC & Co Foundation
·NYPD Lt Christopher Cheng and Sgt Patrick McGuire, 9th Precinct Det. Jaime Herandez
·NYC Department for the Aging
·New York State Council on the Arts
·Lower Manhattan Cultural Council
·NYC Parks & Recreation Director Claudia Pepe, District Supervisor Terese Flores, Deputy Director Venus Melo (Citywide)
·NYC Dept of Sanitation Superintendent Joseph Signoril
·NYC Dept of Transportation Event Coordinators Michael Callery, Ivory Henderson-Robb and G.I.S. / Events Coordinator Shuan Bruney
Dear Dance Aficionados
New York City's largest dance event is just two weeks away: The 13th Annual Dance Parade and Festival. We will begin at 21st & Broadway by honoring indigenous dance with a Native American Circle dance. Following the ribbon cutting at 1pm, Grand Marshals Louis Mofsie, Bill T. Jones, Baayork Lee and DJ Dara unleash 10,000 dancers who'll shimmy, swagger and sway to over 100 unique styles of dance and culture!
Experience Burning Man energy with Kostume Kult's Pirate Ship--Get weird wild and wonderful with the House of Yes or mix it up with your Salsa, Ballroom or Hustler moves. Try on something new like African, Contemporary, Majorette, Irish or Korean--  It's a participatory parade, free to register and there's something for everyone!  
Aren't feeling up to the 1.4mile jubilee down through Union Square, Unviersity Place and across East 8th / Saint Marks? Watch it all from the Grandstand or experience DanceFest and the After Party.
Hope to see you out supporting this MOVEMENT OF THE PEOPLE!
Greg Miller


 

 

 

Corn seed plantings represent a way to acknowledge the 10,000 year history of the occupation of Manahatta and its adjacent land by Native American people who call themselves the Lenape. We will gather at the Campos Garden on East 12th Street -- long ago within a low lying marsh --along with Dance Parade's Community Engagement youth from the neighboring PS34 Middle School to participate in a ceremony to remember the Lenape people's long stewardship on an island that they never ceded to the European colonists that invaded it. Campos Garden urban farmers Christopher Batenhurst, long a professional dancer, and Alexia Weidler will welcome us as guests to the circle plot in their Children's Garden.
This year Dance Parade will open it's 13th Annual event with a Native American Circle Dance. The Dance Parade theme MOVEMENT OF THE PEOPLE recognizes and embodies both the latest refugees and immigrants alongside the original inhabitants of Manhattan now returning from their displacement and erasure to stand against hate rhetoric and hate crimes built around false narratives around walls, "criminals" and "invaders." Says Executive Director, Greg Miller, "When we honor Native American dance, we acknowledge that we all share this land and that we are ALL immigrants."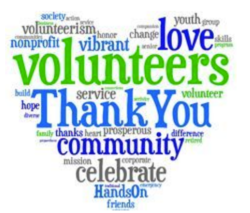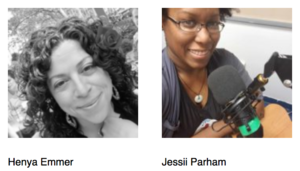 Team Coordination Lead        Team Coordination Lead
In the words of our Team Coordination Leads Henya and Jessii, "One of the best things in life is volunteering to make a difference -- And bringing dance to the streets, hearts and minds of New York City with a band of lolligagging movers and shakers is a funtastic way to do it!"
Volunteer benefits include a being fed throughout a 6hr shift, a 2019 Crew T-Shirt and free entry to the After Party at nublu (7-10pm 151 Avenue C)
All volunteers are requested to attend one of two all hands meetings:
Sunday May 5th Noon-1:30pm The Center, 208 West 13th St
Saturday May 11th Noon - 1:30pm The Center, 208 West 13th St

The registration period to register an organization is over but if you want to join a group you can and, (if they're OPEN to it), you can register right up until Parade Day May 18th. There will be 170 groups presenting over 100 unqiue styles of dance. To be in the parade, EVERYONE, must register and individuals can do so
here.
Culminating at Avenue A, DanceFest runs from 3 to 7pm and caps the day off with 5 performance stages, dance teaser lessons and a dance party.  Support this magnificent day of dance by
joining as a volunteer,
donating
or joining the actual parade: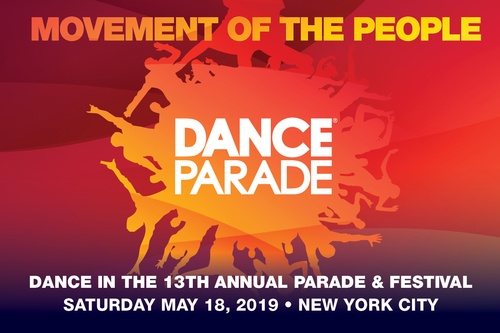 By getting Grandstand Tickets you'll be getting more than getting the best seat for the biggest dance event in the city--As 100% of the ticket proceeds go to support the parade, festival and our education programs, you'll be supporting our artist's equity, inclusion and diversity, our core values!
The Grandstand is located in the intersection of 8th Street and 4th Avenue, just slightly east of Astor Plaza (and a stone's throw away from the N, R, 6 Subways and 10minute walk to DanceFest in Tompkins Square Park after the Parade!).  Don't delay, these tickets will sell out!


Seriously, where else in NYC can you go to an outdoor festival that has FIVE stages and 100+ unique styles of dance?!  Once the parade ends at Avenue A and Saint Marks, DanceFest begins from 3-7pm in and around the lush greenery of Tompkins Square Park!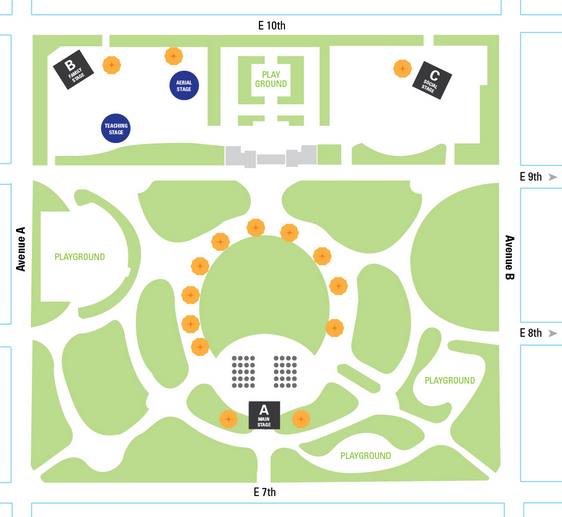 Featuring choreographed performances, dance lessons,

aerial

and social dance – free to the public.  There's something for everyone including

performances

by culturally diverse participants from the parade and an opportunity to learn dance from the city's best dance teachers

!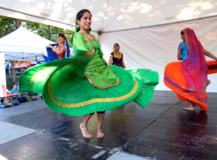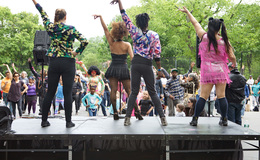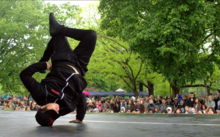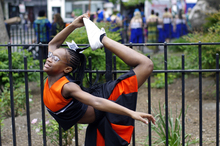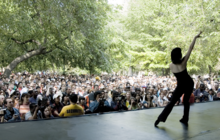 In each issue of STEPS we catch up with one of our team members to find out more about their lives and involvement with Dance Parade.




How did you first find out about Dance Parade?

I first came across DanceFest as it's held in Tompkins Square Park and I live close by. Performing on stage was a salsa group where this rather senior dancer suddenly flipped his partner upwards and twirled her around his neck. My mouth dropped open in wonder and then admiration at his skill and stamina. I was riveted to the spot, wondering "what is this?" and got hooked into Dance Parade.




What is your current role in Dance Parade New York?

Head of Publicity. We aim to make sure as many New Yorkers know about the parade through listings and pre-parade interviews and coverage, and then on the day coverage.



Every year we host a press conference at City Hall during the week leading up to the parade. The upcoming one is Wednesday May 15th at 2pm. We will receive a Proclamation from the City which declares the coming Saturday as Dance Parade Day. It is a charming tradition and the Proclamation is beautiful. I am always intrigued by the inventive ways the Mayor describes the Parade and DanceFest.
The New York press are very generous to us and we've been featured over the years on NY1, New York Times, New York Daily News, New York Post, Wall Street Journal, New Yorker, Time Out, Gothamist, AMNY, The Villager, 1010 WINS, WABC, WBAI, Univision, to name but a few.  (Read more...)

Each year Dance Parade attracts hundreds of photographers of all ilks to capture the magic found when 100 unique styles of dance and cultures are all presented in the same place.

 

They love the energy, movement and color found among ancient cultures and highly ambitious artists. This year we will add a new category, "DanceFest" which follows the parade in Tompkins Square Park.  For each category, Dance Parade and DanceFest, we will award 3 winners with Broadway show tickets, tshirts and other commemorative items!
















 
















After we dance it up all day, come squeeze the juice

and continue the good vibes just a block

from Tompkins Square Park!




21+, Tier 1 $10, Tier 2 $15, $20 @ door

100% of proceeds benefit Dance Parade, DanceFestand the Community Engagement Programs




Dance Parade is excited to welcome Disney's Aladdin to the Dance Parade!

 

 

The movie will be released May 24th and is a a thrilling and vibrant live-action adaptation of Disney's animated classic, "Aladdin"–  an exciting tale of the charming street rat Aladdin, the courageous and self-determined Princess Jasmine and the Genie who may be the key to their future.

 

 

Directed by Guy Ritchie ("Sherlock Holmes," "The Man from U.N.C.L.E."), who brings his singular flair for fast-paced, visceral action to the fictitious port city of Agrabah, "Aladdin" is written by John August ("Dark Shadows," "Big Fish") and Ritchie based on Disney's "Aladdin."  (Read more and watch the trailer...)


We dance for CULTURAL EQUITY.
We represent all dances, including yours. Our 80+ unique dance styles are the world's largest display of cultural diversity. We keep historical dances alive, like Armenian Folk dancing and Bolivian Caporales, and showcase new dance forms like Litefeet, Waacking and Brazillian Zouk. We unite cultures and generations, introducing teenagers to tango, clubbers to square-dancing, and seniors to hip-hop.
We dance to EDUCATE AND EMPOWER.
We send certified teaching artists to schools and community centers. Participants discover they can communicate vital feelings and ideas by dancing, and gain insight into other cultures. We support emerging dance groups by reaching broad audiences and document their artistry, which they use for fundraising and promotion.
We dance for EMOTIONAL & PHYSICAL HEALTH.
Dance ​expresses identity – yours, mine, and ours together. Dancing rejuvenates our bodies and minds, motivates us, and we share joy. Dancers master new skills, personal and interpersonal, developing self-esteem and community pride. We put creativity in motion, with performances, classes, costumes, parade floats, and our Dance Police (NYDP) — who playfully ticket "bystanders" for not dancing.
We dance for FREEDOM AND PEACE.
Our root is social justice. Our rhythm is unity. In the 1800's, ballroom dancing was deemed devil's work. In the 1920's, New York City enacted the Cabaret Law to stem interracial dancing in Harlem Jazz Clubs. Nazi Germany banned "anarchistic" Swing Dancing in the 1930's. Even recently, in 2006, a New York State Supreme Court ruled that, unlike other forms of art, social dance was not a constitutionally protected form of expression. We stand for all dancers, including you.
Our Mission is to promote dance as an expressive and unifying art form by showcasing all forms of dance, educating the general public about the opportunities to experience dance, and celebrating diversity of dance in New York City by sponsoring a yearly city-wide dance parade and dance festival.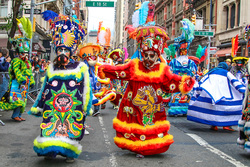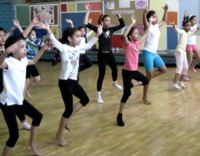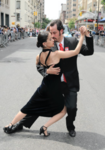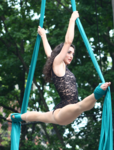 Photo credits: Yuyao Ling (left), Shireen Dickson (right)

Dance

Parade really needs your support and any help you can give us is appreciated. At

Dance

Parade, we are grateful for every tax deductible donation no matter how small.   
Here's how to donate:
   · Make check payable to "

Dance

Parade" and mail to:
     789 Westminster Road, Brooklyn, NY 11230
Dance Parade New York is a 501(c)3 Non-Profit Organization