SHOP HOURS
Monday: CLOSED
Tuesday: 12 - 6
Wednesday: 12 - 6
Thursday: 12 - 8
Friday: 12 - 6
Saturday: 10 - 6
Sunday: 12 - 4

 

 

Mark your calendars - ReBelle's 9th Anniversary is September 12th!! If you got your hands on some of our 8th anniversary yarn, don't forget to enter your creation into our contest this year.  Here are the instructions:

 

Use ReBelle's 8th Anniversary Yarn to knit something fabulous (you can use it alone or combine it with other yarns.)
Take some great photos and put your project on Ravelry.
Link to ReBelle's 8th Anniversary Yarn as the yarn used in your project.
Wait for the 9th Anniversary sale for the voting to begin!

 

Please complete your entry by September  10, 2015

More Entries = More Categories = More Winners = More Prizes!!!
We have more Entropy from Feederbrook Farm!  This yarn is spun from hand dyed roving, so the barber pole colors transition gradually which makes it really fun to knit with.  It's made from 100% BFL wool and it's so springy, soft and lofty; truly wool at it's best.  We've knit up the
Swimming with Salmon
cowl with it, a quick one skein pattern.  Some other patterns that would work nicely with Entropy are:
Stockholm Scarf
,
Tellins
 (hat),
Wurm
(hat),
Turbines
(cowl) and
Meadowbrook Shawlette
.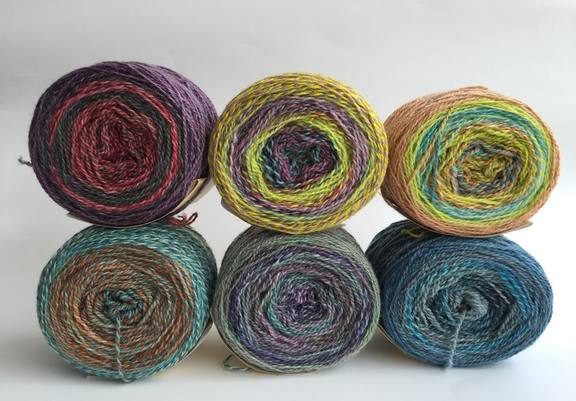 We have no doubt that you will love the new lighter weight Entropy Sport as much as the original.  Though named Sport, we consider it more of a heavy fingering weight with 400 yards per 100g.  Either way you slice it, this yarn is great for shawls, socks, sweaters, mittens, cowls - you name it!  It has the same gradual color changes and is made of 75% BFL wool with 25% nylon for some added strength in case you want to make socks with it.  We have six stunning colorways and we can't wait to see what you are going to knit up with it.  Some patterns we find tempting for this yarn are:
Passage
(cowl/wrap),
Reverse Psychology
(shawl), and 
Madeira Shawl
(available free in shop with yarn purchase).
We have some great bags from Binkwaffle!  We love these bags because they are made from sturdy canvas, they are nice and wide when you open them, so it's easy to see everything that's inside and they are reversible!  They are great for your knitting projects, we have small ones and large ones.  The hardest part is deciding which fabric you want to show on the outside!
The yarn of the month for August is Anzula Breeze.  Breeze is the perfect yarn for the dog days of Summer, light and lovely.  Breeze is a laceweight blend of 65% silk and 35% linen with 750 yards to 100g.  Hand dyed in some delightful semi-solids, this yarn is great for any lace project or for a Summer Top.  Two patterns that are especially nice are the
Nesoi Tee
and the
Something Blue Shawl
.
Featured Upcoming Classes
 

 

Natural Dyeing with Indigo ($45)

 

The indigo plant has been used to create deep, beautiful blues for thousands of years. This will be a combination class and open dye workshop. For those who want to learn we will talk about the different methods of creating and maintaining an indigo vat and we will make the vats for the class to use. We will also talk about the history and chemistry of indigo dyeing. For those of you who just want to dye with indigo there will be vats made up for dyeing fiber as well as fabric and people to instruct you in the process.

 

Sunday, August 23rd. 2-6pm

 

 

 

 
 

Come learn to crochet 3 different styles of granny squares with Raellyn. You will need to bring a size H or I crochet hook and worsted weight yarn. Beginners welcomed, but some crochet experience is needed.

 

One Classe

Saturday, September 5th. 4-6 pm

 



 

 

Join us on the first Sunday of the month for an afternoon of embroidery. We'll explore 2-3 different stitches each month, and will cover several stitch families by this time next year. Beginners and advanced stitchers are all welcome. You will need to bring an 8" embroidery hoop, fabric, a needle, and embroidery thread (any colors) to join us on this adventure.

 

Sunday, September 6th. 4-6pm