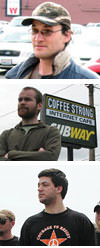 Facing desertion charge, years in stockade
Iraq War resister Cliff Cornell was denied sanctuary in Canada. He now faces a General Court Martial at Fort Stewart, Georgia—pre-trial "Article 32" hearing Tuesday, March 10. Please donate to Cliff's legal defense.
GI Café provides haven for war resisters
We interview Coffee Strong workers Seth Manzel and Michael William. Fort Lewis' anti-war GI coffeehouse provides free Americanos and more to enlisted.
Pentagon march 3/21, resister outlines why
War resister James Circello: "I encourage everyone to...join me in Washington D.C., on March 21 to say loudly and clearly: From Iraq to Afghanistan to Palestine, occupation is a crime."
---
Army charges Iraq War resister with desertion
Cliff Cornell was denied sanctuary in Canada
[ Donate to Cliff's legal defense here ]—26 people have given $1,100 as of March 2. Goal: $3,000
By Friends of Cliff Cornell. March 3, 2009
The U.S. Army has charged Specialist Clifford Cornell, with desertion. Cornell, 28, surrendered himself to authorities at Fort Stewart, Georgia on February 17, after being denied refugee status in Canada. The Arkansas native left Fort Stewart four years ago, when his artillery unit was ordered to Iraq. According to family and friends, Cornell did not want to kill civilians, and said that Army trainers told him he must shoot any Iraqi who came near his vehicle.
Cornell's attorney and supporters believe the Army's charges are excessive. "Cliff Cornell is a conscientious objector who voluntarily turned himself in to Army authorities," said attorney James Branum.. "The Army is engaging in overkill in order to make an example of my client."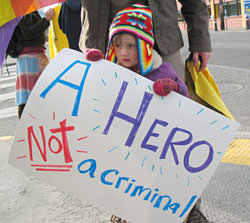 Fort Stewart spokesman Kevin Larson disputed Spc. Cornell's claims that he would have been expected to kill civilians. ''Indiscriminately shooting people is not what the Army does," Larson told the New York Times. "That's not how we train and not how we fight." The Army is leaning toward trying Cornell in a General Court Martial, which could sentence him to years in prison.
"This is outrageous," said Jeff Paterson of Courage To Resist, a war resister support group that has established a legal defense fund for Cornell. "The U.S. war against the Iraqi people remains illegal today, just as when George Bush and Dick Cheney started it," said Paterson. "President Obama should bring all our troops home now. And he should grant amnesty to Cliff Cornell and hundreds of GI's who refused to take part in an occupation that has killed untold tens of thousands of men, women and children."
---
GI Coffeehouse provides haven for war resisters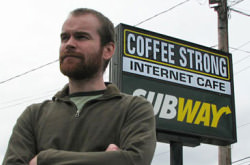 Coffee Strong's Michael William.
Photo: Jeff Paterson/CTR
By Sarah Lazare, Courage to Resist. Published by AlterNet. March 5, 2009
The milk frother screams as a couple of young soldiers in camouflaged combat uniforms peruse the lit table. All around them are the familiar surroundings of a coffeehouse: posters on the wall, tables and chairs, and shelves stuffed with used books. Yet this café, just across the street from the sprawling Ft. Lewis Army Base in Washington, is not your ordinary coffeehouse. "Support War Resisters: Iraq Veterans Against the War," reads a huge banner on the wall. GI Rights handcards sit next to the cash register and manuals about "getting out" cover the lit table. Social movement history books fill the bookshelves, and a picture on the wall shows a soldier throwing a grenade with a caption that reads, "What am I doing here?" The sign on the front window declares "COFFEE STRONG. Veteran Owned and Operated."
Opened four months ago, COFFEE STRONG provides a free Americano, as well as wireless internet and computer use, to all military enlisted persons. More importantly, it provides a space off-base for soldiers to question their service, talk about the war, and explore the possibilities of GI resistance. When GIs walk in, they are met with information about topics ranging from GI resistance to counseling and advocacy services for veterans. And they are greeted by a barista who is himself a young veteran against the war.
COFFEE STRONG follows in the tradition of the GI coffeehouse movement of the 60s and 70s, when anti-war activists and resisting GIs set up coffeehouses at several military bases throughout the U.S. -- from Colorado Springs, CO to Tacoma, WA, to Maldraugh, KY -- to provide a physical space for anti-war GIs to congregate, speak freely, and strategize their role in the anti-war movement. GI resistance during the Vietnam War was a key factor in forcing the United States to end the war.
---
March on the Pentagon 3/21, resister outlines why
By James Circello. March 2, 2009
If we were to ask everyone planning to travel to Washington this month to march on the Pentagon, I'm sure we would get several different answers. For many people in the United States, they will be taking to the streets to demand an end to the sixth year of war on Iraq. But that is not the entire truth—in reality, the war is nearing its 19th year. Here are a few of the reasons why I will be marching.
"I encourage everyone to do as much as you can and join me in Washington D.C., on March 21 to say loudly and clearly: From Iraq to Afghanistan to Palestine, occupation is a crime."
I was sent to Iraq in March of 2003 as part of the invasion force in a war that I did not believe in. I was stationed in Italy, and due to the fact that we were really unable to stay current on the news, I had no idea that so many people here in the United States were opposed to the war as well.
While in Iraq, I was able to witness the extent of the devastation caused by the almost 20 years of constant bombardments and the genocidal sanctions placed on the people of that country.
The smell was often unbearable. Stagnant water and sewage filled neighborhood streets due to the intentional targeting of Iraq's sewer system and its water treatment facilities. Barefooted kids ran through these streets—not minding it all—because it is all they had ever known.
The infrastructure had been reduced to rubble. Garbage lined what were once grand streets and avenues. Human needs were unable to be met, not because of what U.S. propaganda called a "brutal tyrant," but due to strict economic sanctions on the people of Iraq.
This was the true face of occupation.
Read more...
Also: www.pentagonmarch.org