"On Saturday, 100,000s are to march through central London for social justice and public services. Progressive governments in Latin America are showing what can be achieved when policies put people first. In Venezuela, the Hugo Chávez-led government is exposing the lie that there is no alternative. It has chosen to protect public services and social inclusion despite being hit hard by the global recession. The inspiring result of these policies can't be overstated, extending health care and free education, with extreme poverty and malnutrition both halved. I am asking all of you who are Marching for An Alternative to consider joining us in London on April 16 to hear first-hand accounts of this inspiring social progress and what we can do to offer support to a government that is defending the majority and not punishing the poorest" - Colin Burgon, Labour Friends of Venezuela

Saturday 16 April, 10.00–5.00pm
Conway Hall, 25 Red Lion Square
London, WC1R 4RL
---
REGISTER TODAY! Online here or by post.
The cost is £9 (£5 concessions). Mark cheques 'April Conference' and make payable to 'Venezuela Solidarity Campaign', and send to:
VSC, PO Box 56210, London, N4 4XH.
---
With special guests:
• Juana Garcia, Venezuelan Women's Ministry and representative of INAMUJER (National Women's Movement)
• Jacobo Torres, Trade union leader, Bolivarian Workers' Force
• Samuel Moncada, Venezuelan Ambassador, former Minister of Higher Education in President Chávez's government
• Henry Suarez, Venezuelan historian, author of US Interventions in Latin America
• Further Venezuelan speakers including student, El Sistema and government representatives




Other participants in Q&As, seminars and workshops to include:
• Lowkey, rapper, musician, poet, playwright & political activist
• Colin Burgon, Labour Friends of Venezuela
• Seumas Milne, Guardian columnist
• Richard Gott, Author, Hugo Chávez & the Bolivarian Revolution
• Hugh O'Shaughnessy, writer and journalist
• Rod Stoneman, Executive Producer, The Revolution Will Not Be Televised
• Billy Hayes, CWU General Secretary
• Jody Macintyre, journalist and student activist
• Jeni Vine, Filmmaker, Venezuela – Land of Many Missions and Bolivia: Defending Mother Earth
• Jenny Jones, Green Party London Assembly Member
• Pablo Navarrete, journalist & filmmaker, Inside the Revolution
• Doreen Massey, Emeritus Professor of Geography at Open University
• Cat Goss, British exchange student at the Bolivarian University in Caracas
• Gail Cartmail, TUC International Development Spokesperson
• Jennie Bremner, Unite & observer to Venezuelan National Assembly elections
• Michael Derham, Author, Politics in Venezuela – Explaining Hugo Chávez
• Francisco Dominguez, Centre for Latin American Studies, Middlesex University
• Barry Cannon, Author, Hugo Chávez & the Bolivarian Revolution: Populism & Democracy in a Globalised Age
• Tony Burke (AGS), Erica Carotenuto & Tommy Murphy, Unite-GPM Sector, reporting on the 'Building Links & Solidarity' project
• Diana Raby, Author, Democracy & Revolution
• Enrico Tortolano, Tribune contributor and PCS researcher
• Sara Motta, Co-Editor, Social Movements in the Global South – Dispossession, Development and Resistance
• Lee Salter, Journalism Policy and Practice Research Group, UWE; author of research into the bias of BBC reporting on Venezuela
• Linda Perks, Regional Secretary, UNISON Greater London Region
• Ken Cole, writer, The Bolivarian Alternative for the Americas: the last putting themselves first (forthcoming)
• Mike Cole, Director of the Centre for Education for Social Justice, Bishop Grosseteste University College, Lincoln
• Steve Hart, Regional Secretary, Unite the Union London & Eastern Region
• Michael Wayne and Deirdre O'Neill, Filmmakers, Listen to Venezuela
• Matthew Brown, Editor, Simon Bolivar: the Bolivarian Revolution, Director, Centre for the Study of Colonial and Postcolonial Societies, Bristol University
• Maria Beatriz Souviron, Bolivian Ambassdor
• Guisell Morales-Echaverry, Chargée d'Affaires, Nicaraguan Embassy
In Venezuela today, Hugo Chávez leads one of the most progressive governments in the world. It is showing the tremendous difference to lives that governments can make when they put people first. By doing this, Venezuela is also exposing the lie that there is no alternative. It has chosen to protect public services and social inclusion despite being hit hard by the global recession.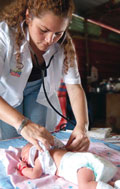 The inspiring result of these policies can't be overstated.
In just over a decade, free health care has been extended to 20 million people, saving tens of thousands of lives.
Infant mortality is down and life expectancy up. Government policies have seen extreme poverty and malnutrition both halved.
By creating free education for all, millions have learnt to read and write for the first time and record numbers of students are now attending university.
These progressive policies have been endorsed by the people in free and fair elections time and time again.
But they face huge opposition from a tiny but powerful minority, who ran the oil-rich country into the ground in the decades they held power, as well as their allies in Washington.
Come and hear in-depth and first-hand accounts of this inspiring social progress and what we can do to offer support.