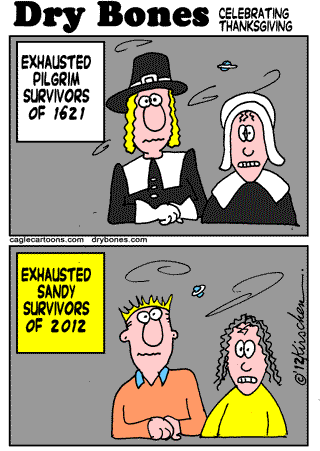 This Thanksgiving, we think of how blessed are. As the Torah says "
You shall eat, you shall be satisified and you will bless Hashem, your G-d for the good land he has given you
." At this time, we are thankful for what we have and mindful of the poor in our community who are not as fortunate.
With news of war with Hamas unfolding and memories fresh from Hurricane Sandy, we should be thankful for the land of freedom in which we live and pray for the well-being and safety of our brothers and sisters in the Jewish State.
Having lived for a few years overseas, I know how lost Americans can feel being unable to celebrate Thanksgiving with a turkey and all its trimmings, so see
here
for information on how to share some Thanksgiving cheer with friends and family in Israel. All proceeds go to the
IMPACT scholarship fund for IDF soldiers
.
Best wishes from the Philadelphia Jewish Voice for a Happy Thanksgiving with family and friends.