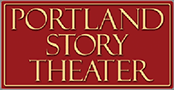 Building Community Through Story Since 2004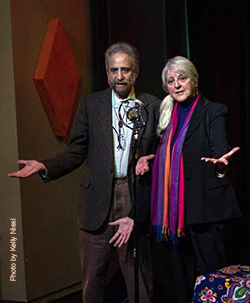 We hope this e-mail finds you well and getting ready to celebrate the holidays with the people you love. 2017 has been a year of big change for Portland Story
Theater and we just want to thank all the people whose friendship and encouragement and support has nourished us and helped us keep the story going!
From very humble beginnings in 2004, Portland Story Theater has become the Pacific Northwest's premiere storytelling organization, bringing the true, personal
stories of the people of Portland to life every month. Many of you reading this message are new friends and many of you have been with us from the very beginning -- we thank you, one
and all.
Our Urban Tellers shows are the cornerstone of Portland Story Theater's community-building mission. Dozens and dozens of ordinary people have gone through the workshop and then stood on the stage to share the universal truths of their human experience. This past year, we launched the Immigrant & Refugee Edition, which has proven to be a transformative program for our community at large. Coaching all of these people and helping them tell their stories has been a profoundly meaningful and gratifying experience for us.
Some of you have already sent us your generous tax-deductible donations, and we are so very thankful. Really. It has been so uplifting to be on the receiving end of your generosity.
If you've been to a show lately, you know that ticket sales have been good. But ticket revenue covers only a portion of our expenses. We need your help to sustain our programming as we move into the future. Your charitable contributions will make that possible.
Here are some ways your gift helps us build a stronger community:
$5 Tickets for Oregon Trail card holders through the Arts For All program

Support of our on-going immigrant and refugee program

Scholarships for budding storytellers who can't afford to pay the full workshop fee

Podcasts with stories and interviews to get the back story

Uniting the voices of Portland to share a new narrative
that reflects our values
Please consider making a tax-deductible, end-of-year donation to Portland Story Theater so we can keep bringing you true, personal stories - told face to face, eye to eye, and heart to heart.
Thanks, and May The Narrative Be With You!
®
Portland Story Theater's 2017-2018 Season is generously supported by The McIvor Family Charitable Fund; Tonkon Torp; Diane Ponti and Ward Greene; Polk Family Charitable Fund; Dana and Steve Dennis; members of the Portland Story Theater Board, Founding Circle, and Narrative Network, and many other individual supporters, as well as by the Oregon Community Foundation; The Collins Foundation; James F. and Marion L. Miller Foundation; Meyer Memorial Trust; The Kinsman Foundation; The Autzen Foundation;
NW Natural Gas; and
The Oregon Cultural Trust. Thank you!
Photo Credit: Kelly Nissl