<monitor input>
Supplying the finest sound acquisition and reference monitoring systems - absolute essentials for the audio professional!
Welcome to

<

monitor input>

the occasional newsletter from
Sound-Link ProAudio 

UK Distributor for:
Microtech Gefell,  ME-Geithain,  AETA Audio,  HUM Audio,  Håkan &  the "Turtle"
Welcome to the September issue of
<
monitor input>
 

 

If you are going to Amsterdam for IBC this year, Sound-Link's John Willett will be at the show for the first three days (13th to 15th).




Three of our distributed brands will all be there and AETA in particular will be showing an exciting new product.




AETA - Hall 8 - Stand A.24

Microtech Gefell - Hall 8 - Stand D.77

ME-Geithain - Hall 8 - Stand E.10




John will normally be at, or close to, one of the above stands.  Please make yourself known and, if John is not there, he can be called over very quickly.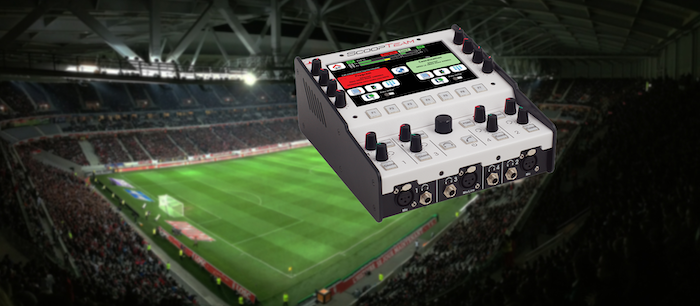 AETA have recently issued firmware updates for several codecs.  The ScoopTEAM in particular now includes improved funtionality in areas requested by customers.
The ScoopTEAM now appears to be the commentary codec of choice for many international broadcasters and the new firmware improves the funtionality for both radio and TV applications.
The AETA update page is HERE - so, if you have an AETA codec please go here for the firmware to update your unit to the latest version.
We are receiving comments from users of how very good AETA's audio quality is; that the codecs don't saturate and distort when commentators get excited and start shouting "GOAL!" (or similar) - also people are finding it easy to connect to codecs at the far end that are made by different manufacturers - so, although it's best to have an AETA, you don't have to use one at the far end as an AETA is easy to connect.
 

 

 

 

 

 

The Microtech Gefell summer sale will finish very soon.

 

The special prices can only be applied to orders received by Sound-Link prior to the end of business on Friday 27th September.

 

So, if you are thinking about a new microphone, don't delay or you could miss out.

 

The current price list is HERE and the microphones available at the special prices are highlighted in YELLOW.


 
Brexit does seem to be making the £ rather volatile at the moment.
We do try to keep prices as stable as possible, but changes in the exchange rate do mean we have to adjust prices up or down sometimes.
Price lists were updated last month, so please make sure you have the current version.

The Price List page with the up to date price lists is HERE.
Please note that after Brexit, prices are likely to have to be increased due to the higher cost of bringing goods into the country - any shipment taht arrives in the UK prior to the UK leaving the EU will not have these extra costs; but, please note, that ME-Geithain monitors with a veneer finish can have a delivery time of 8-10 weeks, so please allow for this when ordering.
The new Microtech Gefell M 102 microphone has been reviewed in the October issue of Sound On Sound, coming out about the 20th September - as soon as SOS give permission we will give the link - in the meantime, you can read about it in the magazine.
HUM Audio have just released some exciting new ribbon microphones - we will say more in the next issue of -  watch this space...

Thank you for taking the time to read this newsletter - if you have any questions please do not hesitate to contact us.
We do hope you enjoy receiving our occasional newsletter and we try not to burden you with sending too many.  
But if you do not wish to continue to receive these newsletters, please click on the "
Unsubscribe / Change Profile
" link at the very bottom of this newsletter to be removed from the mailing list.  This link can be used to change your contact details as well as for unsubscribing.
Newsletters are archived HERE should you wish to read any back issues.