POMPEII ERUPTS
SIGNATURE'S NOT IN KANSAS ANY MORE
HANNIBAL EATS UP THE OPPOSITION
Q4 DAWNS FOR FOX
MRS BROWN: D'RELEASE DATE SET…
UNIVERSAL'S CASINO NIGHTS
ANTI-PIRACY GOES INTERNATIONAL
BPI HITS 100M MARK
GOOGLE HITS BACK
GIGOLO'S ON THE MARKET
DREADFUL: FAR FROM IT
DEAD WALK, AGAIN
STUDIOCANAL'S WIND BLOWS IN
MORE METRODOME ACQUISITIONS…
SODA MAKES THE CUT FOR LFF
SEE-THROUGH CAMPAIGN FOR TRANSPARENT
NETFLIX SPOILS EVERYTHING
IMPRESARIO WELL PROMOTED
HOME CINEMA DAY ARRIVES…
TWEET OF THE WEEK
---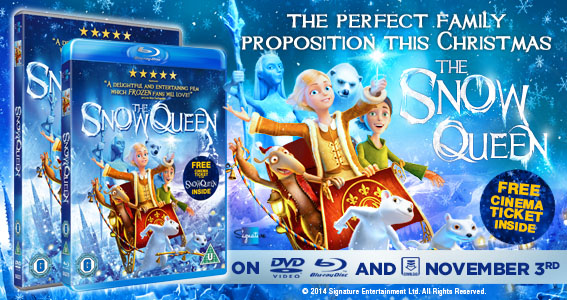 ---
If you can't read this newsletter or see the ads, please click
here
It Was A Good Week For…
Pompeii, Hannibal and, especially, Signature, all doing well…
It Was A Bad Week For… Anyone trying to get to the bottom of what's going on at a certain company that's in administration: more next week…
Currently very active at the top of the charts is eOne's Pompeii, which erupted across the market last week and enjoyed molten-hot sales in its first week. Lava or hate it, the effects-friendly historical epic was far from dormant (that's enough volcano puns) and the company's faith in the release certainly paid off after an impressive bow. Commenting on its release, eOne's Tim Westbey said: "We are delighted with the week 1 and 2 sales of Pompeii and to see it at number one in chart. We received great support from our retail partners and have driven strong sales across the week with the striking 3D lenticular packaging giving great on-shelf presence."
Meanwhile, out this week and off to a flying start on its journey down the yellow brick road is arguably the biggest release thus far from thriving independent Signature, Legends Of Oz: Dorothy's Return. Midweek sales were around the 15,000 unit mark, with the title at number two, and if it continues on the same trajectory, it should provide the company with its biggest ever week one. Commenting on its success, Signature's Kaz Mills said:
"We are over the moon with the jaw-dropping result of Legends of Oz this week and we're very grateful to all of our retail partners for helping to make it such a successful release. The team at Premier PR helped us generate superb coverage built on the really good base of visibility from the film's theatrical presence, while Play 7 helped us implement outstanding POS in untraditional environments. All of this was underlined by social support from the amazing voice cast, press, online and digital advertising – and terrific in-store standout along with in-store face painting in selected stores. We couldn't be happier with the result are thrilled to be bucking the lacklustre trend of family film conversions. The results we've seen this week are testament to the incredible talent, hard work and dedication of the brilliant team here at Signature."
Also out this week and far from cannibalising sales is the second series of Studiocanal's US import Hannibal, with the company celebrating with some fava beans and chianti as it went on to a strong early showing and is set to chart strongly after its first week. More on this on the next newsletter…
---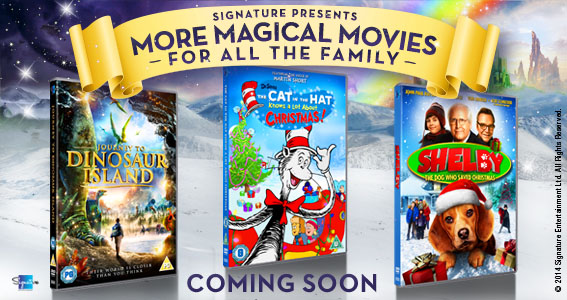 ---
More and more titles are now being confirmed for pre-order and starting to rack up interest ahead of their Q4 releases – with the year's most important period officially starting on Wednesday October 1. Latest we've been speaking to is Fox, which kicks off the activity on Monday October 6 with the latest 24 outing, Live Another Day, and, at the opposite end of the scale, the excellent animated adventure Mr Peabody & Sherman, with, in the weeks after, The Other Woman and Belle. It moves into November with a raft of big releases including The Fault In Our Stars, X-Men Days Of Future Past, How To Train Your Dragon 2 and Dawn Of The Planet Of The Apes. TV titles in October and November include American Horror Story, The Vikings S2 and the latest Family Guy outing. Commenting on the slate,
Ryan Virgo, marketing controller – film at Twentieth Century Fox Home Entertainment said:
"
TCFHE has an incredible slate this Q4 with a big new release line-up including Mr Peabody & Sherman, The Other Woman, The Fault In Our Stars, X-Men: Days Of Future Past, How To Train Your Dragon 2 and Dawn Of The Planet Of The Apes - with a combined box office in excess of £120 million. Compared to other studios, I think we're the only one to have such a varied offering of 2014 hits with a title for every consumer spanning families, men, women, teens and kids. We've got some exciting initiatives in place with digital and physical retailers and marketing plans bursting with innovative media and PR ideas to eventise these in the way that Fox is renowned for."
Also officially added to its schedule this week and now up for pre-order is the big October 27 release from Universal, Mrs Brown's Boys D'Movie. It is, of course, the latest addition to a franchise that is currently one of the hottest TV properties in the market, one that has taken it from small screens in to cinemas and, with the home entertainment bow of the feature film from Brendan O'Carroll and co, back to the small screen. Universal's senior product manager Emma Kay said: "
D'phenomenon of Mrs Brown's Boys know no bounds; with viewing figures over 11m for Christmas specials, sell out live tours, over 5.2m DVDs sold to date and now a £15m box office smash. We're delighted to have such a success story and looking forward to bringing D'Mammy of comedy to life in stores this October. With three releases for Mrs Brown this Q4 (More Christmas Crackers, New Live: For The Love Of Mrs Brown and D'Movie), you won't be able to avoid Mrs Brown this Christmas and ensures there is something for every Mrs Brown fan. Critics may hate her, but the fans love it and that is what counts."
---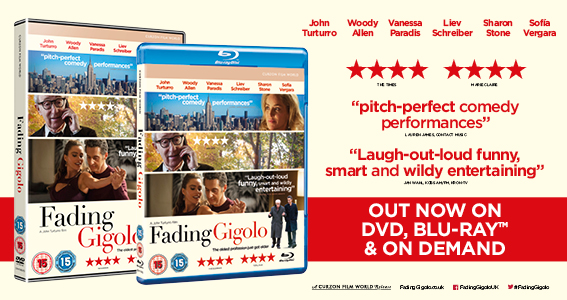 ---
Sticking with Universal, and a
quick look at this week's compilation album chart shows new Harmless release (through Demon Music) Northern Soul sitting pretty as the highest new entry just inside the top 10, no mean feat going up against the wealth of Now that's What I Call Music releases. What's it doing on this newsletter, you might well wonder, but the album is the official soundtrack to the forthcoming Universal film release of the same title. The film is the directorial debut of Elaine Constantine, a former face on the Northern Soul scene and successful fashion photographer, and is due at cinemas on October 17 ahead of a home entertainment bow on October 20. We've seen a sneak preview of it (see below for trailer) and it's the most authentic film about the musical phenomenon thus far, boasting both a strong story and a sense of realism that most previous films about the amphetamine-driven underground musical form that gave birth to modern day club culture have lacked. We'll have more on the film and its marketing in the coming weeks (there's a high profile premiere on October 2 and press activity has started kicking in for the film now), but in the meantime, Universal
senior product manager Mike Hewitt said: "We have been absolutely thrilled with both the exhibitor and fanbase response to our multi-platform theatrical release of Northern Soul, via Munro Films. With still three weeks to go until the theatrical release, we have already secured over 75 official bookings, many with supporting DJ-led events, and pre-booking has been phenomenal with some sites already reporting sell-out shows. We've also engaged with

ourscreen.com

to launch several screenings, and we are already breaking records there with both shows and sites being added daily, whilst Edinburgh's current two screenings sold out almost instantly. As the trailer says – 'this is underground, but it's going to be massive."
Demon Music's Ben Stanley added: "It's been great for Demon to be involved with the project, and with having an ex-Northern Soul DJ (Ian Dewhirst) product managing the title, Demon feel we come from a real position of expertise and credibility. The success of the 2CD+DVD and digital boxes has been down to a solid and well-constructed pre-order plan, with further great pre-orders on the forthcoming 7" singles box set and a direct to consumer bundle offering. It's been a real pleasure working with Elaine Constantine on the project as her enduring passion and endless enthusiasm has been brilliant."
The head of the City of London police, which, of course, houses the specialist anti-piracy task force known by its PIPCU acronym, has called for greater collaboration between authorities in different countries to crack down on organised crime running pirate rings around the globe. Speaking at the International Law Enforcement IP Crime Conference in Vietnam, Commander Steve Head also said there should be a worldwide day of action against copyright theft. He told delegates from around the world at the conference, co-hosted by Interpol, about PIPCU's successes in dealing with the scourge of our industry and said greater liaison between countries was essential. Head said: "PIPCU are pioneers in the way it is tackling intellectual property crime, moving away from traditional policing methods to embrace new and innovative initiatives to disrupt and dismantle the criminal networks responsible for causing huge damage to legitimate businesses. This work includes close collaboration with private sector organisations inadvertently supporting IP crime either through advertising or allowing payment provision on websites that are providing illegal access to copyrighted material. At the International Law Enforcement IP Crime Conference I urged delegates to support and engage with PIPCU and to look at its strategy for policing IP crime as a potential way forward for themselves and partner agencies."
---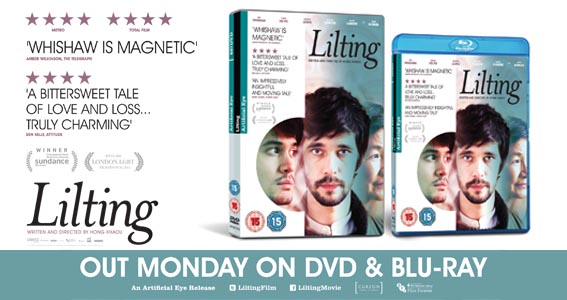 ---
More piracy news and record industry trade body the BPI, one of the leading lights in the fight against piracy in the UK, with its work impacting not just on music but film and TV copyright infringement too, has, according to reports this week, passed another landmark this week, serving up its 100 millionth infringing URL to search engine giant Google. The links cover more than a quarter of a million separate takedown notices and the number of infringing URLs has doubled from 50 million at the end of 2013. It's not necessarily a record to be proud of – as the BPI and other authorities would probably maintain, it's rather not be doing it at all – but the BPI has now overtaken its US counterparts and specialist anti-piracy security groups in asking for the most takedowns. A BPI spokesman said: "This milestone makes two things very clear. First, that however much creators do, the system of 'notice and takedown' will never be enough on its own to protect them or consumers from the online black market, or to spur growth in the digital economy. "Second, that despite its clear knowledge as to which sites are engines of piracy, Google continues to help build their illegal businesses, by giving them a prominent ranking in search results. Google can simply fix this problem by amending its algorithm. We hope they will respond positively to the invitation from Government to negotiate voluntary measures to do so. It's time the media giant changed its tune – we need a little less conversation and a little more action please."
We recently featured word of News Corporation's fighting talk about Google, with the media giant describing the search engine as a "platform for piracy". Well, it's taken few days, but, in an open letter, Google has responded to News Corp's bold judgements, saying that no one does more to combat piracy than google. Outlining its activity, senior vp for global communications Rachel Whetstone said: "
Google has done more than almost any other company to help tackle online piracy. In 2013 we removed 222 million web pages from Google Search due to copyright infringement. The average take-down time is now just six hours. And we downgrade websites that regularly violate copyright in our search rankings. We've invested tens of millions of dollars in innovative technology – called ContentID – to tackle piracy on YouTube."
---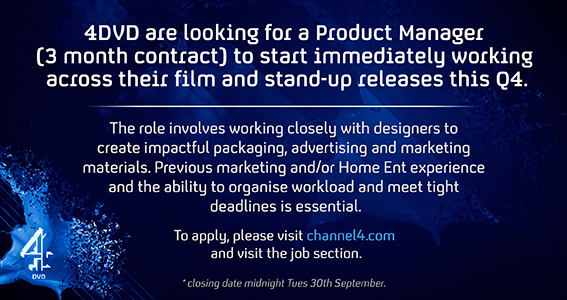 ---
Currently enjoying a busy time is Curzon with its assorted imprints, with not one but two biggies arriving on Monday September 29 in the shape of Lilting and Fading Gigolo, which follow in he back of recent releases Frank. Commenting on the double release, the company's Paul Diment said: "Following a solid theatrical performance, we'll be releasing Hong Khaou's exceptional feature film debut Lilting starring Ben Whishaw on September 29. We'll be supporting the release with a national and targeted press and online campaign. Our second release of the week is John Turturro's New York set romantic comedy Fading Gigolo, where he also stars and holds his own against Woody Allen, Sharon Stone, Liev Schreiber and Modern Family's Sofia Vergara. Our campaign begun a couple of weeks ago to help support the early EST release, and will follow into next week with major press support."
We've already covered some stand-out TV titles and another one is due on October 20, courtesy of Paramount, as Penny Dreadful arrives in store. The Sky series (it airs on its Sky Atlantic channel) boasts an impeccable and wildly varied cast and arrives with a strong buzz and TV transmission behind it. Commenting on the release, Paramount's Chloe Foskett said: "To promote the release, we are executing a creative and targeted PR campaign to capitalise on the positive buzz that already exists around the series, and to introduce the show to potential new viewers. Activity includes working with some of the incredibly talented British cast members, driving key messaging through social media and executing a themed press drop to spread positive word of mouth in release week."
More strong TV now and, following in the wake of Hannibal, another big franchise is returning on Monday September 29, with the release of the latest outing for The Walking Dead, which arrives as the latest outing arrives on TV via Fox in the UK. Commenting on its release, eOne's Stephanie Don said: "We're thrilled to be releasing the fourth instalment of The Walking Dead on Monday - it has become one of the most prolific TV shows of the decade. There's a huge anticipation for the release and the fans have been widely engaged in social media which has helped us drive huge awareness. This is illustrated by the record breaking pre-order for this season, including our sold out Amazon Exclusive 'Tree Walker' packaging. David Morrissey is fully supportive for our PR campaign and we're pleased to be working with FOX on joint initiatives in conjunction with the launch of Season 5."
---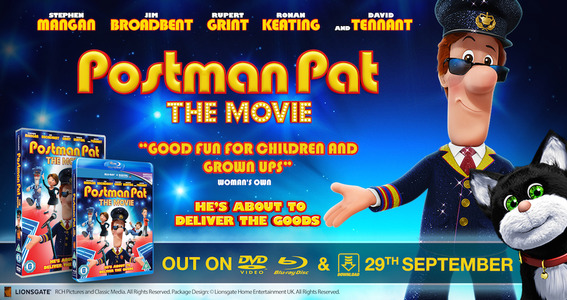 ---
We've already discussed Studiocanal's current success with Hannibal and the company's annus mirabilis continues with another big release in the shape of the final outing from Hayao Miyazaki, the Japanese anime maestro who has been at the forefront of the genre for years now. Taking up the story of The Wind Rises, the company's Emilie Barra said: "S
tudiocanal is proud to be bringing Hayao's Miyazaki's farewell masterpiece to the home entertainment market.
The genius behind Studio Ghibli is indeed retiring and we're giving film fans the opportunity to own a piece of his legacy from Monday.
We'll be following the usual Studio Ghibli SKU pattern with a DVD, Blu-Ray Double-play and Limited Edition Collector's Edition available from September 29.
Our marketing campaign will stress the critical acclaim and the swansong element.
We are targeting 18-44 ABC1 film fans and fans of Ghibli as well as anime fans, Japanese culture enthusiasts and fans of critically acclaimed films.
We will be running a series of press ads in film and broadsheet press.
Our digital campaign will be a huge part of our spend with a focus on showcasing our beautiful AV-centered display ads on The Telegraph, IMDB and a Guardian File and Culture Takeover.
We will also spend heavily on social media to keep our 45,000-plus Studio Ghibli UK Facebook page fans engaged as well as broadening our net to a wider audience through promoted posts on Facebook and Twitter.
PR-wise, we are thrilled that the media are keen to run retrospectives on Studio Ghibli and Miyazaki's magical career and legacy. We are especially thrilled with Sci Fi Now's 7-page coverage which every film fan should read.
Selected media outlets will also be receiving a very special and unique media drop on Monday so watch this space."
More acquisition news now and it seems like there's barely a week goes by at the minute without an announcement from Metrodome that the independent has picked up another title and here we go again, as the company unveils its latest signing, Spring, directed by the duo of Justin Benson and Aaron Moorhead, which it is billing as Before Sunrise with a supernatural twist. The film is being screened at the forthcoming London Film Festival, ahead of a full release in 2015, joining a packed Metrodome slate. Commenting on the acquisition, the companies Giles Edwards said: "J
ust as Ti West's House Of The Devil, Jim Mickle's Stake Land and Thomas Alfredson's Let The Right One In invigorated 21st century horror cinema, now we have Benson and Moorhead, fully-fledged masters of their craft, who have delivered a gripping, ravishing and utterly intoxicating masterpiece that is, by some margin, the best genre movie of the year."
Equally active in the acquisitions arena is Soda Pictures, which has also announced another new title, one which adds to its already busy London Film Festival slate. The Cut is directed by Faith Akin, a director who has worked with Soda in the past, notably on his Head On in 2005. It joins a raft of films airing at LFF< including Michael Winterbottom's The Face Of An Angel, the documentary Altman, about the late, great director, Brit films The Goob and Electricity and another seven others. Most, Electricity aside, which is due at cinemas in December, are set to arrive in 2015.
---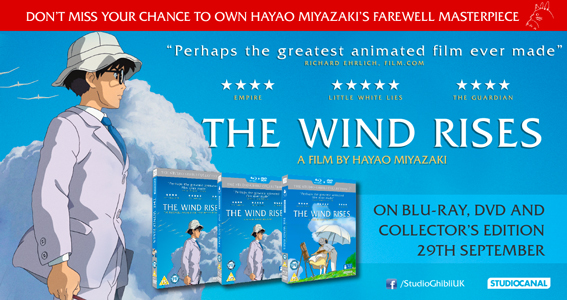 ---
Amazon Prime Instant Video's latest exclusive series, Transparent, has gone live on the subscription vod service today (Friday September 26) and credit must go for the impressive PR campaign that has been put together for the release, with plenty of stories devoted to the release. The company brought one of its stars, Jeffrey Tambor, and creator Jill Soloway over to the UK for its launch, securing the attendant coverage. We'll be viewing and reporting on this latest exclusive in the next week or so, but here's a sample or two, with Hugh Montgomery in The Independent noting: "
Transparent is worth a subscription alone, when the whole 10 episode series goes live on Friday…for its beautifully bittersweet writing and thoroughly organic performances."
Also picking up plenty of coverage was Netflix, a company who's mere name alone is enough to get Guardian journalists salivating (and misreporting, it must be noted, given the paper's recent stance towards home entertainment, which now seems to consist of just making stuff up). The svod giant unveiled some research which showed that maybe the public aren't as bothered by spoilers as you might think (certainly you'd believe that if you had the kind of Twitter feed we do), which, conveniently, fits its own thinking and methodology. Netflix has launched a site to talk about spoilers –

http://spoilers.netflix.com

– and earned plenty of coverage too.
If there was an award for PR campaign of the week, however, it would have to go to Dogwoof's The Last Impresario, released this week at cinemas. The film charts bon viveur, theatrical promoter and all-round wonderful chap Michael White, arguably one of the best connected men in showbiz. Utilising his vast collection of Polaroids, the company has secured acres of coverage, helping the film punch above its weight. Want an example? See some great coverage here:

http://www.vice.com/en_uk/read/michael-white-the-last-impresario-interview-876

The film is due on DVD on October 27.
And don't forget, Sunday is Home Cinema Day, which helps bring the curtain down on another successful month of another year's Scalarama event, which celebrates the best in good old repertory cinema and more at different venues around the country. Home Cinema Day is the event that similarly celebrates the act of watching films at home, with friends and family and enjoying everything about home viewing. We'll be joining in and tweeting under the hashtag #HCD2014, we're sure there will be lots through the official @HomeCinemaDay feed, and hope that plenty of you lot do too. Commenting on the event, Mike McConnell from Scalarama said: "Home Cinema Day is the day when rather than attending the diverse screenings of Scalarama we encourage people to take that ethos and put on their own screening at home. All throughout September we've been giving advice and making suggestions on how to make a screening a success with our five steps PICK, INVITE, PREPARE, WATCH, SHARE. Last year there were outdoor bonfire screenings, all day horror marathons and lots of imaginative double and triple bills. We're looking forward to seeing what everyone comes up with this year for their screenings."

---
---
QUOTE OF THE WEEK
"The problem is urgent as piracy is spreading like a highly infectious disease and as bad habits become entrenched, they become harder to eradicate. The dangers posed by piracy are so great, the goal should be total eradication or zero tolerance."
A succinct submission from Australian production powerhouse Village Roadshow on new piracy regulations in the territory.

AT THE MOVIES
The Boxtrolls, the latest film from the Laika animation house through Universal, continued its run atop the box office chart, with a total haul of £3.6 million. Liam Neeson's latest actioner, A Walk Among The Tombstones, took £1.3 million, with the other wide release being The Riot Club, with a touch under £500,000. Interesting to note that the event cinema release of Nick Cave film 20,000 Days On Earth taking more than £350,000 across its theatrical releases.

It's not films, admittedly, but the hottest news doing the rounds this week was the confirmation as to the identity of half of the quartet of main characters set to star in the second series of True Detective. And, this being the modern day and age, the Internet has gone into predictable meltdown, as HBO announced that both Colin Farrell and, surprisingly, Vince Vaughn, will star in the next outing for the eagerly-awaited sophomore outing for arguably the most-talked about series of the past 12 months. Cue wild speculation about who the other two may be and predictable outrage about Vaughn's presence. Creator Nic Pizzolatto is starting afresh, focusing on other detectives and another story separate from the first outing, which famously starred Matthew McConaughey and Woody Harrelson. Such was the fevered state of online conjecture and debate that it sparked a whole Twitter and online game. Expect loads more in the coming days, weeks and months as the other two identities – and more – is revealed and then pored over again and again…

Also causing loads of online chatter and its fair share of exasperated blog postings and musings was the news that Deadpool will be the subject of a forthcoming film from Fox. The story has been dragging on for a while, with the studio passing after seeing some test footage. but after it was mysteriously leaked online and drew praise from all quarters, it looks like the major decided to greenlight the film. Applause followed, only to turn to jeers when it was revealed the script was being penned as a PG13 rather than R-rated version for US cinemas, meaning it is most likely a 12 instead of a 15 or 18 rated in the UK. It's currently the bete noire of bloggers everywhere, meaning howls of annoyance at the announcement. We, on the other hand, tend not to get too annoyed about speculation over a certificate for a film that's not due until 2016…
SITE OF THE WEEK
TWEET OF THE WEEK
Follow us on

www.twitter.com/theraygun

, where, among other things, we'll be gauging reaction to Home Cinema Day this Sunday (September 28).
TRAILERS OF THE WEEK
Impeccable cast, great pedigree. Even the trailer is epic in length…
Forthcoming from our pals at The HorrowShow.TV, with a theatrical then vod release planned…
Forthcoming from Signature, announced through Empire…
To subscribe to The Raygun newsletter, please email info@theraygun.co.uk
with subscribe in the subject matter
To unsubscribe, email info@theraygun.co.uk with unsubscribe in the subject
For editorial or advertising queries, contact tim@theraygun.co.uk