Welcome to the RopeMarks newsletter.
We will briefly describe what we have been up to since our last newsletter and about interesting upcoming events where you can meet, greet and talk to us.
Summer is still in full swing and life is relaxed, it's all about easy tying and fun with bondage, then sitting outside enjoying the late evening sun, having a drink, good conversations and prepare for bookings and appointments already set for winter (winter IS coming).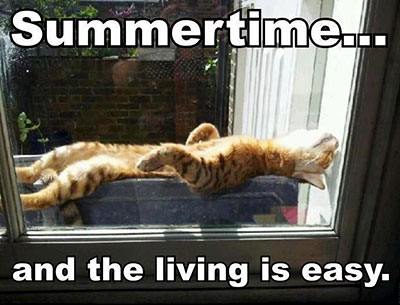 We did not do nothing, we cannot do nothing, we don't want to do nothing... But what we did went very summer-time-relaxed.
We have been shooting with KinkyStyle, Spring, lot's-O-rope, metal from MetalBondage.com, metal hooks and HW-Designs heavy rubber outfits. click to see more
Also, thanks to CarmineWorx, we've been able to scratch an item of our bucket list, tying the lovely, sweet and beautiful Ariel Anderssen. click to see more
Our 10% shop discount for red asanawa (Japanese bondage rope) is still valid for the rest of the Summer. Our stock has shrunk considerably, for that we thank you all. read more.
In other news, we have recently decide to jump on the Patreon-train


https://www.patreon.com/ropemarks
this is a great opportunity to easily make our work available in return for your support.
Let's dive into the details of the previous period:
Massad: In response to Dutch (and English and German) media that jumped onto an informational article in the Daily Beast and made it wrongly sensational we have written and published this article."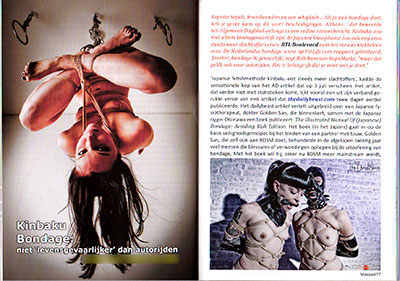 Massad Magazine | click image to see the entire feature
Bedeseme magazine: When we meet photographer The BlackSheep and his delightfully sweet partner Louise L'Amour the result will be nothing less than awesome. This encounter was just that, awesome. The images made it as the featured kinbaku in the Bedeseme magazine. I had the perverted pleasure to tie Louise L'Amour and Spring in a hishi karada and two variation of the ninoude shibari. Both, for good measure dressed in latex, heels, hooded and gagged!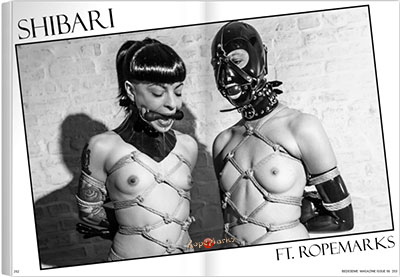 click image to see the entire feature
p: The Blacksheep | m: Louise L'Amour, Spring | r: RopeMarks
Together with model Spring we visited KinkyStyle in this delightfully charming wooden-beam dominated house. We brought rope (lot's-O-rope), and rubber (HW-Design's heavy rubber) and metal (MetalBondage.com's heavy metal) and a metal one-bar-prison and a metal anal-hook! Here's a teaser: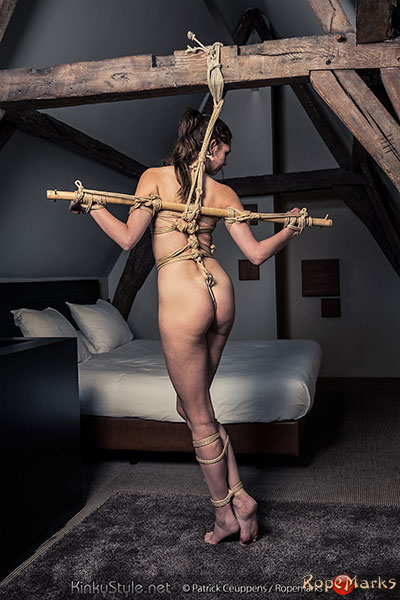 p: KinkyStyle | m: Spring | r:RopeMarks

p: KinkyStyle | m: Spring | Heavy Rubber | Heavy Metal
Our bucket-list-shoot with Ariel Anderssen (made possible by CarmineWorx) was nothing less than awesome. We've put Ariel through the RopeMarks paces; three heavy bondage's and if that was not enought we vacume-sucked her into a rubber bag (bound!). Here's a teaser: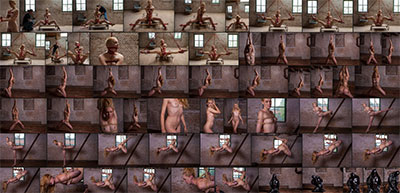 p: CarmineWorx | m: Ariel Anderssen | r: RopeMarks
Sometimes... most of the time... it is best if you do not take yourself too seriously (the bondage, safety, I always take seriously):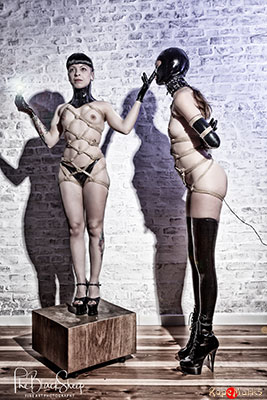 can you spot it?
p: The Blacksheep | m: Louise L'Amour, Spring | r: RopeMarks
Now live on Club RopeMarks, "The Initiation of Arienh" with... well, Arienh.
We have initiated a sexy young blond into the RopeMarks universe. Over the course of a long initiation weekend and followed by week of submission to rope and RopeMarks we think she is ready to be introduced to the world, please welcome Arienh and enjoy her initiation weekend, we did.
We tie our new blood like a pig, arms and feet together and place her bound on the cold hard floor. We continue to gag her and put a dirty jute bag over her head. Then leave her like that suffer.
Every hour, like clockwork, we come to the cellar and [...]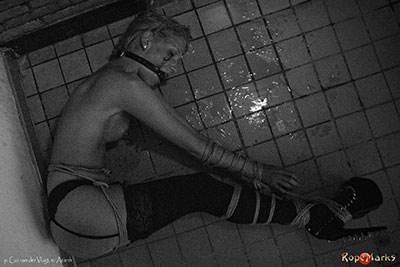 p: Cas van der Vlugt | m: Arienh | r: RopeMarks
Go to this update on Club RopeMarks
Now live on Club RubberRestrained, "Rubber Maid - a rubber cheesecake gallery" with Nicky Alicia
Please welcome the Rubber Restrained maid, our own sexy blond, Nicky Alicia.
Dressed in rubber and naked underneath her very short skirt she will suck, wipe, clean and still have time to see to our private.... needs. [...]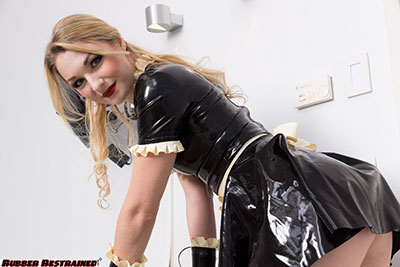 p: KinkyStyle | m: Nicky Alicia
Go to this update on Club RubberRestrained
Our upcoming shows at the time of writing include:
Sep 8, Second Life event, anniversary
Sep 9, EuroPerve: Rubber Rituals
Sep 18, Eurix XI
Oct 28, Revolution (Rome, Italy)
Nov 11, Dominatrix, together with Hibiki we will be hosting our own area.
Nov 25, Wasteland: Burtonesque (Openingsact in cooperation with Dennis Diem and Yusura Circus)
Dec 2, Boudour Bizarre
Want to hear what people have to say about our shows?
Our upcoming workshops at the time of writing include:
Sep 18, Eurix XI
Oct 21, Private tuition
Oct 28, Workshop (Rome, Italy)
Nov 4, Private tuition (one day masterclass)
Nov 19, RopeMarks Ryu Essentails workshop in association with fetish shop "On Top of Love" (Register)
If you are interested in the noble art of kinbaku, we are your man! Visit this link for all the information about our teaching
Want to hear what past participants have to say, hear it straight from the horse's mouth... Read some of our testimonials. They are a brief list of feedback from RopeMarks Ryū students and participants.
http://www.RopeMarksRyu.com/testimonials
To participate in one of our other upcoming workshops or masterclasses apply here
http://www.RopeMarksRyu.com/application
Still in doubt, here are some impressions from previous workshops and masterclasses
http://www.RopeMarksRyu.com/impressions
Shop RopeMarks: You know we run a web shop? Here: http://www.ShopRopeMarks.com/.
We are now offering the original asanawa as used by the Japanese rope-gods such as Naka Akira and Yukimura Haruki (RIP) in a beautiful deep red color.
This is the traditional Ogawa rope for Japanese bondage (shibari, kinbaku) directly from Japan.
Get it here: http://shopropemarks.com/product/asanawa-red-set-of-7.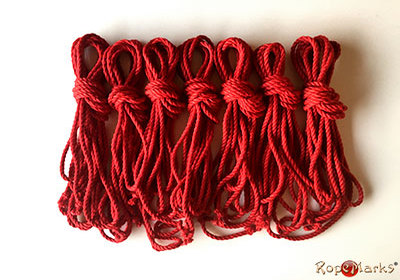 10% off on this set when you use the code NL10RED during checkout.
Red Bubble: We have official RopeMarks apparel and items. For this We have choosen Red Bubble as our supplier. You can get our merchandise through our online shop (here: http://www.ShopRopeMarks.com/) or directly at our Red Bubble store (here RopeMarks Red Bubble store).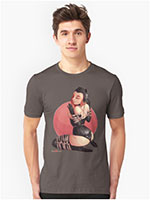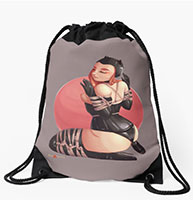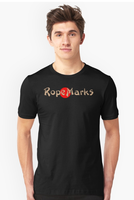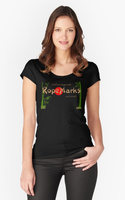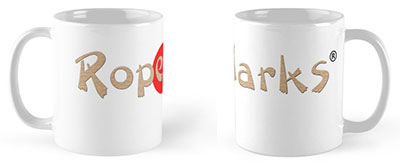 Shop RopeMarks | RopeMarks Red Bubble store
The best place to know where we are and what we are up to is our online schedule. We keep it as up to date as possible.
http://www.RopeMarks.com/schedule
If you run into us, come and say hi and chat, remember to bring a drink :). Please don't be rude and interupt when we are activly engaged in conversation.
Thank you for reading all the way to the end.
Until next time,
Bob / RopeMarks