Welcome to CMCA(UK)
Hello and welcome to the Winter edition of the CMCA(UK) newsletter. To stay up to date with all CMCA(UK) related news go to www.cmcauk.co.uk. You can also find us on Twitter, LinkedIn and Google+.
2017 Promises to be an Exciting Year for CMCA(UK) as the Business Celebrates 20 Years of Trading
Central Management Catalogue Agency (or CMCA(UK) as we are better known) reaches a major milestone in 2017 having been in business for 20 years. For those of you that have not had an association with the company for the past 20 years it might be useful to provide a brief history of where we started, where we are presently and, of course, where we are heading in the future. CMCA(UK) has been operating in the Worcestershire area since 1997. As with many business success stories CMCA(UK) started life in the owner's house but has grown into a multi-million pound enterprise with 70+ employees.
The company now operates out of offices in Warndon and Yate (near Bristol), delivering Codification, Obsolescence Management, Long Term Storage and Procurement Services primarily into the Defence sectors. However, in the last two or three years CMCA(UK) has begun expanding its services into various civil environments including Energy, Transport, Medical and Aerospace. As we commence our 20th year of trading we are looking forward to an exciting year full of business opportunities and events that we could not have anticipated back in 1997 including...

Read more

>>
REACH Management Capabilities Update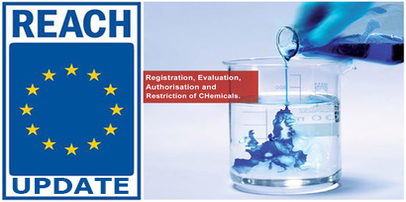 Astute followers of CMCA(UK) activities will be aware that we have been busy expanding our Registration, Evaluation, Authorisation & restriction of Chemicals (REACH) management capabilities in recent months. REACH is a regulation imposed by the European Union, adopted to improve the protection of human health and the environment from the risks that can be posed by chemicals, while enhancing the competitiveness of the EU chemicals industry. It also promotes alternative methods for the hazard assessment of substances in order to reduce the number of tests on animals. REACH establishes procedures for collecting and assessing information on the properties and hazards of substances. CMCA(UK) is working with its clients to capture this information directly on their behalf and subsequently reporting on its implications to the client both in terms of supply chain reporting and, of significant importance, the likely impact REACH restrictions will have in relation to obsolescence and through life support considerations. The latest REACH updates regarding the candidate list and authorisation list are as follows:
Candidate List – The list now stands at 173 Substances of Very High Concern (SVHCs), with an additional four substances being added to the list on 12-Jan17. Interestingly, since 2010 the list has always been updated every June and December, therefore it remains to be seen whether this trend is set to continue.

Authorisation List – This list has remained stable for well over two years now since the last substance was added to it and stands at 31 substances. However, a draft regulation has been published that intends to add a further 12 substances to the list. Watch this space…
V-Guard Under-Vehicle Inspection System Update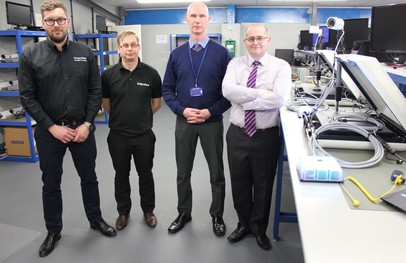 CMCA(UK) & Impulse Corporation staff at their HQ in Stoke-on-Trent. Pictured left to right are Impulse Corporation's Rob Plant (Sales Director
), Chris Durose (Technical Manager) with CMCA(UK)'s Andy Johnson (V-Guard Project Manager) and Darren Topley (Managing Director).
Winter is proving to be an extremely busy period for the V-Guard support team. CMCA(UK) staff started off the year by completing the final acceptance tests on the V-Guard demonstration units. This was closely followed in late January by an exhibition deployment to InterSec 2017 in Dubai where they met with in excess of 200 potential V-Guard customers. Then it was back to the UK to begin the process of drafting distributor and reseller agreements, and to answer a plethora of commercial and technical enquiries as a result of recent V-Guard exposure. In February, with temperatures much cooler than they were in Dubai, the focus has shifted to working closely with our manufacturing and support partner, Impulse Corporation Ltd, to ensure that everything is 'good to go' on the V-Guard production line. Feel free to get in touch with the V-Guard team directly via email at

sales@vguarduk.com

if you have any interest in either purchasing the product directly or in becoming an approved distributor or reseller.

Find out more about V-Guard >>
CMCA(UK)'s Long Term Storage Solution goes from Strength to Strength
CMCA(UK)'s Long Term Storage (LTS) facilities continue to gain traction in both the defence and commercial sectors and as a result we are planning to expand our LTS facilities through 2017 to meet the anticipated additional demand. For many of our clients LTS is a cost-effective way of mitigating the significant risks associated with future obsolescence occurences. If you think these risks are limited simply to the defence sector then think again; many of our clients that have chosen CMCA(UK) to provide an LTS solution operate equipment and platforms in non-defence sectors such as pharmaceutical, transport, oil & gas and heavy-duty tools to name but a few. If you wish to learn more about our environmentally controlled LTS facilities then please visit our website where hopefully all of your questions will be answered. Alternatively you're welcome to drop

Chris Green

(Head of Equipment Lifecycle Support) an email.

Find out more >>
May we take this opportunity to thank you for taking the time to read our newsletter. Please don't hesitate to contact us regarding any of our services or to see how we can help you. Contact our Business Development Manager Antony Elliott on; +44 (0)1905 458 307 or email

Antony.Elliott@cmcauk.co.uk

.
One of CMCA(UK)'s key objectives for 2017 is to foster strong and enduring relationships with local companies in the Herefordshire & Worcestershire area. For this reason we have renewed our association with the Herefordshire & Worcestershire Chamber of Commerce and we're now looking to create a network of local company contacts with a view to sharing business opportunities, knowledge, and best practice. Quoting our MD, Darren Topley, "Sometimes we are so busy focusing on the bigger picture at a national and international level that we forget the importance of tapping in to the wealth of knowledge and experience that exists in our own backyard. For this reason we will be making a concerted effort to reconnect with the local business community and, in doing so, share our experiences and thoughts as a forward-thinking local employer".

If you are a local company and you're reading this Newsletter then please feel free to reach out to CMCA(UK); we are a friendly and professional organisation with a long track record of delivering first-class services in the disciplines of inventory management & codification, equipment through life support (including LTS facilities) and procurement. Give us a call or drop us an email and we might just be able to help each other…

World Codification Forum 2017

Members of the CMCA(UK) management team will be heading off to Melbourne, Australia in late May 2017 to participate in the World Codification Forum. We will be 'flying the flag' in support of the United Kingdom National Codification Bureau (UK NCB), a branch of the Ministry of Defence (MoD) for whom we both provide codification subject matter expertise and ongoing codification / maintenance of the entire MoD equipment inventory as a single source contract. In addition to supporting our UK NCB colleagues, CMCA(UK) will be jointly exhibiting with our commercial partner ESG, who develop and deliver codification software solutions, as well as running a workshop relating to codification and general inventory management challenges. We look forward to providing our readers with any useful snippets of information from the World Codification Forum in our Summer Newsletter.

CMCA(UK) welcomes four new members of staff for 2017. Fiona Rees joins us as Procurement Administrator and Sean Trueman-Mitchell joins us as a Parts Researcher within the Equipment Lifecycle Support (ELS) department. We are embracing the revitalised national apprentice scheme by taking on a further two apprentices; Angus Buchan joins the company as Business Support Apprentice and Sam Jones joins as an IT Apprentice. The new staff have settled in well to the CMCA(UK) working environment and have already become valuable contributors to the business. We're also making significant in-roads into reducing the average age across the company and our MD Darren Topley, has learnt a few new street words and has been educated on the fact that the Top 40 is no longer measured on sales of vinyl records!

CMCA(UK) is very fortunate to have a great mix of departmental managers that help us to deliver services to time, cost and quality. Notwithstanding the abundant existence of managerial skills, we will be investing in a series of external training courses throughout 2017 which are aimed at equipping our managers with an ever wider pallet of management skills and leadership techniques. The inaugral CMCA(UK) management course was held in early January and the feedback from our managers has been extremely encouraging. With this in mind further modules are planned for later this year.

Congratulations!

A congratulations is due to Sam McCann who is a Project Support Manager within the Rolls-Royce team and her husband James McCann, CMCA(UK)'s Stores Manager on the birth of their son, Jax, born on 23rd December weighing 6lb 2oz.