SHOP HOURS
Monday: CLOSED
Tuesday: 12 - 6
Wednesday: 12 - 6
Thursday: 12 - 6
Friday: 12 - 6
Saturday: 10 - 6
Sunday: 12 - 4

 

 

 

 

 

Sunny days are coming our way, we think. Spring and Summer are always fun times at the shop with lots of dyeing classes, the Kentucky Sheep and Fiber Festival and the I-75 yarn crawl ahead. While some knitters put their needles and yarn away when the warmer weather arrives, we simply switch to lighter fibers and lighter projects.

 

Mark your calendars for the Kentucky Sheep and Fiber Festival May 19th & 20th at Masterson Station Park. There are some great workshops going on all weekend. We will have a booth there, but don't worry, the shop will be open as well! Learn more about the Kentucky Sheep and Fiber Festival at their website

here

.

 

We still have one more week of our knit-a-long for Woolly Wormhead's Toph hat.  This pattern is a really fun knit with lots of shortrows and interesting construction techniques. The Toph KAL will meet 12-1:30pm on Thursday, April 26.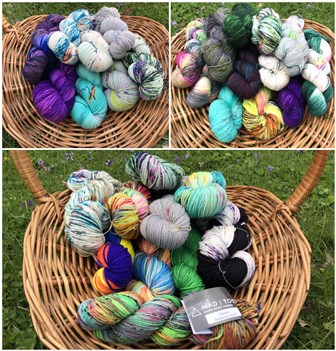 Tosh, Tosh and more Tosh. We have 12 new colors of Tosh Merino Light, 5 new colors of Tosh Sock, and 11 new colors of Vintage! There are some truly inspiring new colors and we can't wait to see how you will use them.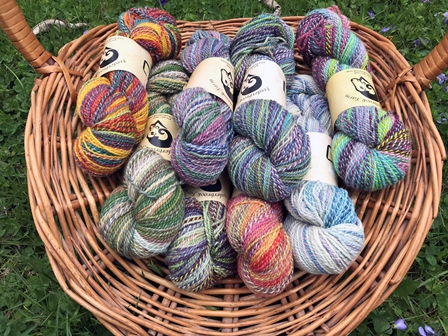 We just got 5 new colorways of one of our favorite yarns, Entropy DK by Feederbrook Farm. This yarn is truly unique because the wool is hand dyed before it is sent to the mill to be spun into this gorgeous, fluffy yarn. This process makes for long color changes so that one color gradually fades into another. It is made from 100% BFL wool and has 260 yards per skein. It is great for almost any project: sweaters, shawls, cowls, hats, mittens. Some patterns perfect for Entropy DK are:
Ravessa Scarf
,
Entrelac Boho Scarf
,
Quaker Yarn Stretcher Boomerang
(shawl),
Intertidal
(mittens),
Budding Crocus Shawl
(crochet),
Nandina
(shawl), and
Pioneer Braid Scarf
.
The newest** Knitted Wit Herstory Club color is in honor of Tu Youyou and inspired by the Wormwood plant, which she discovered could be used to treat Chloroquine-resistant cases of malaria. Go read her amazing story
here
and don't forget that all of these Herstory colorways are limited edition so once they are gone, they're gone.
Grab yours now!!
**We actually have the April colorway in the shop, but we aren't allowed to show you pictures of that one for another week so you'll have to stop by to see it.
 The yarn of the month is actually two yarns: Hempathy by Elsbeth Lavold and Hempton by Hemp for Knitting. Both are very similar and can be used interchangeably. They are both sport weight blends of hemp, cotton, and modal. Hempathy has 153 yards per 50g skein and Hempton has 130 yards per 50g skein. Cast on now and your project will be done by the time the warm weather finally gets here. Some projects that work great with either of these yarns are:
Miss Terry
(shawl), 
Hip in Hemp
(skirt),
Summer Tank
(kids tank),
Girly Dress
(kids) 
Fruit Loop
(kids tank),
Gemini
(tee), 
Saco Stripes
(tank),
Summer Scarf
, and
Classic Bread Basket Liner
.
 

 

Sign up for indigo classes

here

.




Batik




Batik is a wax resist method that can be used to produce beautiful designs on fabric. Raellyn will demonstrate how to apply the wax with brushes, tools, and stamps to create different designs and effects. She will also have instructions on how you can remove the wax resist from the fabric after dyeing. No previous experience is necessary for this class and the class price includes two tea towels and the batik materials as well as a space in the Indigo Dyeing workshop the next day.

 

Saturday, April 28th 1-4pm




 

 

The indigo plant has been used to create deep, beautiful blues for thousands of years. This will be a combination class and open dye workshop. For those who want to learn we will talk about the different methods of creating and maintaining an indigo vat and we will make the vats for the class to use. We will also talk about the history and chemistry of indigo dyeing. For those of you who just want to dye with indigo there will be vats made up for dyeing fiber as well as fabric and people to instruct you in the process.

 




 

Shibori Wrap

 

In this class we will learn to make shapes and patterns using various shibori resist techniques. No previous experience is necessary for this class and the class price includes the wrap and the shibori materials as well as a space in the Indigo Dyeing workshop the next day.

 

Saturday, April 28th 10am-12pm