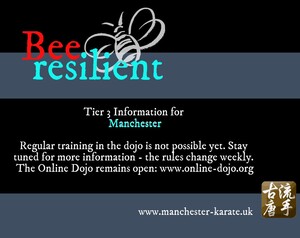 The end of national lockdown doesn't bring a lot of changes to Manchester. We are firmly in Tier 3, and that means, we still can't train in the dojo.
The Online Dojo remains open on Tuesday, Wednesday and Thursday - plus the Beginner's Induction on Saturday 15.45, online instead of in the dojo.

We will trail the information available constantly and keep you in the loop. Keep training. Staying active is important now more than ever. 

All the infos remain on the page: 
Our first Noon Martyrium was a full success... so on request we will keep going with it. Every Wednesday, 12noon, be prepared to suffer with friends. Join us on Zoom: 
The Noon Martyrium.