(The Flatirons Church blog contains another report on today's activities in Afghanistan written by Dave Pesek. You can read it here for another perspective.)
On The Road To Jalalabad
"Saleh Now Tabriq!" That's "Happy New Year" to all you non-Afghans!
Today marks the first day of the year 1389 according to the Muslim calendar here in Afghanistan and it's a national holiday celebrated country-wide by picnicking, dancing, and all manner of outdoor celebration.
It's been a dream of our Afghan host (and many of us!) for teams to someday be able to see parts of Afghanistan beyond Kabul. Today that dream was partially realized as our team loaded into the vans and headed 95 miles east of Kabul toward the historic city of Jalalabad.
It soon became evident as we headed east out of Kabul that a great number of people were planning to celebrate "Nowruz" in the countryside and many were celebrating as they drove… singing and dancing in their cars (and some hanging out of their cars) as they headed into and through the "spectacalar" and "grogeous" Mahi Par Pass outside Kabul. Seeing the joy of the Afghan people celebrating this holiday that had been banned by the Taleban for many years so inspired our team that several of our guys began dancing in our vans and the drivers cranked up the stereos that were belting out pop hits by Shekeb Osmani, Sediq Shubab, or (in our host's case) Back Street Boys and Julio Iglesias. Because of the occasional stop-and-go traffic we often had the opportunity to "party" with carloads of other male Afghans car-to-car and we were all quite smitten by their expressions of joy and uninhibited exuberance wherever we went!
After a long but thoroughly enjoyable 4-hour ride, we arrived in Jalalabad and were witness to a hustling, bustling city with everything Kabul has to offer, but in a smaller package and with WAY better roads! I don't know the history of the war very well, but it seemed to me that Jalalabad suffered far less bombing damage over the years than Kabul and the infrastructure was in better shape. I do know the city park was JAMMED with people looking for a place to celebrate Nowruz… so jammed, in fact, that the traffic cost us nearly 30 more minutes to reach a particular restaurant on the Kabul river that our host promised had the best kebabs in all of Nangarhar Province. But we soon arrived at the Siat Bridge Restaurant and he managed to negotiate for a large family-style private room right on the Kabul River. It was a delightful spot to relax for a while and enjoy an amazing Afghan meal of fresh naan, grilled chicken, fish, kebabs, and lamb curry… all devoured while sitting on toshaks while watching local boys swim right outside our window and local fishermen casting their nets from the far bank, perhaps the ones who secured part of our lunch only minutes before.
If you've read my updates before, you know I speak sometimes about "silver linings" – problems or issues that sometimes arise, but are followed almost immediately with a mitigating solution or alternative. Well, today we felt badly that the restaurant gave us far more food than we could finish. BUT our host quickly decided to package up some of the leftovers and toss them to a couple small boys swimming nearby who were thrilled with what was surely the most nourishing meal they'd had in days! The team was so inspired by our host's generosity that they quickly packaged up virtually ALL the leftover food and passed it out to local kids. THAT was a great "silver lining" and filled us up in a way that even the tastiest meal never could.
We then headed back to Kabul, but made one last stop at a roadside park along the Kabul River where a number of Jalalabadians were celebrating. The park featured a pedestrian suspension bridge that crossed the river and, of course, the team just couldn't resist! We started across the bridge with the guys leading the way and not long after all of us were committed to the crossing a number of local boys decided it would be great fun to play "Let's dump the ex-pats in the river!" They too climbed aboard and got the bridge swinging and shaking so wildly it was all we could do to hang on. But eventually we all made it across and, I might add, to tumultuous applause from the crowd of spectators that had gathered on the banks!
We finally made it home around 8:30 and our Afghan drivers were still so inspired from the day's festivities that a boom box and illuminated multi-colored disco ball appeared quite suspiciously in the living room. Before long dance tunes were spinning and the men in the group (host staff and team members!) were individually and collectively tearin' it up! Two things stand out: 1) that was the first time I've danced publicly in 40 years and 2) wow… can Walid, Khushal, and Naim dance! It was an incredible end to a fantastic day of adventure and celebration with and for the Afghan people.
That's it for tonight… time for some much needed rest before a HUGE day tomorrow. Thank you for your support and prayers and please continue to pray for the strength and health of our team members as a couple are still struggling with minor issues and want desperately to be able to join us for the rest of the week.
Thank you and God bless you as he's richly blessing us and the people of Afghanistan!
--Bob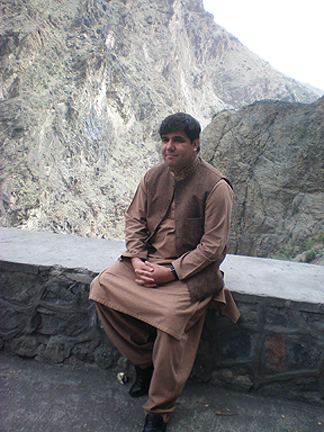 Our tour guide and host, sitting on the retaining wall on Mahi Par Pass on the road to Jalalabad.
Team Adrenaline's bridge adventure just outside Jalalabad. The locals thought it was hilarious to swing the bridge and try to dump the ex-pats into the Kabul River. (Keep in mind that I shot this while hanging onto the bridge with one hand!)
Walid and Dave cuttin' a rug on the guest house dance floor. What didn't show up in this photo is the disco ball lighting. Too bad... it was "grogeous!"