Los Angeles, CA -- Chicanos / Latinos are raising awareness to Denise Elsken — an offensive woman who serves on a school board for the Martinez School District with a blemished history,
lack of transparency
and downplaying the needs of
certain
schools. A new controversy has garnered our attention, and we demand she resign forthwith particularly for
her derogatory and offensive views towards brown kids
vs. her views for the affluent school kids in the more prominent schools.
In other words, we pay taxes, too.
This is not the first time we have witnessed poor leadership in a Northern California District. Recently, we witnessed Superintendent
Joe Jaconnette
(in a neighboring school district to MUSD) make a poor decision when he hired a private investigator to follow a "Hispanic" 7 year old girl who's mother was a victim of domestic violence hiding her address. We were pleased to see
Superintendent Joe Jaconnette apologize for his leadership behavior
and now it's time to see Rami display leadership in the Martinez School District.
Currently a broad coalition of activists are organizing and reaching out to La Junta School parents for potential claim for damages against the Martinez Unified School District with
Jaime Segall-Gutierrez
as counsel.
"I would say 95% of the students at La Juntas do not have air conditioning in their homes. So whether that means those students are more acclimated and can handle a little more heat than the John Swett students — which I would say 95% of their residences have air conditioning in their homes."
Denise Elsken supports putting A/C at the more affluent John Swett Elementary. But when it comes to lower-income Las Juntas, Elsken said $2 million would be better spent on education and teachers. She said "cool roofs" and shade trees at Las Juntas would keep students cool.
California activist Mark Lane states:
This woman is not fit to be on a school board making decisions for children. She publicly displays her racism and lack of common sense. Her statement is rude, it is dehumanizing and it is patently unfair. Denise Elsken is unfit for the position she is in and should be removed from her position on the school board.
We will be following up with La Junta School parents to see whether or not the Martinez School District opted for planting trees versus giving the school with a high Chicano / Latin children population new air conditioning. We were disappointed with Superintendent Rami Muth who has been missing in action in light of this controversy with a weak response given to us on April 7, 2015, where she made no apology for her school board member's derogatory views in an official setting.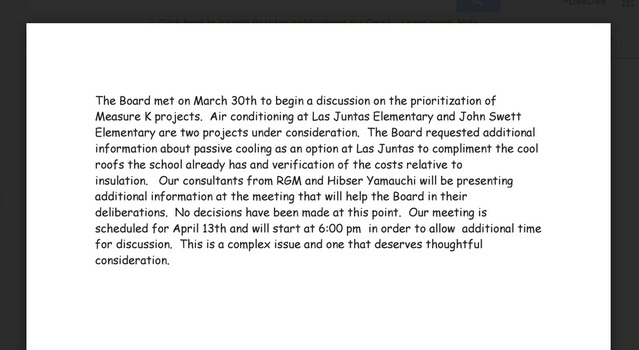 Contact Information