The Dominican Republic is the top destination for golf in the Caribbean. It is easy to see why, with dozens of world-class designer golf courses surrounded by natural beauty, magnificent coastlines and lush green fairways. Nine of the country's golf courses are included in Golfweek Magazine's list of the top 50 courses in the Caribbean and Latin America.
The golf course closest to Sea Horse Ranch is located in Puerto Plata, and promises you a unique and inspiring experience. Visitors can enjoy golf clubs for rent and lessons from recognized professionals, and our concierge team is happy to set up a golf outing for you. Contact us for more details.
---
Celebrate the Holidays with Sea Horse Ranch
Christmas Dinner and New Year's Eve Celebrations are held at The Beach Club at Sea Horse Ranch with special dinner parties including traditional favorites prepared by our gourmet chef, with special desserts and holiday drinks.
The Beach Club is closed on Christmas Eve, and reopens for the distinctive Christmas dinner on December 25th. The New Year's Eve event is a grand affair, with its dramatic seaside setting, multiple course dinner, live music, fireworks and party favors. Two seating's are offered, perfect for families with young ones. For more details and reservations please contact thebeachclub@claro.net.do or (809) 571-4995.
---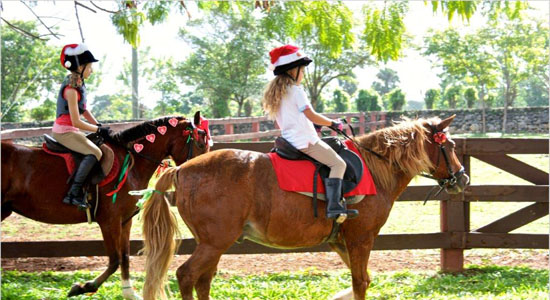 Christmas Parade at the Equestrian Center
To celebrate the magic of the holiday season, the Equestrian Center will once again hold a Christmas Parade that will take place on Tuesday, December 23th from 9.00 am to 12 pm. at the Equestrian Center at Sea Horse Ranch. The whole family is welcome to come and enjoy this wonderful event!
Activities include horse decorating, please bring along your own decorations, a Christmas parade around Sea Horse Ranch, followed by a fiesta with special treats, including cakes and carrots for the horses. Refreshments compliments of Sea Horse Ranch will be served.
Please contact us to confirm by phone at (809) 571-3880, or email, by Monday December 22nd if you would like to participate.