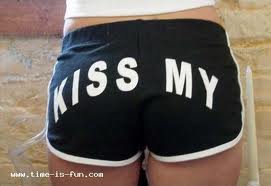 "Take Your Saliva Test from the Lip Print You Leave on My Butt"
By Ms PM
Interviewing
this Oklahoma woman
, there was no doubt as to her view on this matter. She noted that the article wasn't written about Oklahoma…yet…but it easily could be considering 30 cities are targeted for the federal governments stop and sniff research study.
This all comes at a cost from taxpayers to the tune of $7.9 million headed up by The National Highway Traffic Safety Administration to catch citizens driving under the influence. It started when a Fort Worth street was road blocked and drivers were directed into a parking lot. Federal contractors asked drivers for samples of breath, saliva and blood. Even though motorists were told the participation was 100% voluntary, one woman, Kim Cope stated that "I gestured to the guy in front that I just wanted to go straight, but he wouldn't let me and forced me into a parking spot." The federal goons asked her for cheek swabs and said she would be compensated $10. If she agreed to a blood sample she would receive $50.
Cope agreed to the breath test because she felt trapped and thought that would be the easiest way to leave. She was not offered pay.
Initially when NBC 5 Dallas asked police about involvement, they had no record of officer involvement but then the police spokesman Sgt. Kelly Peel owned up to the department's Traffic Division had indeed coordinated with the NHTS and used off-duty officers. The government contractor spokesperson from Pacific Institute for Research and Evaluation, did the well learned, typical evade questions by saying NBC needs to direct questions to the NHTSA.
A few interesting details noted by a Fort Worth attorney Frank Colosi, was the fine print on the form given to drivers. There it states that their breath was tested by "passive alcohol sensor readings before the consent process has been completed." He also says that "They're essentially lying to you when they say it's completely voluntary, because they're testing you at that moment."
A few other points from the woman in Oklahoma about Kim Cope's evaluation of the situation; Cope had said "they need to make sure this doesn't happen again. The Oklahoma woman says that the citizens are the ones to make sure it doesn't happen again by refusing this form of tyranny noting this control tactic used by government will continue to happen until freedom is non-existent. The mindset from citizens taking the easier, softer way out of a situation will only add to the usurpation of power by those elected to serve but rarely accomplish the task. Her proof…look at where this country is. Her solution to this is to pull the pants down and serve up a big portion of cheek, and mean it.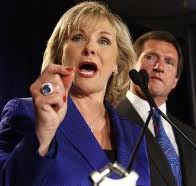 Fallin Backs RINO Choice for
By the Watchman
Many in the lame stream media are trumpeting New Jersey Governor Chris Christie as the savior of the Republican Party. Really!! It's 2013 and they have already selected the Republican candidate for President in 2016. For those of you that have been asleep for the past few, let's say at least eight years, that's one of the reasons we as Republicans have lost the last two Presidential elections. We have allowed the lame stream media, which is all LIBERAL, choose our candidate instead of us using our common sense and selecting the true Conservative in the field. They cannot do this to us again.
We here in Oklahoma have always known that our Governor is a center to left of center career politician. We saw it in the fight over Obamacare. It was everything that the Grass Roots organizations and the Citizens of this state could do to get her to return the Federal startup money to expand Medicaid in our state and accept Obamacare with open arms. In the end, it was only after the Tea Party started kicking her butt that she finally conceded that the political price to pay for Obamacare was too high. It seems that Miss Mary didn't like being talked to in a rough manner.
Imagine our surprise when one of our staff writers received an invitation to the Governors Birthday Party, at the cost of $125.00 a plate, with special guest New Jersey Governor Chris Christie. You can read more about it
here
. Now this was an invitation sent out to her mailing list from her campaign web site, so we are sure that thousands of people received it. Our staff writer has no plans to attend this love fest of leftist.
Now while researching
this article
we did come across this article from the Daily KOS. We didn't think this one sounded right as it directly contradicted the Governors public statement on the subject so we checked on it. Were we in for a surprise?
We contacted the Public Affairs Officer for the 45th Infantry Brigade in Oklahoma City. We told him about what we were seeing and told him that we couldn't believe the story was correct. We were correct to a point. He informed us that the Unit had six identification card making machines 4 permanently mounted and 2 portable units. Some people were inconvenienced while they moved two machines to locations that the Guard leased from the Federal Government. That way they would be in compliance with state law and still be able to issue identification cards to those in same sex marriages as long as those marriages occurred in state that recognized same sex marriage. In other words, she found a way to circumvent Oklahoma State Law. Her Liberal side is showing. She's after the gay vote.
We also found
this article
about Oklahoma Gov. Mary Fallin being accused of violating Open Records Act | News OK . Now why would the Governor violate the open records act unless she had something to hide? What is it she's hiding? To our knowledge this case is still unresolved. So much for an open government.
We wanted information on her career, so we found
this article
. There is a wealth of information here. What isn't there is her voting record in Congress. We know that her record prior to the Democrats taking control of the House of Representatives was that of a RINO. It was only after President Obama took office and the Republicans locked horns with them did she consistently vote with the party while in Congress. It was her last two years in Congress that she claimed the mantel of a conservative.
With the information available to us, we can only conclude that Governor Fallin has run with the polls and selected Governor Christie as the nominee to represent the Republican Party for President in the 2016 elections. Governor Christie has caved to gay marriage, Obamacare and gun rights in the state of New Jersey. He's no better than President Obama. Maybe that explains why they get along so well?
This is further proof of Governor Fallin's unfitness to hold the highest office in the state. She has circumvented the law by making arrangement for same sex couples in the Oklahoma National Guard to receive benefits despite her public statements to the opposite; she blocks a law suit for an open records act and state law by firing an individual over something that was her husband's fault even before they were married. This is not the leadership we would expect from our Governor. She is not fit for re-election.

Tulsa Christmas Parade Needs Volunteers
The Tulsa Christmas Parade needs volunteers to put up posters throughout the Tulsa area for the upcoming parade. Posters can be picked up at Mark Croucher's office at 6572 East 40
th
Street in Tulsa or you can call Billie at 918-638-9977 and she might be able to meet you somewhere to hand off some posters. Or email Billie at Billiej86
billiej86@cox.net
;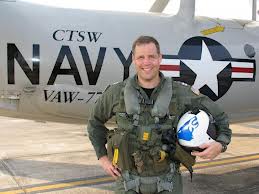 What Are the Similarities between Supreme Court Justice Roberts and Congressman Jim Bridenstine When it comes to Obama Care?
By Ms PM
Not so long ago when Obama Care went before the Supreme Court everyone was in a twitter when Justice Roberts found the law to be constitutional. His reasoning, America voted the administration into office, and he wasn't about fix the mess that voters had brought upon themselves. In a world of shucking responsibility and most wanting someone to fix the mess for them, Roberts plainly and painfully let the chips fall and shoved the mess onto the backs of voters and in nicer words with the same message said, You grew it, now chew it. Having to fight for freedom and liberty is far more than most ever want to do considering it's a toss-up between the uninformed and those sitting on the couch. It's much easier to delve into the belief of denial by thinking as long as I run my mouth; I am doing something about the situation. This situation we are all faced with is a true example of faith without work is dead.
Getting to Oklahoma Congressman Jim Bridenstine,
this article
explains why he did not vote for HR 3350, Keep Your Health Plan Act.
Similar to the reasoning from Roberts for voting Obamacare constitutional, Bridenstine stepped outside the box when he explained his no vote for HR 3350. This bill would relieve the responsibility from the President and his lie, where it belongs, and place it on Congress. Why should Congress attempt to fix this? And why do the American people want to prolong Obamacare and make the death of it slow and more painful?
The norm from Washington is to pretend they are passing laws to protect citizens, this is no different. Anxiety from Obamacare will be stretched out for another year and the same cancelations would happen again in the individual market. By the time that deadline rolls around the other shoe will drop with employer based coverage cancelations.
As said in the article, "trying to fix it only compounds the mess, multiplies the uncertainties, and leaves more Americans at jeopardy regarding their healthcare insurance. The President cannot shift the responsibility for his failure onto private insurance companies. The free market could handle matching customers with insurance products, but not under the heavy hand of government steering it to achieve political objectives."
This next article
explains the importance of people standing together to make their voice heard.
U.S. Airways took the liberty of kicking a legally blind man and his Seeing Eye dog off of their flight from Philadelphia to MacArthur airport. Albert Rizzi said that this was the second time in six months he had had a problem on a U.S. Airways flight. The spokesperson for the airline stated that "Doxy" could not be controlled. The passengers say otherwise and to the point of stating, "The dog was more controlled than the people onboard." Regardless of what the spokesperson had stated, 35 passengers shared Rizzi's outrage and walked off the flight. This article did not state that the flight was canceled but other news articles said just that.
This last article has nothing to do with Obamacare but…Don't you think it's time to get off the plane?